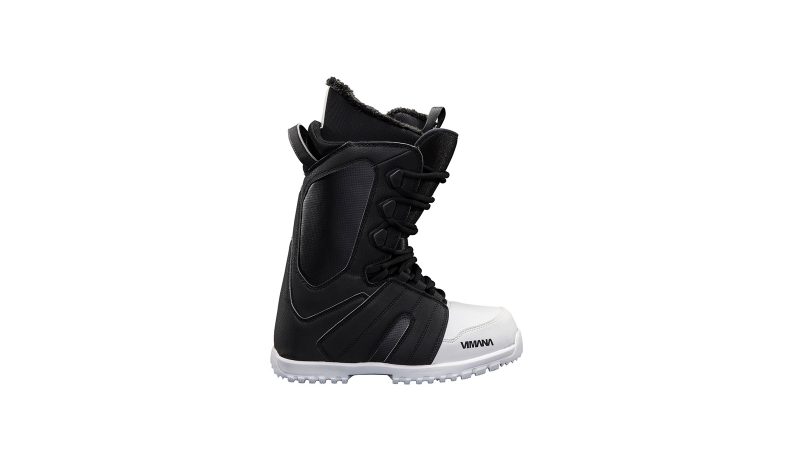 Vimana Boots FW17/18 Preview
Retail Buyers Guide: Snowboard Boots FW17/18
CATEGORY: SNOWBOARD BOOTS
BRAND: VIMANA
INTERVIEWEE:  TRONNA (BRAND MANAGER) 
What are the three  most important products of your 17/18  line?
We continue to put all our effort into one boot. 
Our teamriders have tested around 10 prototypes and we cooked all feedback into one perfect freestyle boot.
What's new in lacing – sticking with trad, working with Boa, or doing your own thing? Where is the demand?
This season we stick with trad lacing, but we use a technology called "lace locker". This locks in your lacing as you tighten them.
For next season we will also add a boot with speedlacing.
Splitboarding is performing well in a tough market. What's the best splitboard boot in your line?
We would not really recommend our boots for split boarding to be honest. The torsion flex is made for traditional  bindings.
What colorways, prints, patterns, influences and textures will we see in your range aesthetic?
We keep it simple as all VIMANA products. Clean Scandinavian aesthetics.
Which part of your range are you investing in the most? Freestyle, freeride, do-it-all, beginner…? Why?
Our boot is focused on all mountain. They are made to be comfy straight out of the box.
Are you doing anything in particular to make your boots go on easily when clients try them in the store?
We have some secrets in our construction. We use a lot of neoprene inlays that makes our boot bend perfectly without having it "break" in the ankle area. The liner is fluffy and super comfy straight out of the box.
Materials: using any new branded tech? Vibram, Sympatex, maple syrup?
All our boots are vegan, no leather. This makes some of the lightest boots on the market.
We also added "cold screen" into our footbeds. They reflect the cold from the snow.
Neoprene inlays is implemented into our construction.
Anything new in cushioning/impact absorption?
We feel that eva is the best impact absorption for overall  riding.
The dampening is constructed into our full eva sole.
What trends in other footwear sectors have made an impression on your 17/18 line?
We get inspiration from all over the place. From skate shoes to star wars.