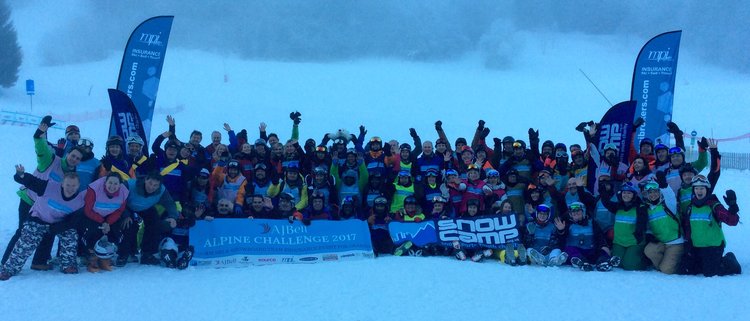 Snowboarding Endurance Challenge Raises Over £50,000 For Youth Charity Snow-Camp
20 teams have completed the AJ Bell Alpine Challenge event to raise money for Snow-Camp, the UK's sole snowsports charity which aims to introduce snowsports to young people from urban areas.
PRESS RELEASE
•The AJ Bell Alpine Challenge, a snowsports endurance event in the Portes Du Soleil, has raised over £50,000 for UK inner-city youth charity Snow-Camp.
•The unique snowsports event involves teams of four seeking out 37 check points, requiring them to cover well over 150 km across 15 resorts over two action packed days
•Teams taking part came from a diverse range of sectors and locations, including AJ Bell, Novia, KPMG, Summit Special, Specsavers, Norton Rose Fulbright and Santander, just to name a few.
All funds raised will support Snow-Camp, the UK's only registered charity using snowsports to engage inner-city young people to provide them with life-skills, nationally recognised qualifications and employment opportunities. Snow-Camp has supported over 7,500 young people to date and has a vision to become a national charity by 2018.
Any individuals or teams wishing to take part in the 2018 event should get in contact with Snow-Camp for more information.
Andy Bell, CEO of AJ Bell and a participant of this year's AJ Bell Alpine Challenge: 
"We covered 180km in two days, got lost, fell over and were more tired and hungry than I've been in ages, but I can safely say that was the best two days I have ever spent in a pair of skis."
Dan Charlish, Snow-Camp's Founder said: 
"The AJ Bell Alpine Challenge is a great opportunity for teams of all abilities to strategise, test their skiing stamina and above all have a lot of fun. I'm incredibly grateful to all the teams for their fundraising efforts, their help enables us to reach thousands more young people across the country."
Julia Feess, Snow-Camp's Events Manager said:
"The event is now in its 8th year and is going from strength to strength. The atmosphere was fantastic and teams had so much fun, helped by amazing conditions and perfect weather. A huge thank you to all our sponsors and everyone who took part, making the event such a success.'