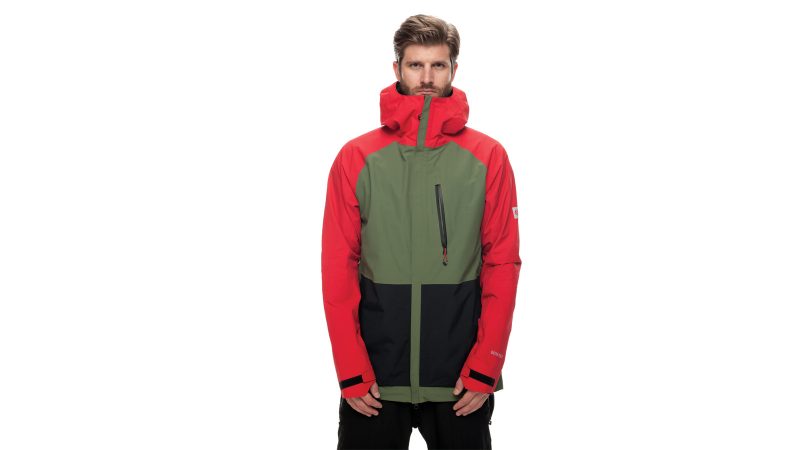 686 Men's Outerwear FW17/18 Preview
Retail Buyers Guide: Staff Sales Handbook: Men's Outerwear 17/18
CATEGORY: MEN'S OUTERWEAR
BRAND: 686
What's the overall theme behind your 2017/18 outerwear?
For 17/18 we looked at building the most intelligent, integrated, modern and refined outerwear possible. Each detail is in its place and for good reason and all silhouettes can withstand the test of time and trends.
From where do you take your inspiration? What other brands, designers, artists or collectives do you follow who influence the style of your brand?
For GLCR outerwear, we take our inspiration from modern designers and objects – furniture, cars, shoes, etc all have progressed to a point where their design cues are a beautifully and progressively designed part of their function, and that's what we hope to achieve with GLCR.
For our classic 686 outerwear, we are inspired by our heritage – styles that continue to perform well at retail and that our dealers know they can count on to sell through. We have taken those styles and tried to put the most progressive features in each for their pricepoints.
What are the two most important products in your 2017/18 range? Why? Please tell us about them.
The two key products will be:
Men's 686 GLCR GORE-TEX® GT Jacket – The GT combines a fully taped durable 2-Layer Nylon GORE-TEX® with a highly breathable lining that includes our new Merino wool inner collar and mouthflap. Merino wool natural antimicrobial charactersitics and ultra soft touch make this the perfect fabric for where your jacket touches your skin most. We are the ONLY brand adding body mapped merion linings. This jacket packs a ton more features you won't find in any GORE-TEX® jacket at MSRP €350.

Men's 686 GLCR GORE-TEX® Paclite® Multi Jacket – The Multi jacket is an extra durable

 

and packable GORE-TEX® version of the kind of do-it-all windbreaker you are seeing from other brands. The Multi jacket is built for deeper explorations and a greater range of temperatures than the other lightweight, extra thin windbreakers out there. Special features include: GORE-TEX® packable Paclite® fabric and 100% GORESEAM taped seams, NEW articulated slim fit, Merino Wool inner collar and mouthflap, lightweight (45g), removable webbed back straps that allow you to quickly remove your jacket during activity without taking it off, YKK Aquaguard® zippers covering chest vents and pockets and an internal smartphone pocket.
What percentage of your outerwear is sold online vs instore? What's the best way to connect with customers who buy via both of these channels?
In Europe, 100% of our outerwear is sold by our retailers. We provide support to both online and brick and mortar retailers via different activities throughout the year. We also drive brand demand and store traffic through digital and social advertising.
Are your price points going up or down?
Our key styles are not changing prices. As we have seen our high end GLCR styles selling out very fast, we have added more styles at higher pricepoints than past seasons, but these styles still pack the highest value to price ratios in the industry.
What new fits / silhouettes are coming next year?
We have updated our "standard" fit to an even more ergonomic "modern" fit this year. We have also updated our articulated fits to be a little more fitting to the body while still allowing free movement and layering and have also introduced an Articulated Slim fit for key items that can be used in all activities, not just skiing and snowboarding.
What's new in colours / prints?
We believe that good, strong basic colours with strong pop colour accents are what is in right now. People want to buy something they can wear for years to come. You simply can't do that with some of the crazy yearly trendy stuff people were throwing at snowboarding and skiin a few years ago. For us its about keeping it simple and classic and adding progression through design, not colour.
Here's the place to talk about fabrics, features and technical innovations. Here we're principally interested in *NEW* technical stories that you haven't offered to retailers previously.
Our new Merino Wool inner collar and mouthflap on our GLCR jackets brings one of the only Merino Wool body mapped liners to ski/snowboard outerwear. Merino wool is naturally antimicrobial and ultra soft too on your skin, so we placed it where your jacket contacts your skin most.
Our new Articulated Slim fitting GLCR jackets provide jackets that fit uses beyond snowboarding and skiing. Developed over the past few years with partners like Specialized Bicylces, these fits and jackets are the perfect crossover into much more "outdoor" specific pieces.
Any played-out trends that your brand is moving away from?
All over prints and extra design with no purpose. Any feature or design cue you see on our products is there for a reason. We want to create products that consumers can buy once and keep for a lifetime.