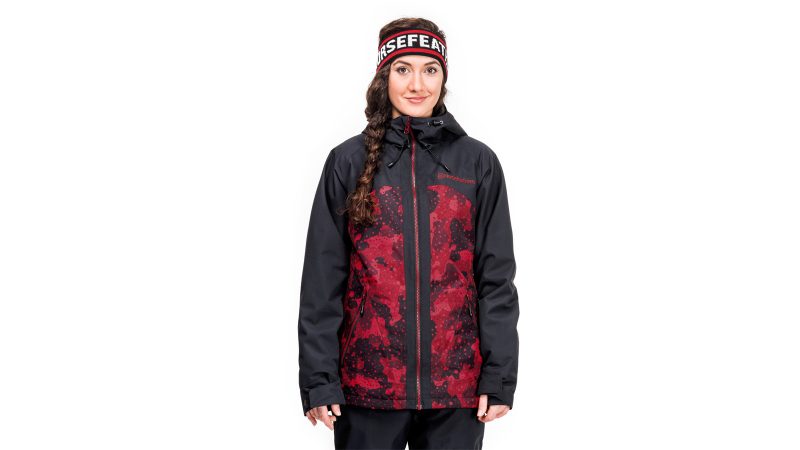 Horsefeathers Women's Outerwear FW17/18 Preview
Retail Buyers Guide: Women's Outerwear 17/18
CATEGORY: WOMEN'S OUTERWEAR
BRAND: HORSEFEATHERS
What's the overall theme behind your 2017/18 outerwear?
It's enjoying the fun when snowboarding. It doesn't matter if you are a park kid, carver or pro rider. GO riding! is what people have to care about and we just try to do outerwear that will make this possible and people will have not to care about stay warm and dry.
Also, we care about the price/performance ratio. Last two seasons we talked a lot with our riders, friends and people who shred more, to improve our products. Because then the regular customer could be sure, our gear will back him up. We have different product categories from Addicted To Powder 20/15K line to the 5/5K technical apparel jackets, so we have product for every kind of snowboarding.
From where do you take your inspiration? What other brands, designers, artists or collectives do you follow who influence the style of your brand?
There are thousand of things that influence the brand style, but the important ones are the brand history, DNA and the crew around the brand. You can do special collections, collabos with crazy styles, but still the most important is to keep the DNA and the style of the brand, your customers like.
What are the two most important products in your 2017/18 range? Why? Please tell us about them.
Every product in the line is important and has its place in the collection, but we are stoked on the first signature combo of KLAUDIA MEDLOVA (Nela jacket and Marcy pants). 15/10K womens products are important for us – Samia jacket, Stacy Bib pants and Tonia pants. Tara jacket will be the best seller and we are stoked on the Everly technical apparel anorak jacket.
What percentage of your outerwear is sold online vs instore? What's the best way to connect with customers who buy via both of these channels?
We don't have 100% data but from what we know, worldwide is around 50/50. The big stores sell lots online, but there are still a lot of sales going through the regular stores.
There are many ways to connect with the customers, and for brands nowadays it's necessary to combine more than just one or two. Brands need to be active in stores, online, on social media, where you can connect with the customers. Also on the events, but traditional media methods are still important. The key is staying true, don't fake their clients. The brand DNA and sincerity is important these days.
Are your price points going up or down?
We are keeping our price points at the same level because they are so sick – best ratio performance/price out there.
What new fits/silhouettes are coming next year?
We work on our fits every year; we keep the segments, but we pimp it following the feedback. We have upgraded slim fit pants and the bib pants. Also, we added new cuts into the technical apparel line, and the ATP line cuts are upgraded with the feedback of Tyler Chorlton.
What's new in colours/prints?
Main colour stories in women's collection are Gold, Deep Lake and Strawberry camo. We added some darker colours for girls, but we also still keep some more girlie combos in the basic lines.
Here's the place to talk about fabrics, features and technical innovations. Here we're principally interested in *NEW* technical stories that you haven't offered to retailers previously.

We are using different Nylon fabric in the ATP line and the main move in the line is that we keep the 5/5K membrane only for technical apparel, all the outerwear jacket have 10/5K and more.
Any played-out trends that your brand is moving away from?
Flashy colours.
Women's key products:
Nela jacket Klaudia
Samia jacket –15/10K
Stacy bib pants – 15/10K

BASE LAYER FOCUS: Do you do baselayers? What's happening here, what's your base layer strategy next year? Please let us know your tech innovations, materials, colours and price points.
Yes, for the fw1718 season we skipped using Merino, and we focus on Nanosilver Stretch Light Weight Fabrics. We also still keep the Nanosilver stretch Mid Weight fabric we've used for years. Main colour stories in baselayers are Strawberry camo, Pool Blue and Dots. The classic black is a must.