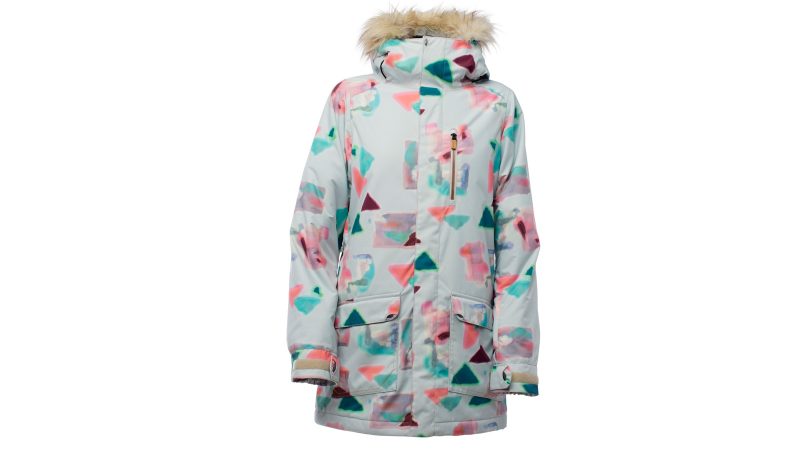 Nikita Women's Outerwear FW17/18 Preview
Retail Buyers Guide: Women's Outerwear 17/18
CATEGORY: WOMEN'S OUTERWEAR
BRAND: NIKITA
What's the overall theme behind your 2017/18 outerwear?
While we always draw from and take cues for colour and prints from our streetwear design story, this collection stands for the girls who ride in Nikita—they are our motivation and our muses. The collection is as diverse as the girls who wear it, yet it all speaks to their collective confidence and creativity on the mountain and off, with tech and features to support their riding, and silhouettes that reflect their personal style.
This season we worked on diversifying our prints and colour palette, refining our fits to be more ergonomic and streetwear-based, and introduce a partnership with Thermore to offer premium, compact insulation.
What are the two most important products in your 2017/18 range? Why? Please tell us about them.
A one-piece is something we have included in our line over the years and this season we have the Mondrana, offered in a utilitarian-look, waxed black canvas at 20K, or the more playful worn denim-look canvas paired with our Multimedia print—truly a standout piece that has been getting a lot of attention.   
The Hawthorne Jacket is going to be a top seller, offered with removable faux-fur trimmed hood and offered in three prints and three solids, including the seasonal featured Multimedia print, there's a lot to choose from. This is offered in a Classic Long fit, a little roomier than our Slim Long fit but not baggy or oversized in the least.
The Maple is important because it showcases our introduction of a denim-look, streetwear-inspired waxed canvas. Available in black or blue, the Maple features Thermore Classic Compact insulation, providing high-end, uncompromising warmth without bulk. It also offers our highest 20K waterproof rating, and is featured our new Slim Long fit, Radiant Heat Pocket, a bevy of other features.
I included the Maple here because it's got all the tech and highest waterproofing and is important in NA. This might not be the EU focus so you can totally take it out.
What percentage of your outerwear is sold online vs instore? What's the best way to connect with customers who buy via both of these channels?
We have a very strong, global social network where we talk to our Nikita Nation, our friends and followers every day about the things they love. This bond we have with our customers goes beyond promotion and it's what keeps us in the loop with them.
We can communicate with them through events, email, blogs and social networks on a regular basis so when we communicate that new items are available at our brick and mortar and online retailers, they are the first to hear about it. 60 % is sold online and 40% instore.
Are your price points going up or down?
Prices are slightly higher this season, which reflects our renewed commitment to providing high quality fabrics and finishes. 
What new fits / silhouettes are coming next year?
We offer Slim and Slim Long fits: ergonomic, streetwear-inspired shapes for more of a body contoured look. In addition we still carry our Classic and Classic Long fit which is a little bit wider but not a "Baggy" fit. We are offering more of the shorter styles this season. Our fabrics and insulation are lighter weight. And for styles featuring Thermore Classic Compact insulation we are able to offer supreme warmth while keeping the jacket slim to the body.
What's new in colours / prints?
For us, what's new are a diverse palette and print selection. This season we feature three colour stories. Our Brick House colour story features a "Fired Brick" maroon colour paired with a beigey grey, complemented by a pop of peach-pink.
Our other two colour stories blend icy blue and nature-found greens. We feature five different prints that range from the aforementioned multimedia triangle print, to a black and white marble, and a lighter, more colourful Painted Print.
We are of course known for our creative approach to colourblocking, which is most evident in the Birch Jacket. While the Nikita girls have a lot in common, we are responding to their diverse colour and pattern interests and have put something out there for a wide range of girls. 
Here's the place to talk about fabrics, features and technical innovations. Here we're principally interested in *NEW* technical stories that you haven't offered to retailers previously.
This season we are telling two new technical stories for the line. The first is Radiant Heat—it's a streamlined warmer pocket that sits at the inside of the lower back of every jacket in our line. Activate and slip a warmer pack into the Radiant Heat pocket for prolonged comfort and warmth to lengthen your time on-hill.
And we are introducing Thermore Classic compact insulation in many of our pieces—to provide premium warmth with none of the bulk.
Any played-out trends that your brand is moving away from?
In general there is less and less of a divide between snowboarders and the rest of the wintersports world, and this is reflective in our line. We have also shifted our fit along with the evolution of outerwear and customer demand.
While we still offer some "Classic Long" styles our silhouettes on the whole are more ergonomic. In some pieces the streetwear influence is more evident, while we were sure to maintain the on-snow functionality.
BASE LAYER FOCUS: Do you do baselayers? What's happening here, what's your base layer strategy next year? Please let us know your tech innovations, materials, colours and pricepoints.
The trend of streetwear influence on outerwear benefits us as we've always created a "midalyer" collection that serves both outerwear and streetwear segments. For example, this season we offer our popular Delano shirt in a DWR-coated, insulated option as well as a non-insulated flannel shirt. Our hoodies and tees have always been a favourite underlayer option for girls to pare their kits down to apres ski.