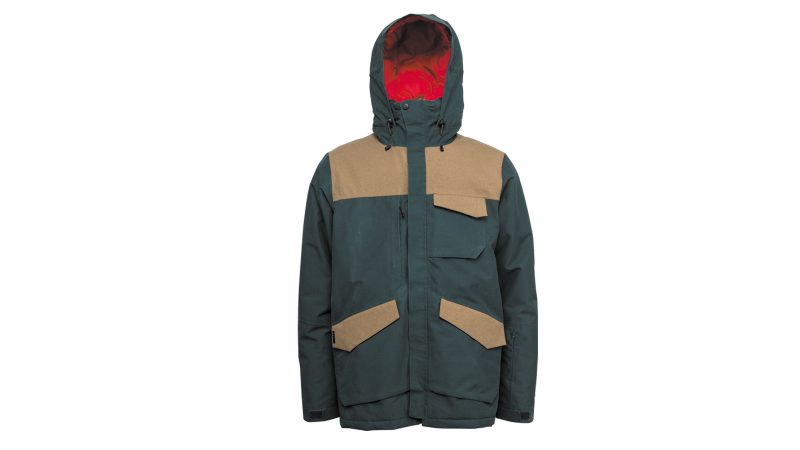 Nitro Men's Outerwear FW17/18 Preview
Retail Buyers Guide: Staff Sales Handbook: Men's Outerwear 17/18
CATEGORY: MEN'S OUTERWEAR
BRAND: NITRO
What's the overall theme behind your 2017/18 outerwear?
A considered approach to technical snowboard outerwear.
From where do you take your inspiration? What other brands, designers, artists or collectives do you follow who influence the style of your brand?
At Nitro, we're pretty fortunate the we have such a large pool of team riders, artists and designers. I would have to say that I take most of my inspiration from all of them; while we ride, travel and have beers together.
Most of the inspiration I get from trade shows is from seeing and talking to the materials suppliers.
What are the two most important products in your 2017/18 range? Why? Please tell us about them.
This is a hard question; we've streamlined the whole AW17 outerwear assortment with performance, design details and price in mind. But I would have to say the Alagna Jacket and the MNs Yamanouchi bibs. These pieces were designed for being lightweight and layering ready.
The Alagna jacket is a 3-layer shell jacket, that has a 20K/25K waterproof breathable membrane, along with a C6 (eco) DWR and a considered balance of details and features.
The Yamanouchi BIBs were designed and built to be lightweight and ergonomic; featuring a 20K/25K waterproof breathable membrane 2Layer fabric, with a C6 (eco) DWR.
What percentage of your outerwear is sold online vs in store? What's the best way to connect with customers who buy via both of these channels?
We currently sell only through our core family of stores, but have future plans to sell through an online channel.
I feel that the best way to connect with customers is to go out and ride and or have beers with them afterwards.
Are your price points going up or down?
We feel that accessibility is a big part of our industries growth, so we are really trying to bring our price points down; without compromising on quality or performance.
What new fits / silhouettes are coming next year?
We've got our bases covered with two different brands under the Nitro family umbrella; L1 Premium Goods and of course Nitro. Jon Kooley takes our L1 outerwear brand to the street/urban inspired riding, while The Nitro outerwear line is inspired by front and back country riding.
What's new in colours / prints?
For the past few years Nitro has been playing with earthy tones, but for AW17 we've added some brighter colours like Citroen, Blue Steel and True Red.
In regards to prints we've taken mountain inspiration for the men's collection and created a 'Wild' at heart print and our take on the beloved Camo.
Here's the place to talk about fabrics, features and technical innovations. Here we're principally interested in *NEW* technical stories that you haven't offered to retailers previously.
Every season we try to up our game with new features & materials and this season is no different. For the last couple seasons we've been marrying technology from a company called 37.5, with lightweight waterproof breathable 2L & 3L fabrics. These fabrics help the rider to maintain their optimal body temperature by moving water vapour/sweat away from the body. 37.5 is basically carbonised coconut husks ground down to ultra small active particles and then applied to the side of the fabric that is closest to your body.
Our biggest technical story revolves around how we've really stepped back and considered everything from form + function to all the materials that go into the individual pieces in our AW17 outerwear line.
Any played-out trends that your brand is moving away from?
gore-tex™. 
gore-tex™ was probably the first to market with a membrane that gets laminated to the backside of fabric. Since its debut there are easily a handful of other branded membranes (hyperbola, event, pertex, etc) that do the same thing. Some are good and some are pretty crap; but with their huge marketing budget, they have basically indoctrinated everyone to believe that they are the best.
For the most part, the average consumer doesn't even fully understand what they do and how they work. When you see water beading on the surface of a jacket…that's actually the DWR (durable water proofing) doing its job.
The membranes are basically a micro-porous layer that gets laminated to the back side of a fabric and acts like a valve. These microscopic pores/holes are much smaller than the smallest raindrop, yet large enough to allow water vapour carried by the heat of your body, to pass through to the outside of the jacket. Our body heat generates a higher pressure on the inside of the jacket, so it helps keep water from seeping through from the outside (lower pressure) via the same pores/holes.
BASE LAYER FOCUS: Do you do baselayers? What's happening here, what's your base layer strategy next year? Please let us know your tech innovations, materials, colours and pricepoints.
Our strategy for the baselayers is around function and so we've also incorporated 37.5 technology into all the pieces.