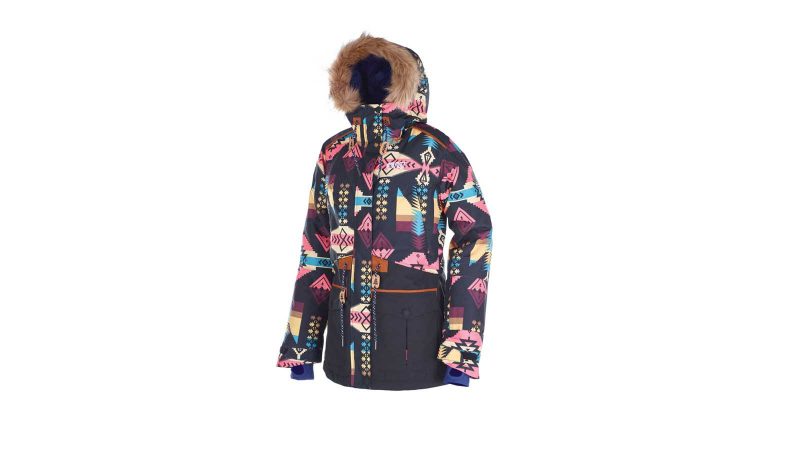 Picture Women's Outerwear FW17/18 Preview
Retail Buyers Guide: Women's Outerwear 17/18
CATEGORY: WOMEN'S OUTERWEAR
BRAND: PICTURE
INTERVIEWEE: JULIEN DURANT (CO-FOUNDER)
What's the overall theme behind your 2017/18 outerwear?
For the FW 17-18 collection, Picture Organic Clothing goes on an expedition in search of inspiration!
Years ago, human beings lived in a perfect harmony with Nature resulting in fascinating inspirations, inventions and stories. Today nudism can be considered as a way to be at one with nature but this is not enough for our three founders and adventurers (maybe they are a bit too modest…).
Always pushing the limits of adventure, Julien, Jeremy and Vincent, travelled on a great expedition by foot, by canoe and even by camel, across natural terrain, tirelessly tracking the exceptional atmosphere's they discovered in magic lights, colours and perspectives, to create a Fall/Winter 2018 collection to meet your expectations!
After months leafing through encyclopedias and adventure novel pages, our 3 bookworms chose three destinations for their epic trip.
For the expedition collection and our cold water program, they landed in Iceland in search for the holy grail of inspiration, where an amazing range of colours, thanks to icebergs, aurora borealis, cascades and the arctic cold, could be found!
Taking a break and time to chill, the second step of the trip was more local to our 3 explorers for the Adventure collection, taking place in the Glaciéres de Sylan: a very old natural complex in which people can explore natural ice. The mix between old constructions and nature make a surprising show!
To end their unusual trip, Julien, Jeremy and Vincent, met in Spain for the Friends collection, in the middle of the Bardenas desert, in which the soil erosion has created capricious shapes that transport you to a luminaire atmosphere.
An expedition searching for the holy grail of inspiration to be discovered in the next chapter of Picture!
From where do you take your inspiration? What other brands, designers, artists or collectives do you follow who influence the style of your brand?
Our inspiration depends on which line we are talking about.
Concerning the Expedition line we inspired ourselves from brands like Nike Lab, from design like topographic one with coloUrs and lines inspired by icebergs, and atmospheres like outdoor adventures. 
For the Adventure line, we inspired ourselves from brands like Deus Ex Machina, from iconic lifestyle workwear products, from colours and materials from Scandinavian design (wood, cork, steal), to allow women to be in the shoes of wild women. 
Finally, for the Friends line, we inspired ourselves by the running industry and the Scandinavian architecture lines with pure process colours from Panton card (process blue/pink/red, etc).
What are the two most important products in your 2017/18 range? Why? Please tell us about them.
Xena One piece : Inspired from workwear and pilot suit, this very technical women's one piece is the ultimate protection for all your big powder days. Fully seam taped, with a 20k/15k membrane and maximum insulation, it offers an important breathability. A great compromise between comfort, technology and style, for heavy snow conditions.
The Apply jacket and the Slany Pant with the Aztec print: To improve the attractiveness of your winter wardrobe which is often too sober and dark, we propose the eco-friendly and technical Apply jacket and Slany pant with a geometrical, colourful and fashionable Aztec print to bring you on an amazing trip on the Latin American continent!
What percentage of your outerwear is sold online vs instore? What's the best way to connect with customers who buy via both of these channels?
We do not have an online store yet.
Are your price points going up or down?
Nothing changes.
What new fits / silhouettes are coming next year?
We keep the same fit guide which works very well with the Mid Fit, Tight Fit and Street Fit. But we add some slimmer and tighter fits for the bottom, and longer fits for the top because this is the way the market is evolving.
What's new in colours / prints?
The design team has worked on different, very original prints for women. For example, the very colourful Aztec print for the Friends Line.
Here's the place to talk about fabrics, features and technical innovations. Here we're principally interested in *NEW* technical stories that you haven't offered to retailers previously.
The ProKnit Series is our greatest recent innovation: to go on an expedition across high altitude our laboratory team have created The Iceland ProKnit Lab eco-friendly jacket, in which we have integrated a patented new technology: The ProKnit series; dedicated to real explorers always looking for new experiences. Made from only one piece of woven jacquard construction fabric, without seams and with body mapping permitting varying fabric density across specific areas allowing x2 stretch, giving the user a maximal breathability, a maximal stretch, and maximum waterproofing thanks to our R-PET membrane.
In addition to that, we have invested a lot to find sustainable solutions to replace down in all our outerwear range. Actually, solutions exist to stay warm without live plucking and which preserves the environment, like using Sorona.
We made a radical choice prohibiting ourselves the use of animal down, replaced by Sorona, a synthetic down, made at 37% of biosourced material which guarantee a thermal comfort and a large breathability, even in wet weather because it dries 4 times faster than a 100% padding down!
Any played-out trends that your brand is moving away from?
We are moving away from colour blocking: we moved those design to 2 tones of colours. Furthermore, we are working on products that have a lifestyle street side and at the same time a technical and functional one.

BASE LAYER FOCUS: Do you do baselayers? What's happening here, what's your base layer strategy next year? Please let us know your tech innovations, materials, colours and pricepoints.
At Picture Organic Clothing the base layer program is growing fast and the main direction we are taking is body mapping construction for more comfort, warmth and breathability. Our base layer range is thinking with technical, functional and design features for a crossover use (in mountains & cities).