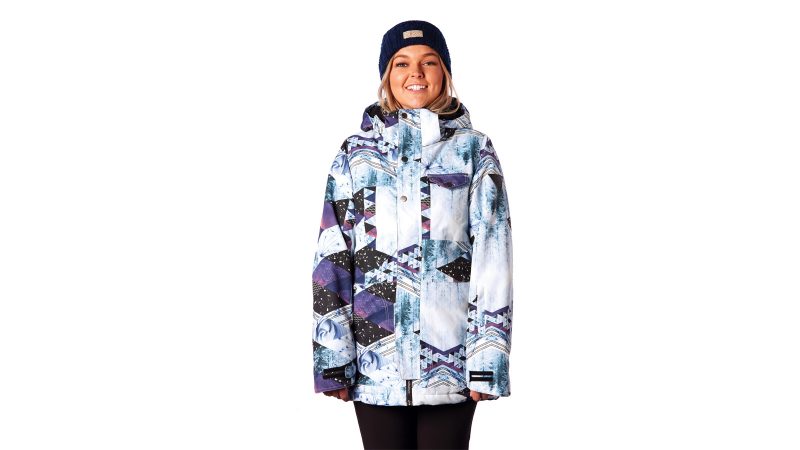 Rojo Women's Outerwear FW17/18 Preview
Retail Buyers Guide: Women's Outerwear 17/18
CATEGORY: WOMEN'S OUTERWEAR
BRAND: ROJO
INTERVIEWEE: JO BUCKLE (FOUNDER)
What's the overall theme behind your 2017/18 outerwear?
Rojo Outerwear, designed by women for women has grown from a simple passion for hand crafted creativity, whether this be a jacket, pant, base layer, beanie or socks designed to be used in an Alpine lifestyle. 
As a brand born and bred from the Southern Hemisphere, we understand that our Rojo girl needs to travel and explore to find the perfect powder in a modern alpine world.  Whether she is riding in the Southern Hemisphere or travelling to Japan, Europe or North America our product is crafted for the ride and also for the journey enabling easy transition from street to slope. 
From where do you take your inspiration? What other brands, designers, artists or collectives do you follow who influence the style of your brand?
When designing any new line, we are always looking to take beautiful natural elements and contrasting these with strong lines and colours as part of the design pallete.
At Rojo we are always inspired by the natural elements of the icy tones which makes the Southern Hemisphere such a unique alpine environment. Our designers are independent women who ride and are part of the snow culture. For us, being away from the Northern Hemisphere was once considered a hindrance to the global market but we now consider it an advantage.
As private owner operators working in our business day in day out we know that our product is driven by a passion for all things snow and the lifestyle that this embraces. We are not owned by corporates. Our passion is design, the lifestyle and the industry, and each of these elements connects us to our market and rider needs.
We are inspired by the people of the industry whether it be the lift operator, the instructor, the person working as shop crew, these are the people who live and breathe our industry and snow community. The snow industry and community covers many creative types and connecting with these souls is our mission – our community has at its core a richness of talent enabling us to deliver garments that feel luxurious and which are crafted with trims unique to each collection.
What are the two most important products in your 2017/18 range? Why? Please tell us about them.
I would probably have to say our Collab jacket with Boarding for Breast Cancer (B4BC) is one of most significant pieces in our 2017/18 collection. We have created a unique piece of art which we developed into a yardage piece, in turn this has been featured on a jacket and also base layer garments, which in a subtle way explains the message behind the B4BC programs.
As we are an all-female driven label it is important that we give back to our wider community of female riders. The story of B4BC is one of promoting breast cancer awareness and breast health as a topic of conversation amongst young people. The programs of B4BC empowers young people to make positive choices that promotes lifelong wellness through outreach, prevention and support programs. These values are something that we have built into this jacket by developing a Unique B4BC back neck label and story combined into the inner life of this jacket.
Rojo has always been about taking unique art and applying it to product which the B4BC campaign has enabled us to do with great artistic results.
What percentage of your outerwear is sold online vs instore? What's the best way to connect with customers who buy via both of these channels?
There is obviously a growth in all online business but to be honest we don't treat each as separate channels of distribution, but rather each is an avenue or stream that enables product to reach the market place. 
We know that retailers cannot buy and range all of our product so we work with them to create online and in store offers supported by multimedia presentations. Bricks and mortar stores are critical to band distribution but it is equally important to work with all of our core retail partners in respect of their online presentation and delivery of Rojo product to their customers.
Are your price points going up or down?
We are seeing an overall increase in price points due to the rise in the USD which we know brings added pressure to the European market place.
What new fits / silhouettes are coming next year?
At Rojo we believe in a longer feminine fit for our Rojo girl to ensure that the product can be worn on the hill or on the street. We are not a technical look but an urban cross over feel.
Here's the place to talk about fabrics, features and technical innovations. Here we're principally interested in *NEW* technical stories that you haven't offered to retailers previously.
At Rojo it is all about unique threads and weaves – soft luxurious fabrics which are highly rated for alpine adventures, unique trims and features – Rojo inspired hand drawn linings are all combined to create a soft and luxurious feel in our fabrics and stories. It is what we have always done and as we have said, the influences of icy tones combined with rich colours and strong lines are clearly evident in the Rojo 17/18 collection for this year across all categories.
BASE LAYER FOCUS: Do you do baselayers? What's happening here, what's your base layer strategy next year? Please let us know your tech innovations, materials, colours and pricepoints.
Base layer has been a real growth area for Rojo over the past three years. By taking our unique yardage prints and applying them to base layer fabrics this has meant that the same art that has inspired a jacket can also be transferred to a base layer garment.
From a merchandise perspective, it gives a retailer the ability to create a unique story based around our art. Our base fabrics are a four way stretch poly spandex with wicking technologies applied to keep our riders warm and dry based on the principles of layering garments for additional warmth and insulation.