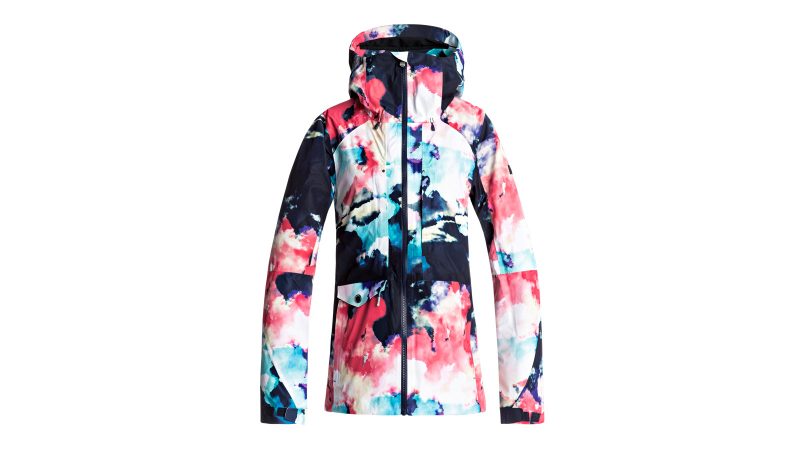 Roxy Women's Outerwear FW17/18 Preview
Retail Buyers Guide: Women's Outerwear 17/18
CATEGORY: WOMEN'S OUTERWEAR
BRAND: ROXY
INTERVIEWEE: MARION BERTRAND (PRODUCT MANAGER)
What's the overall theme behind your 2017/18 outerwear?
In true ROXY fashion, our 2018 Mountainwear collection redefines the intersection of alpine comfort and fashion. With fresh emphasis on performance-enhancing fit and trend-leading prints and palettes, our designers and riders have achieved our most distinctive line to date.
The advancements are stealthy, with style disguising the breakthroughs; from embossed fabrics to contrast taping, craft touches like textured herringbone and jacquard infuse the line with a heritage signature. Our Bright Edition and Pop Snow capsules enliven the offering, bringing vivid color and next-level tech engineering to the mountaintop.
Comfort remains our most important focus. After last years' success, we kept on developing our collaboration with Biotherm in order to bring the exclusive Enjoy and Care hydration technology to even more products, including neckwarmers, snow jackets and gloves.
From where do you take your inspiration? What other brands, designers, artists or collectives do you follow who influence the style of your brand?
Our collection is divided in four segments, ranging from Active to Chic products, making inspiration possibilities very broad. Our primary focus goes to fashion trends as well as consumer needs. Designers keep a close eye on fashion blogs, snowboard films, competitors' products, haute couture shows while product managers always take into account feedback from our customers and sales representatives.
Roxy's world-class athletes also play a determinant role as they are truly involved in the design process and influence most style decisions. Finally, the France-based team regularly goes on tour to get in touch with the latest fashions and fabrics worldwide.
What are the two most important products in your 2017/18 range? Why? Please tell us about them.
Composed of the Stormfall jacket and the Rise up pant, Torah Bright's segment is essential to this year's collection. Not only does this silhouette represent a truly emblematic athlete, but it also features the most appreciable technologies: Mat-shine membrane, woolly-like fabrics, Primaloft Gold Insulation Luxe 100g, high waist pants, neoprene waistband and our exclusive Enjoy & Care hydration system. 
What percentage of your outerwear is sold online vs instore? What's the best way to connect with customers who buy via both of these channels?
Last winter, we observed a growth of online sales. They now represent 7.6% of retail sales and this number should be on the rise in the coming years. We give much importance to the way the brand is presented and we aim to deliver the clearest and most complete information regarding our products.
Social networks are essential vectors of connection with customers. Roxy counts more than 1.3 million Instagram followers and 3.2 million Facebook likes. Both of these accounts are very active and get updated about twice a day. For online customers, the quality of our website is crucial. That is why we keep investing to make the platform as intuitive and enjoyable as possible.
Are your price points going up or down?
We kept the same prices for the vast majority of the collection. When they happen, price increases are always justified by a gain of quality or features addition.
What new fits / silhouettes are coming next year?
Our designers came up with a traditional jacquard pull-over that is the ultimate compromise of comfort, retro style and warmth. A durable must-have on and off slopes.
We also developed a new technical and feminine Bib pant that completes perfectly our street-inspired collection while answering to the needs of the most demanding freeriders. Those girls want to push the boundaries; we want to make sure they can do so.
What's new in colours / prints?
We have added more details and depth to photoprints and the results filled us up with enthusiasm. Our latest favourite, the Cloudnine print, is a clever combination of neon colours and a deep blue. It has unique vibrant though soft and dreamy touch that is going to please any eye out there.
Soft neon colours will be in the spotlight for Roxy next season, with tones like Neon Grapefruit or Lemon Tonic. We also updated our urban-inspired with a snippet of bright colouration, notably with the new Green Sulphur. As for more neutral tones, peacoat blue, heather grey and black occupy the podium.
Finally, excitement was big when it came to collaborate with Little Miss™ (http://www.mrmen.com/) to design the girls' collection. The products look incredible and we can't wait to see kids wearing them on the slopes.
Here's the place to talk about fabrics, features and technical innovations. Here we're principally interested in *NEW* technical stories that you haven't offered to retailers previously.
After a long period research and development, we're now very proud to announce that a third of Roxy jackets and pants will integrate REPREVE®邼 recycled fabrics from next year on. We believe that every ROXY girl wants to do her part for the planet, we are more than happy to participate.
Any played-out trends that your brand is moving away from?
From Chic to Streetwear-inspired, our collection covers a wide range of styles and we deal with numerous trends. But overall, we are gradually dropping all-over prints, large fits and cargo pockets on pants.
Do you do base layers? What's happening here, what's your base layer strategy next year? Please let us know your tech innovations, materials, colours and pricepoints.
Base layers are an important part of our range. We believe they are just as important for warmth and comfort as jackets or pants. We designed our layers to be versatile products, meaning that they can be used for various activities, from beach runs to mountain rides. To achieve this, we work closely with the Roxy fitness division which has proven to be increasingly popular and innovative over the past years.
Our layers collection includes performance fleeces, cozy knits and soft textures. Leaning on the fitness division's expertise, we now integrate seamless layers and power stretch fabrics to our collection. Thanks to our collaboration with Polartec®邼, we came up with a tech layer that is ultimate balance of warmth, stretch, durability and comfort. Prices haven't risen this year. Layers represent a great vector of innovation to us and we want all Roxy girls to benefit from it.