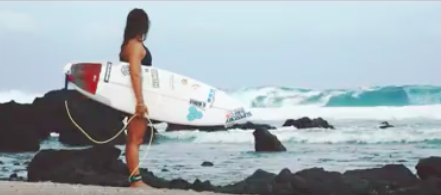 Johanne Defay Signs to Dakine Surf Team
French surfer, Johanne Defay, has been signed to the Dakine Surf Team and will use the brand's leashes, pads and travel bags going forward. Defay has her sights set firmly on competing in the 2020 Olympic Games having already achieved so much on the international stage already.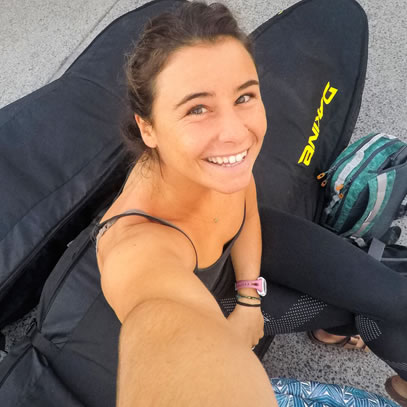 Press Release: Annecy, France (June 21st, 2017) –  Dakine is excited to announce the signing of Johanne Defay to its surf team. Johanne will be geared up with leashes, pads and travel bags, relying on Dakine for her performance in the water and her efficiency in her world tour travels.
The 23-year-old French woman is building up her name on solid achievements. Three times European Champion as a Junior, she went on building her record internationally: European Champion in 2013, "Rookie of the Year" in 2014, a first place in the Vans US Open of Surfing 2015 and crowned herself in the Fiji Pro 2016, placing her on the 5th position of the Final WCT Ranking last year. 2017 is not looking any less successful: she's made a third position at the Roxy Pro in Gold Coast, second at the OI Rio Pro and a silver medal at the ISA World Surfing Games hosted last month in Biarritz.
With her focus set on competition and the 2020 Olympic Games, Johanne is very glad to join the Dakine Team. She says: – "I am really happy to join the Dakine Team. To me, the brand is all about quality and fun, values that match my surfing!"
Dakine EMEA Sports Marketing Manager, PJ Rueda, stated: "She is surfing incredibly well, she is always in a positive mood… what's not to love about Johanne Defay? We are extremely excited to welcome her to the Dakine Team. As a surfer and a world traveller, we couldn't imagine anyone better than Johanne to put our products to the roughest test."
Following John John Florence's addition to the team a few months ago. Johanne Defay is the latest athlete to join the stellar surf team roster of pros who choose Dakine for their performance on the line up and on the way to it.  You will see Johanne featuring Dakine gear in all her upcoming events.
Check out Johanne's welcome video here.