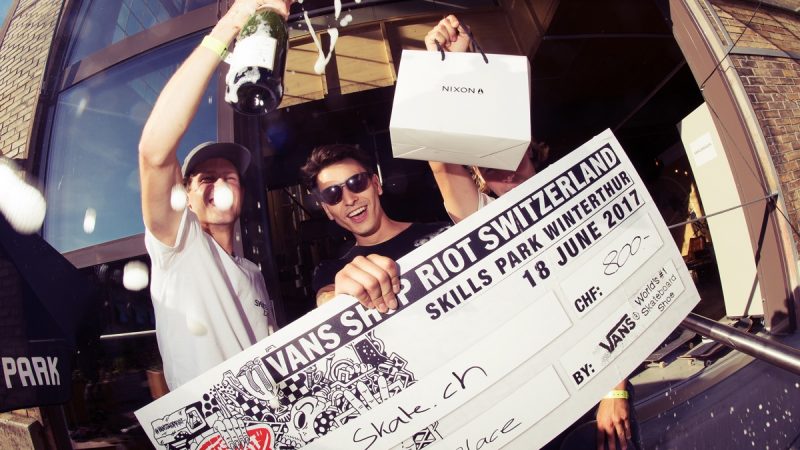 Skate.ch Win Swiss Leg of Vans Shop Riot
Skate.ch came out victorious at the Swiss leg of the Vans Shop Riot 2017 series. This year's event was hosted at the brand-new Skills Park in Winterthur where 14 shop teams battled for the coveted prize. Doodah's Bern store came in 2nd, while their Luzern team placed 3rd in front of Da Shit Skateboards who came 4th.
Skate.ch are now through to the European Finals in Milan this October.
Press Release: This past weekend Vans Shop Riot Series 2017 visited the brand-new Skills Park in Winterthur, Switzerland.
14 Shop teams from all over Switzerland went into battle to fight for the title of "Switzerland's Best Shop Team" and therefore winning a place in Milan, Italy for the finals.
From the beginning skate.ch set the bench mark with consistent flow and huge technical tricks.
Lino Häfeli, who's on fire, Simon Stricker, who's competing all over Europe and Fabio Martin, one of the best transition skaters of his generation, were dominant.
It was smooth backtails at the down rail and noseblunts combined + the finest transition skating which demonstrated this team had a whole repertoire of skills. But in the end, it was the team effort which lead them to the win.
Doodah Bern, Doodah Luzern and our friends from the French part of Switzerland, Da Shit Skateboards, completed the four-team lineup which made it to the finals. Da Shit who claimed the win in 2013 & 2014 were highly motivated to walk away with the crown again. However, on the day the team from skate.ch skated too good to get defeated. The level raised again in the final and it was Doodah Bern who made it to the 2nd place in front of Doodah Luzern.
In the Nixon Best trick session everyone headed to the big section. It was Janos Herzog with his Big Spin 360 who took home the win and a signature Nixon watch.
The Riot heads to Portugal next on July 8th, 2017.
Follow all the action from Vans Shop Series 2017, from qualifiers to finals at vansshopriot.com.
 Results:
Team Skate.ch – Fabio Martin, Simon Stricker, Lino Häfeli
Doodah, Bern – Jan Hirt, Bastian Wirth, Noel Schärer
Doodah, Luzern – Samy Nigg, Lukas Bigün, Oliver Weissmantel
Da Shit Skateboards, Geneva – Gaetan Vautier, Jigdral Drakmajapan, Vincent Meynard
Best Trick Winner:
Jànos Herzog (Home Street Home – Big Spin 360)