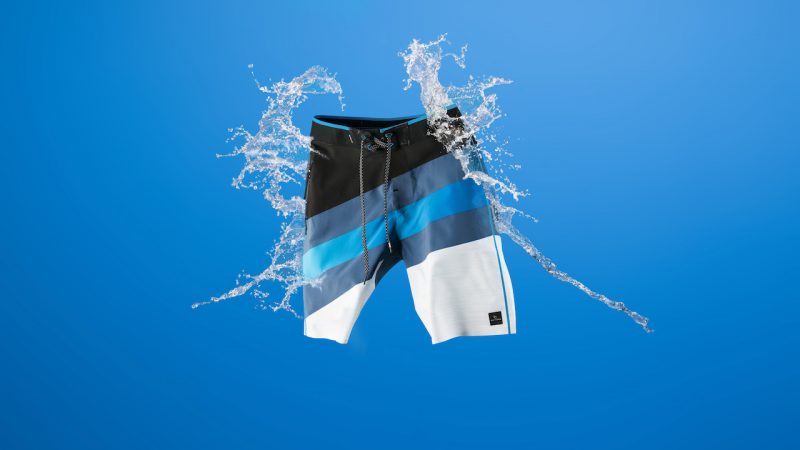 Rip Curl Boardshorts SS18 Preview
Retail Buyers Guide: Boardshorts SS18
CATEGORY: SS18 BOARDSHORTS
BRAND: RIP CURL
INTERVIEWEE: Henri Rodriguez, Surfwear Division Manager
How is your boardshorts segment doing and how will it evolve next season?
Our products' looks evolve every season; our quality offering is still the main point focus. We are working every day on the technical improvement for best quality products. Our boardshort offering is divided into three main segments:
Mirage: The ultimate boardshort. Crafted in conjunction with our elite team and team tested in all conditions. Mirage are made from premium hydrophobic stretch fabrics providing superior fit and comfort. Also, there is a few pieces made especially for our team riders.
Classic: Simple boardshort but functional in design. A traditional construction with great value. The range includes Lay Days, a category blending all-over styles and washed effects, with functional design and side pockets. It also includes the Retro line, a short outer seam length boardshort with retro patterns and colorways. We are also going to introduce new fabrics into our boardshort construction for next summer, the nylon fabric.
Volley: A short leg boardshort featuring an elastic-waistband and an inner mesh liner with a variation of fabrics and designs.
Which direction is this product category taking?
We're keeping focus on technical and quality products. That's the main reason for the increased sales of our Mirage range, and the cause of our fame. It's in our genes to exceed our offer in technical terms and quality each season, to produce the ultimate.
Which are the main trends for next summer 2018?
Technicality and performance is our key focus in boardshorts with strong help and inspiration from our team riders. We share a lot with them to develop our boardshort range, and I was impressed by the creativity developed by sharing info with designers and athletes.
We developed new yardages with a mix of "old school" patterns in colour-blocking; washed and destroyed effects were developed with Wilko for a spectacular boardshort. We also developed a gradient print to create visual excitement with a technical aspect.
We took a strong influence from destinations to develop new and crazy yardages, like Costa Rica with oversized flowers mixed with toucans.
Also traditional vintage flower yardage and camo print are coming back to our range
What colours / patterns will be next season's hits?
Mixed colourways will be the main trend to follow, with firstly a blend between pop and bright colours, and secondly a contrast work of faded colours. Concerning patterns, we're working on asymmetrical patterns combining different all-overs, stripes or solid colours. The gradient effect will be a must have and even more within bright colours.
Any new fabric features and technical innovations?
Next summer we will introduce our new boardshort innovation, the surf grip waistband technology. A 360 degree internal waistband pattern fuses the boardshort, keeping your boardshort from moving when in the water. Also, we're going to introduce nylon fabric boardshort, featuring a compact mesh, a sustainable fabric, to avoid any rashes.
How much of your line is eco-friendly and how are you doing so?
Since 2016, we have been working on an eco-friendly line under the name of Surf Craft. It's a real goal for Rip Curl Europe to reinforce our environmental value, because it's a huge part of our DNA. For the next summer collection, the surfwear eco-friendly line will represent 10% of our global offering. Most of our products are made from organic cotton, the other part is made from recycled fibre. Our Surf Craft boardshorts will be made from recycled fibre including our first green Mirage. That's a good start, and we will go on doing so. With care, we would like to push and improve our eco-line for the following years.
Please describe your 3 hottest products retailers should carry.
Obviously, the top product of the boardshort line is the Mirage Mick Fanning Ultimate which represents the best of the search in terms of design and technicality. The Elastostretch 5 marled fabric also gives a great aesthetic to this boardshort.
Also, our cut and sew, Mirage Combined, mixing bright or solid colours, and all-overs, caters to the youth. The Mirage Combined welded block that combines our high-performance fabric with-impact design is inspired and driven by the next generation.
Ending with our classic boardshort; Lay Days, featuring a functional design and side pockets for a casual look on the beach or on the street.
Price points: what are your main categories and what is the upper limit in this product category right now?
We divide the boardshort category into three main points. For our best boardshort range, Mirage, we're working to do the best offer. That's why it's also called the Ultimate boardshort. Our ultimate boardshort's range price varies from €70 to €90 with our famous Mick Fanning Ultimate Boardshort. Even for our Volleys boardshorts, we're looking for functionality and quality in each product. We're proud of the price for our quality offering, as I told you, it's in our DNA to innovate and create the best quality.