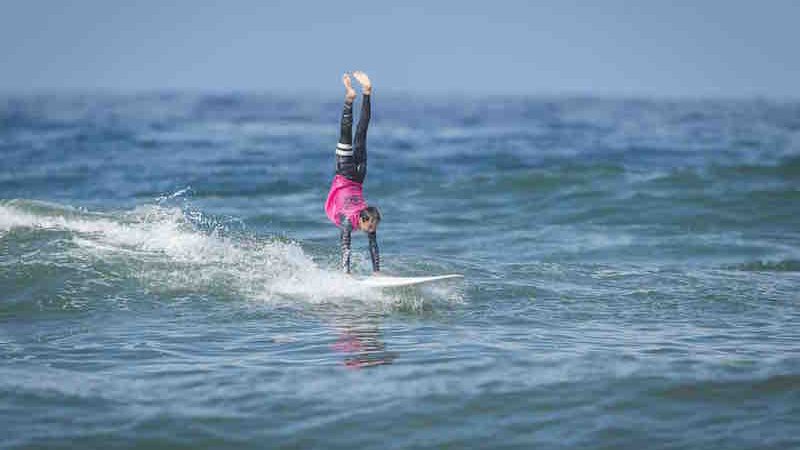 RVCA SURF / 18th Log Classic 901XL Event Recap
The 18th Log Classic 901XL Event in Vieux Boucau, SW France, saw near perfect three foot peelers on show for the group of long boarders that came to compete. The 901 in the event title stands for a nine foot longboard, with zero leash and one single fin. 
Press Release: HOSSEGOR, France (Tuesday, September 5, 2017) – Grassroots, Excellence surfing & Friendly vibes, a trilogy perfectly describing the 18th edition of the 901XL Classic that took place last weekend at Vieux Boucau, France, in 3-ft good-to-perfect waves. Managed and organised by the Vieux Boucau Surf Club, one of Europe's longest-running surf clubs founded in 1976, the event again delivered its custom laid-back and friendly vibe, gathering the perfect mix of grommets, seasoned locals and top log riders for an exciting day of surf. The event name, 901, stands for the combination of 9ft (longboard), 0 leash, 1 fin (Single fin only), a simple rule allowing no exception for an annual celebration of surfing's roots and tradition.
Current World No. 3 and longtime top European longboarder, Edouard Delperro (Biarritz, FRA) finished atop taking the win in front of local and fomer top French competitor Antoine Cardonnet (Vieux Boucau, FRA), former European champion Romain Maurin (Biarritz, FRA) and local legend and world-class surfer Remi Arauzo (Vieux Boucau, FRA). RVCA Advocate Emilie Libier (Vieux Boucau, FRA) ranked best female surfer of the 2017 edition.
With the full repertoire on offer, from classic hang-tens and hang-fives to classic drop-knee cutbacks and perfect retro style, the grassroots event again delivered an inspiring combination allowing the 40+ field of competitors to unleash their best potential. With fresh early morning coffee, home-made bbq, ice-cold beers and a simple & comfortable event set-up, the 901XL Classic stepped-up again to its reputation reminding crowds and surfers what surfing remains all about : authenticity, fun and people connecting.
Thanks to Marlin Noir Coffee, Woll Beers, town of Vieux Boucau, Surf Avenue Surf Shop, La Maison de l'Espadrille for hosting the 18th Edition of the 901XL Classic.