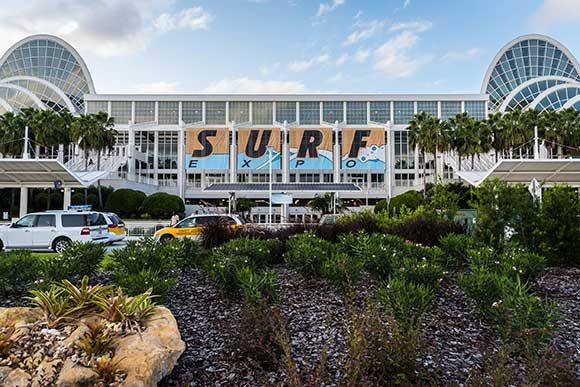 Surf Expo Open For Business Despite Hurricane Irma
Surf Expo will be open for business as planned on Thursday, September 7 with a revised schedule due to the possible arrival of Hurricane Irma. The show will now close at 5pm on Friday, September 8, with the last day Saturday officially cancelled. Demo Day at Bill Frederick Park will occur as planned on Wednesday September 6 from Noon to 5pm.
Surf Expo is the largest and longest-running board sports and beach/resort lifestyle tradeshow in the world with over 2,500 BOOTHS, over 9500 retailers visiting and 28600 attendees The show draws buyers from specialty stores across the U.S., the Caribbean, Central and South America and around the world to a trade show line-up full of special events, including fashion shows, annual awards ceremonies, and demos.
This Septembers show starts with a day of on water demos on the 6th September at nearby Bill Frederick Park at Turkey Lake and then two days of tradeshow at the Orange County Convention Center.
Demo day which is sponsored by Hobie is from midday to 5pm. Retailers can try out the newest boards, paddles & equipment!. Demo Day allows the retailer to 'try it before you buy it'. Brands at the demo include Art in Surf Hawaii, LLC,BIC Sport North America, Inc, Boardworks Surf, F-One & Manera, Hobie, PULSE SUP, Shark SUPS USA and Solace SUP Boards
A shuttle service will run every 30 mins from 11:30am to 5:15pm between Orange County Convention Center and Bill Fredrick Park, with the last departure from the OCCC at 4:00pm and the last departure from Turkey Lake at Bill Fredrick Park at 5:15pm. At the demo location a number of side event will be held. The SUPIA Industry Edge includes breakfast followed by "Retailer Edge" presented by Sue Cooper, Owner of Lazy Dog Adventures and Author of Millionaire in Flip Flops. Sue will share a collection of proven tactics that will help businesses not only survive, but thrive in today's "new normal" of consumer buying behavior. After that theirs a Group "Retail workshop" siscussion and from 3:00 to 4:00PM  its the SUP Ball
Surf Expo is still the tradeshow destination for Beach Lifestyle Products, Brands, Hardgoods, and Apparel. Retailers from around the world have relied on Surf Expo to identify new trends, new brands, and to get business done. The Surf Expo show is bringing together more than 200 new brands to the show and features twelve categories of products all under one roof. To make it easy for buyers to find what they are looking for, and maximize their time at the show, the floor is organized by product category, including Surf, Skate, SUP, Paddle, Wake, Wind, Swim, Resort, Coastal Gift, Boutique, Footwear and Performance. In addition the Paddle Life area at Surf Expo offers both retailers and manufacturers form the water influenced lifestyle segments an established marketplace with the benefits of cross market opportunities, Whilst The Neighborhood is a collection of like-minded brands rooted in surf, travel and adventure located within the surf section. The Neighborhood Lounge features a hand crafted coffee bar from Commune and Co and The What Youth Radical Class Lounge which will host a variety of video premieres and is a great place to unwind in the afternoon for Happy Hour from 4:45 Thursday and Friday.
During the show as always there are a multitude of interesting side events. The annual wake awards from Wakeboarding Magazine's and the ASWI party kicks off the evenings proceedings on Thursday starting at 6pm in room S310. With many of the worlds top riders in attendance, this is the Wake industry's biggest night out. Show side events Thursday include: 10:00-11:00 am at The Stage, the Learning Lab: Navigating Surf Expo: What To Buy & How To Buy It, Fashion Show: Resort & Swim, 12:30-1:30pm Learning Lab: Corizontal: Creating Powerful Brands With Authenticity and Accessibility also at The Stage, 3:00-4:00pm Learning Lab: Amazon: Mining Amazon for Sourcing and New Product Ideas at The Stage and 4:30-5:00pm Fashion Show: Boardsports & Swim at the The Stage And to wrap it all up 4:45-6:00pm a Happy Hour sponsored by MasterCraft Boats at the What Youth Radical Class Lounge, Booth 1614 and 6:00- 8:00pm the SUPIA Industry Edge Day Two in room S230C.
Fridays side events include from 10:00-11:00am Learning Lab: The New Wave: How to adapt and evolve in the changing retail environment at The Stage, 11:30-midday Fashion Show: Resort & Swim at the Stage and 12:30-1:30pmLearning Lab: Find Your Amazon Fulfillment Fit at The Stage.