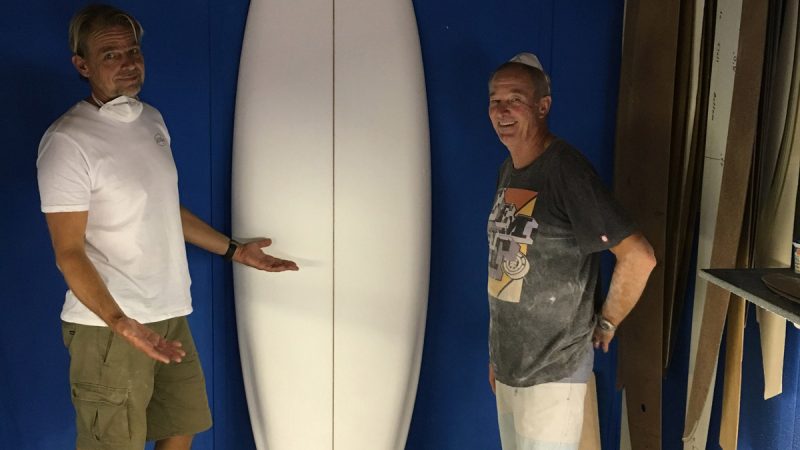 Norden SUP SS18 Preview
Retail Buyers Guide: SUP 2018
CATEGORY: SUP
BRAND: NORDEN
INTERVIEWEE: ANDY WIRTZ (CEO/DESIGNER)
TRENDS
What are the main 2017 trends in Stand Up Paddleboards in terms of categories (SUP Surfing, downwind/race, touring, river, all around/leisure, yoga/fitness…)? Which sector of the market are you focusing most on?
I believe the market will open up again for standard board constructions next to the iSUPS. There are indications that the iSUP market is pretty saturated.
In terms of design, the intermediate part of Touring, All-round boards and entry Level Surf SUPs will be the strongest. Race Designs and small Surf SUPs gone too extreme for the consumers on our opinion, we don't see much grows in terms of none-competitor consumers.
TECH HARDBOARDS/INFLATABLES
What's new with your hardboard construction? And where do you see hardboard sales heading?
For our small surf pro SUPs we will use our new SGT-Surf Glass Technology. In simple words, a light EPS core with a vector carbon net and unidirectional carbon stringers, laminated with clear epoxy resin. Basically looking like a surfboard, and feeling like a surfboard.
For all intermediate Surf, All-round and Touring boards we use our standard wood/sandwich layups with thinner fibreglass layers to reduce the weight and remain the strength. For all Freeraceboards we use the brushed carbon technology with reinforced rails, ultra light but also strong where it is needed.
Last but not least the softtop construction which will less rental places and schools at least 3 years without having to change them…
And where do you see hardboard sales heading?
The standard SUP boards are slowly but surely increasing in numbers again and we believe it will continue.
What's new with your inflatable board construction? And where do you see inflatable sales heading?
"Don't blow up! Show Up! strictly no inflatable's under the Norden-Surfboards label.
Please tell us about your new technologies or product breakthroughs for 2017.
Our breakthrough is probably that our range covers almost all areas with the least amount of boards.
AESTHETICS
What is the story behind your boards' graphics?
We are a surfboard company (not windsurf or canoe!), so our SUPs look a lot like surfboards as well. We are also retro lovers, so the designs are pretty classic and timeless.
RETAILERS' HELP
How are you helping your retailer network to sell your product?
We try to design our product range as compact and convenient as possible. We cover all corners but the range is small. The products are available, (not only exist in the catalog) and the shops can present the brand already with a small investment as the lineup is very simple.
PRICE POINT
How have prices evolved for the hardboard/inflatable categories and what are the main price hot spots?
For the standard construction 1200-1500 € is fair and realistic to achieve, for a little bit more advanced like the brushed carbon construction 1800 to 2500 € is easy to do too.
KEY PRODUCTS
Take us through your two key products for 2017.
We have been very successful with our SUPer Fishes which are wide body entry level Surf  SUPs. The difference here is the triangle rail, which has a lower apex point on the rail, so they feel a lot smaller and not so buoyant  in your turns.
The Explorer Touring SUPs available in 12´6 and the 11´0 for the lighter boys or girls. Great boards for anyone who doesn't want to surf but rather cruise. The actually work also pretty good for downwinders and amateur races as well.
For our company these product were and will be very important in the future.