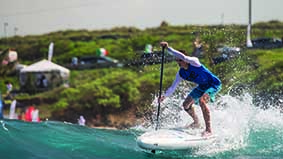 SIC SUP SS18 Preview
Retail Buyers Guide: SUP 2018
CATEGORY: SUPs
BRAND: SIC
INTERVIEWEE: ANTHONY SCATURRO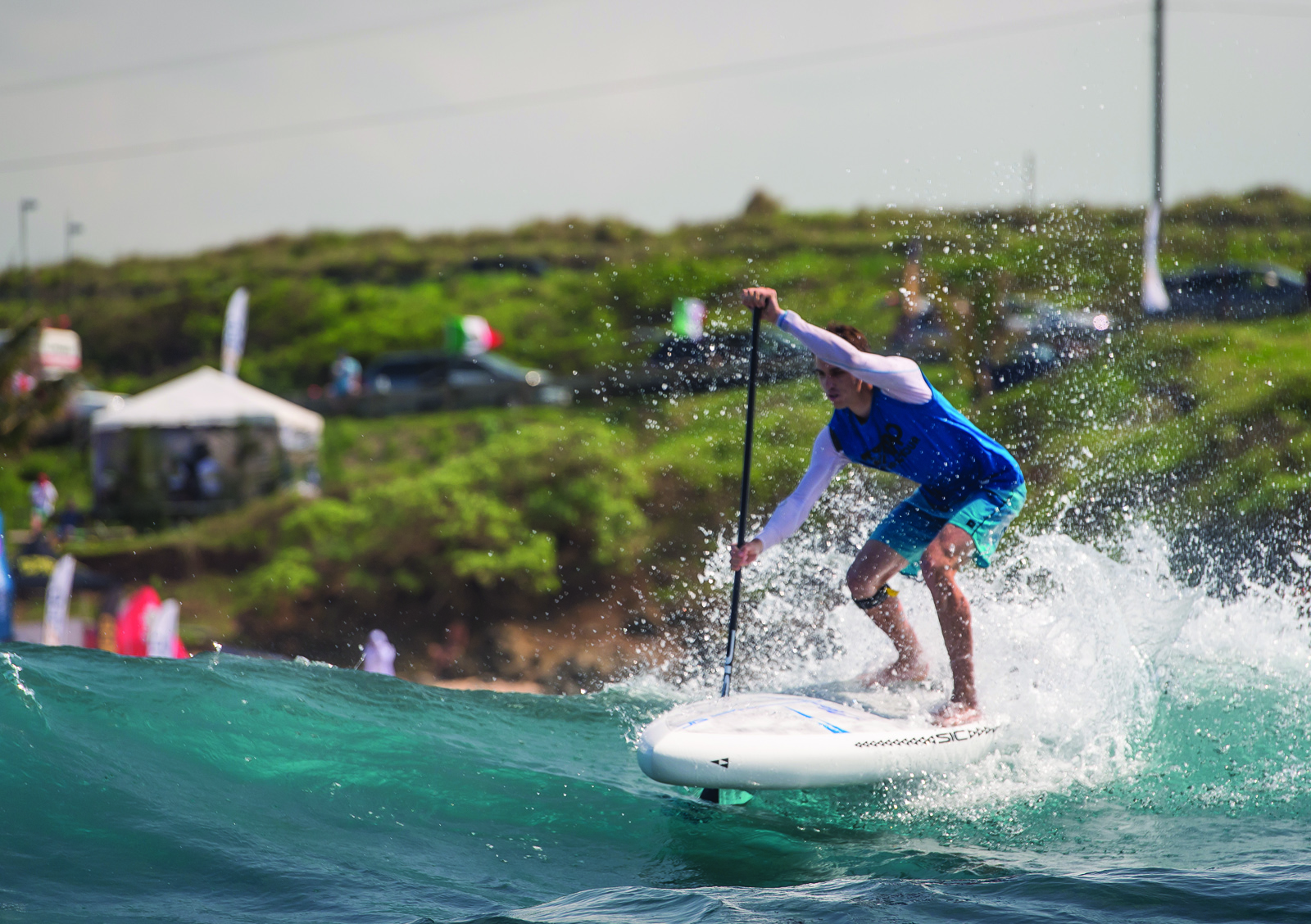 TRENDS
What are the main 2017 trends in Stand Up Paddleboards in terms of categories (SUP Surfing, downwind/race, touring, river, all around/leisure, yoga/fitness…)? Which sector of the market are you focusing most on?
As the leader in downwind paddle boards we definitely see growing interest at all levels i.e. recreational and racing. We see our competitors stepping up making down wind specific board and this is fine with us as the more people promoting this fun category of the sport the more people who try down winding.
Downwind paddling is not just for elite athletes, it's actually a great recreational paddle and so fun to get out on the water with a group of friends and get a little help from the wind and swell. You will never feel as engaged with the elements as you do when you are riding wind and the energy generated by the waves. Add steering to the equation and you can go anywhere and deal with any wind and chop condition.
Additionally we see people purchasing recreational boards that are more suitable to recreational fitness. Most people purchase a surf shape and we are now seeing people getting on boards that have a better outline and rocker line to cruise on and get a workout or just explore.
TECH HARDBOARDS/INFLATABLES
What's new with your hardboard construction?
Our normal high end boards will stay with our traditional SCC (Single Carbon Composite), GC (Glass Carbon) and TWC (Tough Wood Carbon) constructions. These have allowed SIC to address a variety of performance and price segments quite nicely.
We will however, add a new construction to our new TAO FIT and TAO SURF series. This will be a new glass moulded with a Thermoform plastic skin. We call this Space Tech. This is technology from BIC Sport who SIC is now operated and globally distributed by. SIC will now share some of the BIC technology to bring accessible pricing and durable / sustainable construction to the SIC product range.
And where do you see hardboard sales heading?
We see hardboard sales continuing to increase. Of course inflatables are great but as more people get into the sport they will likely also want a composite boards for one reason or another. While inflatables have come a long way and their durability and convenience is a great benefit, there still is no substitute for the overall performance of a composite board.
What's new with your inflatable board construction?
We have switched over to a FUSION SKIN TECNOLOGY, which improves the overall stiffness of the boards substantially. Stiff equals stability and speed and SIC's new performance range of inflatable boards will be nearly unmatched performance.
And where do you see inflatable sales heading?
We see inflatable technology continuing to evolve. We are working on a few projects ourselves. Of course at the higher end the materials and the execution of the design drives up cost closer to a composite board and therefore at some point, as we see inflatables get better we will also see the price of performance inflatables come within the range of composites and they will have to be able to have similar performance and then the consumer will have a choice to make weighing performance, cost, convenience and transportability.
For the lower to mid price points I think we are going to see a bit of a stabilization to keep cost in check but the quality and execution will improve. A lot can go wrong when making inflatables as they are glued seams. They are not moulded products so in addition to the quality of materials being a key factor in board selection, quality control in manufacturing is critical to make sure the fin boxes are straight, the board is now twisted, seams are all glued nicely, valves are installed correctly…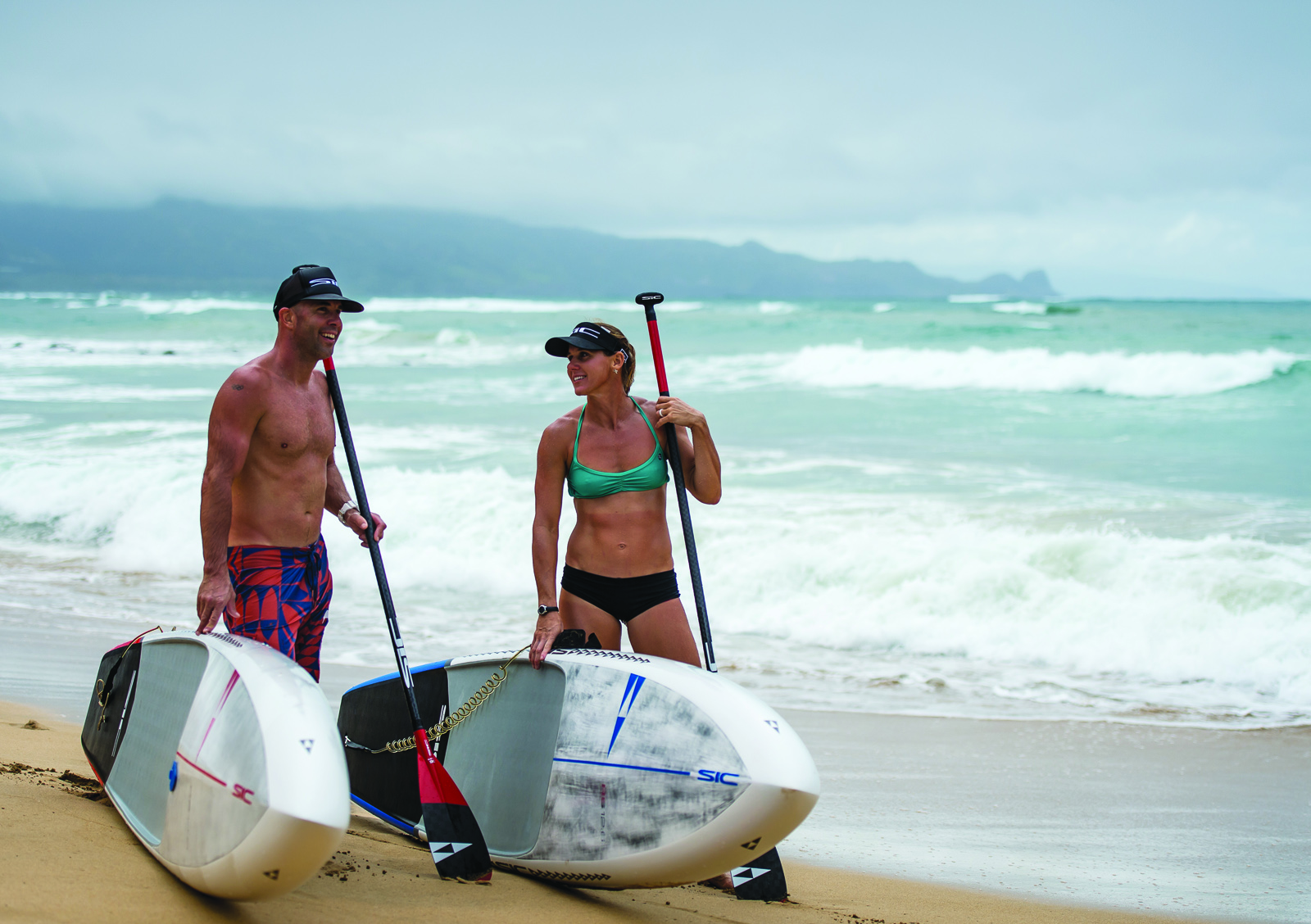 Please tell us about your new technologies or product breakthroughs for 2017?
I think we are really seeing our F.A.S.T. (Foot Actuated Steering Technology) start to make its way around the world as people are purchasing new Bullet series boards or our FX Tour. This system is so clean and unobtrusive as well as being a very effective steering system with multiple failovers, lock off capability and more. This is something that paddlers, whether down winding, touring, fishing or just paddling in locations where a side or head-wind can make it challenging to get back home. Steering is gaining traction.
AESTHETICS
What is the story behind your boards' graphics?
The story behind SIC graphics is always to build something that is simple and beautiful. The lines of a board should beautiful such that the graphic is there to accent or complement the shape and line of the board.
If you shape a beautiful board as Mark Raaphorst surely does then there is no reason to hide artistry and craftsmanship behind a bunch of graphics.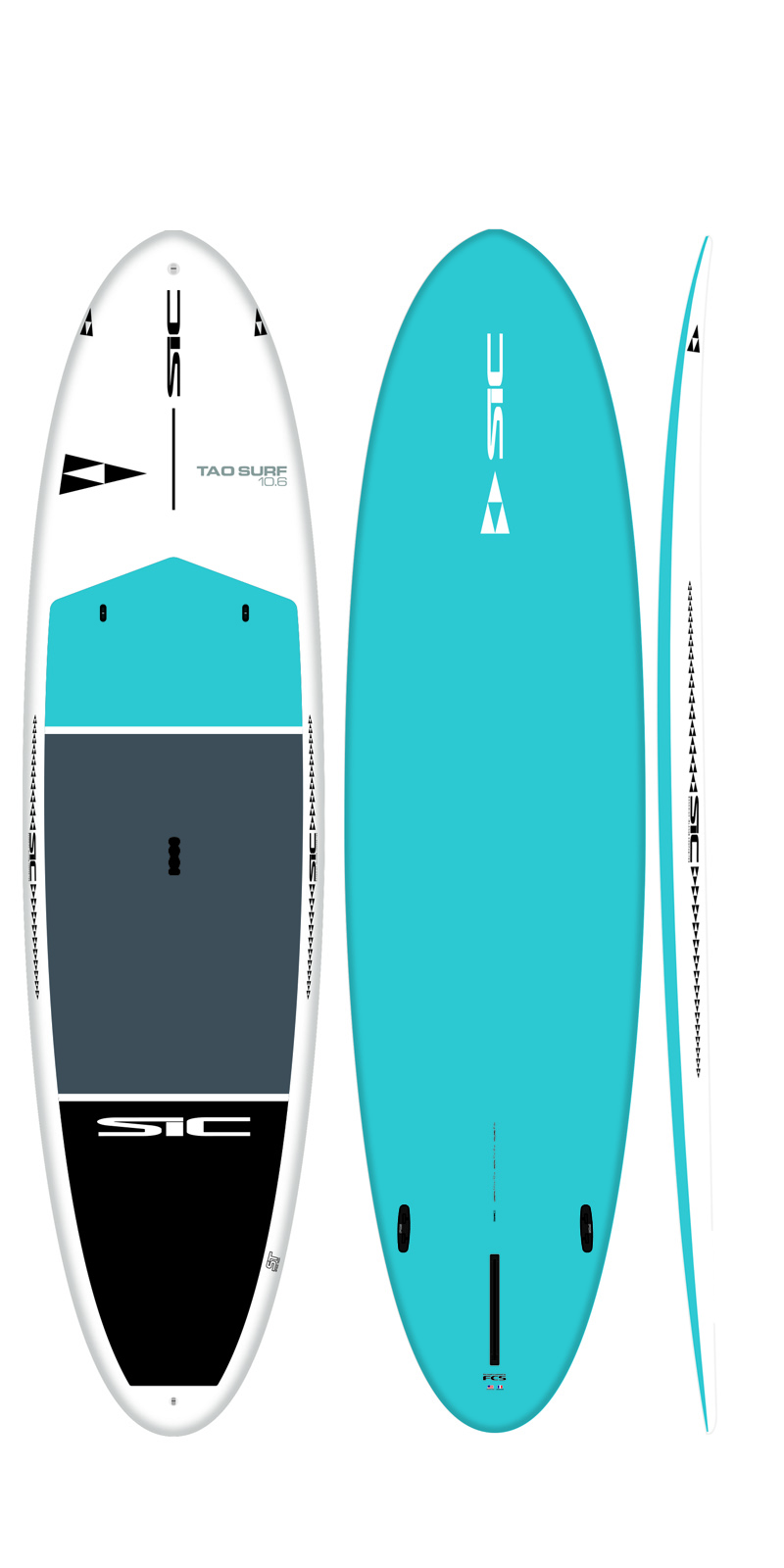 RETAILERS' HELP
How are you helping your retailer network to sell your product?
We try to educate the consumer about the brand as a whole so that they can relate to the brand values, competitive advantages and find products to meet their performance and pricing preferences.
We try to pre-educate the end consumer via our digital footprint and provide the information they need to make an educated decision. We provide a dealer locator on the www.sicmaui.com website so we can put consumer and retailer in contact with each other. We of course also have a high profile global team to hopefully inspire paddlers and compel them to head into the shops to learn more about SIC.
Taking it a step forward SIC works with retailers to put in what we call SIC – Five Star Glide Centers. These are usually retailers that have water access on site or a concession near to the store. The stores stock a wide variety of SIC and consumers can try before they buy. This has been a great tool for converting a product demo into a sale.
PRICE POINT
How have prices evolved for the hardboard/inflatable categories and what are the main price hot spots?
We have worked very hard on pricing and while I cannot divulge exactly what we will do at this point; I will say that retailers and consumers alike will be quite happy with SIC's new pricing strategy.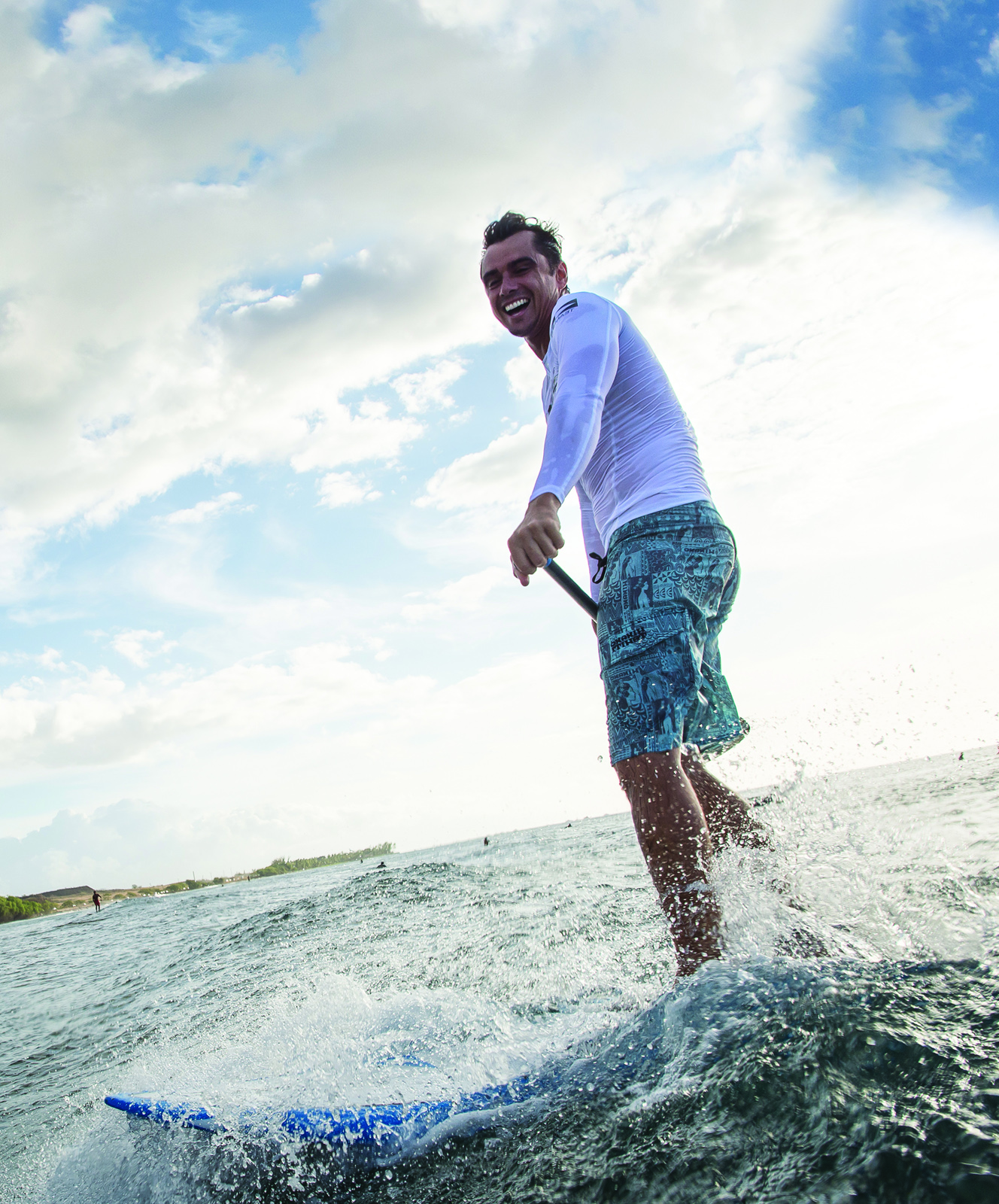 KEY PRODUCTS
Take us through your two key products for 2017.
The 2 new carbon composite models are the RS race series and the Bayonet.
RS is the new all-water board series with the narrow widths being well suited for elite racing and the mid and wider widths perfect for the recreational racer, fitness/touring and all around paddling. Of course they are SCC (Single Carbon Composite) to they are light, stiff and fast no matter how you want to use them. There are 7 sizes in this series (12'6" x 23.5, 25.0", 27.0" and the 14'0" x 23.0", 24.5", 26.0", 28.0")
Bayonet series boards are an extension of the iconic Bullet series. They will be offered in in both 14'0" without FAST featuring an SCC (Single Carbon Composite) construction. The Bayonet 17'1" will come equipped with F.A.S.T. (Foot Actuated Steering Technology) and be constructed using SIC's DCC (Double Carbon Composite) due to the need to maintain stiffness over a 17 foot board. The final specs on these boards are (14'0"x26.0" and 17'1"x25" w/ FAST)
We will also be offering 2 all new Space Tech construction boards to our new TAO FIT and TAO SURF series.
The TAO FIT is a very stable board with a hybrid hull shape, flat decking and a full round nose and squash tail making it super stable and fun for cruising, yoga and fishing. This is offered in 3 sizes (10'0"x33.0", 11'0"x34.0" and 12"0"x35.0")
The TAO SURF is based more on an all around surf shape, which is great for catching waves and for recreational cruising. This board is also made of SIC's durable Space Tech construction. It is offered in 2 sizes (10'6"x31.5" and 11'6"x32.5")