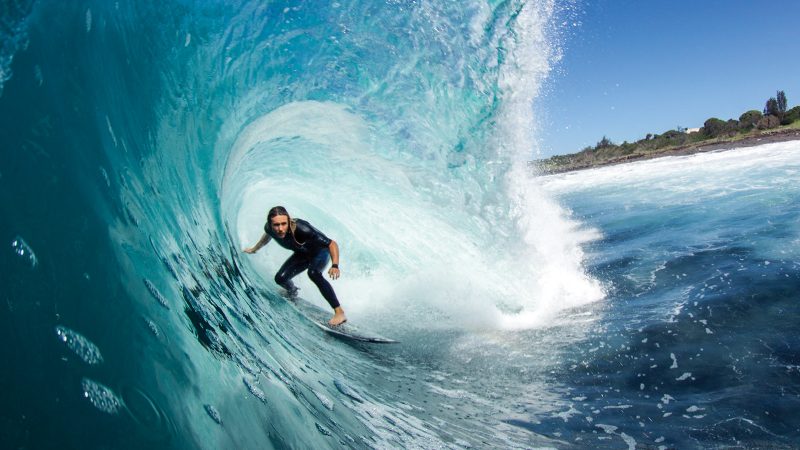 O'Neill Wetsuits SS18 Preview
Retail Buyers Guide: Wetsuits SS18
CATEGORY: WETSUITS
BRAND: O'NEILL
Firstly, can you tell us about how your spring/summer wetsuits line is evolving compared to your traditional fall/winter one?
The number of styles in winter wetsuits we offer has remained steady over the past few years but due to advances in neoprene technology suits have become lighter, warmer and they dry faster.
This enables the user to wear them for more of the year without getting the problems of fatigue that came from older thick wetsuits. Approximately 70% of our business is during the spring/summer period.
Regarding neoprene material, tell us about the characteristics and specific objectives of a summer wetsuit.
At O'Neill we always use the lightest, most flexible materials available whether the wetsuit is designed for summer or winter. Our latest exclusive new neoprenes, TechnoButter 3 and TB3X, are 20% lighter and absorb 30% less water than other premium neoprenes.
They also massively improve on the softness and stretch properties of previous generations of TechnoButter. It was always light but now it's beyond stretchy too.
How do you make sure it's strong enough to last?
O'Neill's Area 52 product development team are able to test at least a dozen wetsuit prototypes in the water before production goes ahead to make certain any issues with the materials, construction or the fit are rectified.
Often the manufacturing team at O'Neill take conventional wetsuit manufacturing techniques and research ways to make them better – for example triple gluing the seams, to ensure a stronger, longer lasting bond between each porous edge of the neoprene.
Design-wise, how is the panel construction designed for comfort? How are you working to make your seams are resistant and stretchy?
The panel layout on every O'Neill wetsuit focuses around our Minimal Seam Design and Seamless Paddle Zones that benefit comfort and increase flexibility.
The ultimate in seam flexibility is one of the unique features of the O'Neill PsychoFreak, a stitchless watertight weld. It features a triple glued seam with a silicone-based urethane applied to both sides of the material. Everything that goes into the design of an O'Neill wetsuit is for a reason so there are no gimmicks.
What's the role of the lining in your wetsuits? What are its most important features during the summer?
Ranges of interior linings feature in our summer wetsuits so it depends if the focal point on a particular wetsuit is warmth, performance, or a combination of both.
To produce the ultimate performance wetsuit the lining must have light, flexible and hydrophobic properties like our latest O'Neill exclusive TB3X pre-stretched jersey that features on our Psycho and Hyperfreak ranges.
Where extra warmth is required, our new Carbon Firewall lining retains body heat but not water and our TB Air Firewall is the most advanced, insulative neoprene available with trapped air technology.
In terms of style, which colours and patterns are the most popular for SS18?
Slate, Dusty Blue and Reef are colours featuring in our men's S'18 line and Mist, Aqua and Coral Punch for the women. One strong print, Indigo Patchwork, is a feature connecting our women's UV Protection line to the Wetsuits and our Impact Vest collection.
In terms of price, which demographics/levels do you address here?
We always use the best materials available when designing wetsuits with performance being our focus that then dictates our price point. As wetsuit specialists, we cover multiple price points, closures and materials so that there's something for everyone.
Tell us a bit more about the unique benefits and high-end details of your wetsuits.
O'Neill's Psycho and Hyperfreak series wetsuits feature our exclusive TechnoButter 3, which is a huge breakthrough in neoprene technology featuring three key component layers. Firstly the exterior jersey, made from a flexible hydrophobic yarn that keeps your wetsuit drier.
The Envy neoprene core has more microscopic air-cells than ever before, which increases the insulation factor by decreasing mass, making it lighter and warmer. Finally, the unique TB3X interior jersey is pre-stretched for maximum flexibility whilst retaining its form.
In our latest Hyperfreak series, we bond TB3X jersey to both sides of the Envy neoprene in the upper body and arms, taking flexibility to a whole new level, this truly is the pinnacle of performance wetsuit technology.
What are your 3 key products in this category for SS18?
Psycho – The ultimate in wetsuit technology, featuring TechnoButter 3, the lightest and driest neoprene ever.
Hyperfreak – The go-to summer suit for our team riders, engineered for superior flexibility and fit. The Hyperfreak features a combination of TechnoButter 3 and TB3X neoprene.
Bahia – Featuring UltraFlex neoprene, the Bahia line has been redesigned for a new generation of female athletes that want to bring beauty, personality and confidence to the water. The Bahia line features our Indigo Patchwork print.
How do you make your business more eco-friendly?
At O'Neill we are always working closely with all our suppliers and partners to ensure they act in a responsible way which can be anything from using solvent-free glue to biodegradable packaging.
We are continually searching for alternative solutions but until we find a direct substitute for what we currently use we don't want our customers to have to compromise in the performance of their wetsuit. For info on Jack O'Neill's legacy that educates children about the importance of the ocean please visit ONeillSeaOdyssey.org