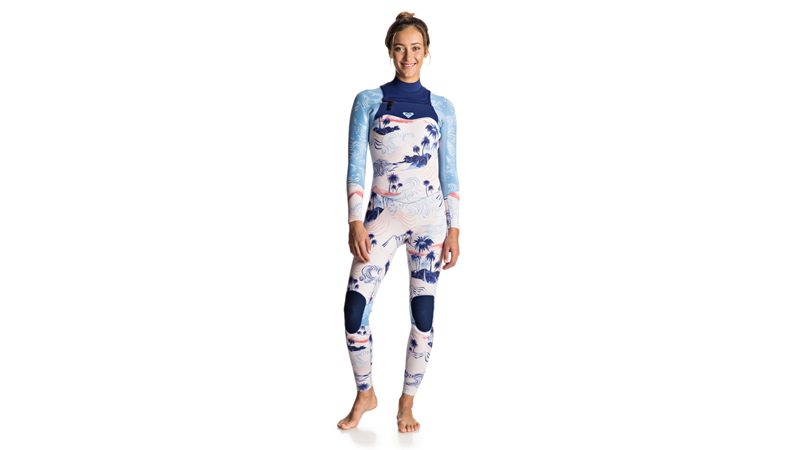 Roxy Wetsuits SS18 Preview
Retail Buyers Guide: Wetsuits SS18
CATEGORY: WETSUITS
BRAND: ROXY
INTERVIEWEE: JORGE IMBERT (GLOBAL WETSUITS PRODUCT MANAGER)
Firstly, can you tell us about how your spring/summer wetsuits line is evolving compared to your traditional fall/winter one?
The main difference between both seasons is thickness. In the majority of the countries we sell in, our summer range starts with 3/2 Steamers and goes down to Springsuits & Jackets. In Northern countries this is slightly different though, as they keep 4/3 wetsuits in store all through summer due to the low water temperature.
As for last winter, our WOMEN'S range consists of four main segments with 5 categories:
PERFORMANCE – ULTIMATE WARMTH, STRETCH & FUNCTION
POP SURF: This capsule has become a biannual highlight of our collection. Featuring colorful prints and innovative cuts, every suit is a real eye-catcher while providing superior function on a technical level.
SATIN CAPSULE – SLEEK STYLE & FLEXIBILITY
SYNCRO: The classic Syncro series comes with diverse materials and details, offering high-end suits at the best possible price.
SYNCRO+  – WARMTH & VALUE
SYNCRO Series – STRETCH & VALUE
For our GIRLS range, we built our line over two segments with 2 categories.
Following the same principle as the Women's collection, we offer a POP SURF capsule for girls as well as the Syncro series, offering the pinnacle of stretch at the best value.
Regarding neoprene material, tell us about the characteristics and specific objectives of a summer wetsuit.
Our unique feature differentiating Roxy from other brands is the F'N Lite neoprene, a premium neoprene based on Limestone. We have been using and constantly developing it for over a decade. Compared to traditional petroleum-based neoprene, this mineral-based formula is 30% more impermeable, and its micro-cell structure makes it warmer, lighter and super stretchy.
Our HIGHLINE segment provides superior flexibility and comfort thanks to its GBS (Glued and Blind Stitched Seams) construction, with sophisticated finishing details incorporated to create better sealing at neck/cuff/legs.
The SYNCRO series comes with high stretch at a great value and a Flat Lock or B-Lock construction, providing stronger water circulation for refreshment during a heated session.
How do you make sure it's strong enough to last?
Again, our Limestone neoprene is key. Thanks to its 95% impermeability it lasts longer, making it much more sustainable.
The other key point is the inner and outer lining, both helping to protect the neoprene over exposure and extension. The neoprene by itself has the capacity to stretch about 450%. Balanced out through our lining, this stretch is reduced to 130% which we consider the best compromise striving for high performance and durability.
Last but not least, we make sure to be consistent throughout the whole construction, optimizing every little detail in order to ensure our wetsuits are as solid and durable as possible.
Design-wise, how is the panel construction designed for comfort? How are you working to make your seams are resistant and stretchy?
Our first focus is to maximize comfort.  Every surfer wants to be comfortable in the water, so fit and temperature control are one of the highest priorities of our research and development. Both are related, and both depend on the use of high quality materials.
Everything we do on wetsuits design comes down to this philosophy. We use the warmest, the lightest, and the most flexible materials that guarantee a maximum of comfort and performance in every single wetsuit.
In this way, there are three main factors that ensure maximum durability & stretch:
Stitches: The strength & durability of any stitch is related to type of stitch/thread/tension used.
Seams: Glued and Blind Stitched Seams (GBS) guarantee superior strength and durability. As the stitches are only applied on one side, the gluing process is crucial to the product quality, creating a strong connection between the panels.
Reinforcement: The correct reinforcement of every end of stitch, in flaps, zips and inner & outside panels, is another crucial factor.
What's the role of the lining in your wetsuits? What are its most important features during the summer?
Stretch and durability are our priority, combined with appealing aesthetics.
We do constant research in order to find the best materials out there – this is a principle we follow throughout the year.
To avoid dehydration through sweating once temperatures have started to climb, we integrated FLOCK & BLOCK open seams into the line that provide additional refreshment through enhanced water circulation. Our wetsuits also dry extremely fast and are very light, improving performance while surfing and reducing the weight of your bag while walking to the surf.
For cold water wetsuits, however, GBS is the way to go to stay warm and comfy throughout your session. In general, we try to offer a range matching the individual needs of every surfer.
In terms of style, which colours and patterns are the most popular for SS18?
In the upcoming season, we will see a general shift from simple color paneling to new ways of customization, such as sublimation. Other than screen print, this technique results in higher quality and better definition on textures and graphics.
This season's POP Surf collection is undeniably Roxy. Inspired by Hawaii's rich surf culture, the capsule comes with bold colors, bright stripes and deep blue hues evoking the mystery of the ocean. Color blocking and new heathered textures create a sleek style, upgrading the superior functionality that is synonymous to POP Surf.
In terms of price, which demographics/levels do you address here?
Roxy offers a large range, covering almost every segment. In terms of price, you can find various models from entry level value to mid range up to high end models. We also cover every surfer from adults to young girls, older kids and teenagers to infants, which is a great added value for our retailers.
Tell us a bit more about the unique benefits and high-end details of your wetsuits.
One of the major changes this year are the inner materials, responsible for a massive boost in warmth that can be found through all segments.
Our Warm Flight Far Infrared lining is based on FAR infrared heat technology. You can find a mineral weave in the neoprene that conducts and reflects your own body's heat back to you. It's the warmest lining we've ever tested and it dries super fast at the same time. This material is showcased on HIGHLINE+, our SYNCRO SERIES & SYNCRO+.
This year, for our HIGHLINE+, we worked on a new Warmflight-2, that is a combination of our Far Infrared technology from our Warmflight-1 (used on our SYNCRO SERIES & SYNCRO+) mixed with our Diamond Deluxe fabric that we also use on boardshorts. This lining's new pattern maximizes stretch, drains quicker, and traps more air against the skin for added warmth.
This year we also introduced a new Warmflight lining on our lightest wetsuits, the HIGHLINE SERIES Zipperless. This new lining gives extra warmth to a super light wetsuit, without sacrificing on weight reduction & stretchiness.
Other than that, we included different details on every high-end wetsuit of our range:
The Fushed Cuff: Engineered to create an incredibly low profile at the end of the cuff that provides ergonomic fit and prevents water from flushing through the neck, wrist and ankles.
The Flush Lock Seal: An elastic band, strategically placed wrists and ankles to further prevent water from flushing in.
The new F'N Lite taped:  A thin, ultra light seam sealant that gives a watertight reinforcement without sacrificing on flexibility and weight.
What are your 3 key products in this category for SS18?
PERFORMANCE: ULTIMATE WARMTH & STRETCH
POP SURF: FASHION MEETS FUNCTION
SYNCRO: STRETCH & VALUE
How do you make your business more eco-friendly?
It is true that there are more surfers & brands with an eco-concern, something innate in the surf culture and consequently part of our philosophy. It is strongly reflected in both the design and the development of our products.
The Limestone basis of our neoprene has a smooth and gradual recovery and is very durable, reducing your ecological footprint by wearing the same suit for a longer period of time. There are rich reserves of this mineral, in Japan alone you can find limestone to last for the next 3000 years!
We have also made some trials with YULEX & NATURAL RUBBER, both base on Guayule, but the feedback we got from our customer riders & testers wasn't that great as there were definitely some downsides in terms of performance and weight. The two main differences where: the wetsuit build on Limestone rubber was 1,175gr, when in Guayule rubber was 1,790gr. and second, the limestone rubber has a smooth and gradual recovery, when Guayule rubber has an extremely compressive recovery, causing greater fatigue in use. Besides, this material is more expensive and we always try to offer the best performance and the most attractive price to our customers.
It is very important for us to shift from petroleum-based raw materials to innovative textile compositions making our products more sustainable. And as like our F'N Lite neoprene also excels in terms of impermeability, we have a true win-win situation!
On top of that, we are used water-based glue and ink as part of our eco initiatives.
We constantly continue our research on order to make our fabrics greener, without sacrificing on quality and performance.