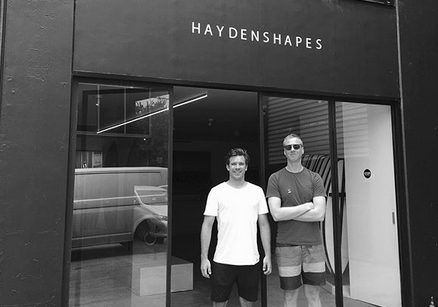 Looking Sideways Podcast Talks To Hayden Cox About Business, Life & The Hypto Krypto.
Podcaster Matt Barr features surf shaper Hayden Cox in the latest episode of his Looking Sideways podcast. Cox owns Australian-based Haydenshapes, who have seen a great rise to popularity in recent years, thanks in part due to their iconic Hypto Crypto, seen both under the feet of Craig Anderson at that Kandui session, and many surfers of all abilities across the world since.
Press Release: "The ambition was to have every surfer in the world riding the boards". Episode 028! And for this instalment of the Looking Sideways podcast I headed to Sydney's Northern Beaches to interview surfer, shaper and entrepreneur Hayden Cox.
Hayden is the founder and owner of Haydenshapes surfboards, and the man behind the most ubiquitous surfboard of recent times – the Hypto Krypto.
If you're a surfer, chances are you either own one of these boards or are well used to seeing them at your local break – making Hayden one of the most quietly influential presences in modern surfing.
In December 2017, I visited Hayden at his Mona Vale HQ to get the lowdown on his life and career, and to find out exactly how he turned Haydenshapes into one of surfing's most notorious brands.
Among the highlights:
Playing the long game – how Hayden's ambition was there from the start
Turning near bankruptcy into a positive learning experience.
Hayden on how he designed the Hypto Krypto.
What the future holds for Hayden and the brand.
This is the first part of my planned Aussie omnibus featuring legendary members of the Sydney surf community, so stay tuned for more. In the meantime, huge thanks to Hayden and Dainelle for joining me on the show and for being so welcoming. I had a blast. Hope you enjoy it too.