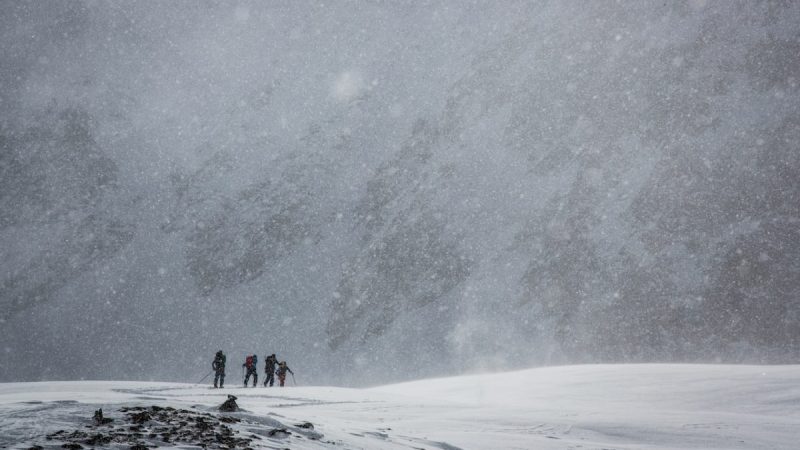 Evoc Technical Packs 18/19 Preview
Retail Buyers Guide: Technical Packs FW18/19
Catagory: Technical Packs
Brand: EVOC
Interviewee: Holger Feist
What are your main price points for next season?
140€ – 180€
How are you segmenting your technical backpack collection?
Protector Backpacks/Freeride
As a technical backpack specialist, we can cover a wide range of packs for freeriding and freeskiing. As we originally started with protector backpacks, this is certainly our USP. They are focused on the needs for classical freeriders – lift assisted or heli assisted approaches to technical lines. The initials "FR" in the model names for all our protector backpacks stand for FREERIDE. All of those models are TÜV/GS certified as real personal protection items. This gives our customers the security that our protection systems really work and signals that we take this subject really serious.
Touring
For real alpine action, we have our PATROL Series in 55l, 40l and 32l as our pure Touring range. Everything is optimized for the backcountry and equipped with a very comfortable carrying system. The name for it: Neutralite System, that stands for a neutral and light carrying feeling of the backs by distributing even heavier weights to the body's centre of gravity.
The offered volume capacity responds to the needs of various tour lengths: from multi-day haute routes to a day trip at your home mountains.
Touring Light/Day Packing
Our new LINE Series in 18l or 28l in volume closes the gap between Touring and Day Packing. Outstanding carrying comfort and a maximum degree of versatility are the keywords here. Our concept of "Body Hugging" always keeps the pack in position – even during action-loaded manoeuvres. A clever bag management and multiple features and fixation opportunities make the LINEs the perfect light touring or daypack companion – on or off the mountain.
Protector Backpacks/Touring Backpacks/Freeride Packs
We collaborate with ABS for an avalanche airbag system where we bring in our backpack competence by providing ZIP-ON backpack elements in volumes of 40l. 30l, 20l and 10l that fit the approved ABS VARIO LINE BASE UNIT. For winter sports photographers we even offer a camera pack zip-on solution – the ZIP-ON ABS CP 26l.
What general trends are you noticing, both in terms of price and features?
Seems like the times of "price is everything" are over. People seem to look for quality and functionality again and are willing to pay (reasonably) for it.
What do customers expect from their technical snow backpacks?
Reliability, functionality, ergonomics, comfort and quality. And the packs need to speak a certain design language that ideally strengthens the self-perception of the customer – even if they don´t actually use the pack in the mountains.
What is your collection theme and which stories are you telling to get customers stoked on functional snow performance backpacks?
EVOC is well known for authenticity. We are all riders and developed the first protector backpacks only for our personal use – originally without any commercial purpose in mind.
Today we are lucky to work with some of the best athletes to constantly improve all products with their feedback. For 2018 we collaborated with the "Legs of Steel" crew on a Lofoten project: Scouting by plane and camp and hike for the runs. It turned out to be a real highlight of winter sports adventure with great images
What makes this product category important to your brand and what are your USPs?
EVOC only offers technical products. This comes from our history as we originally did everything only for ourselves – without any compromise in functionality and quality. This is our USP: All of our packs are made with the highest regards to functionality, comfort, ergonomy and quality.
How are you helping retailers sell these packs and educate customers (POS displays, etc.)?
Our sales staff are well trained on all our products and forward their knowledge to our retailers. We still visit the most important shops ourselves for direct training too. Of course, we offer a full range of assets to inform and educate, starting from hangtags and explanations on the product, to signages in shops. We have images and product videos ready for online use or screens in the shops and upload them to our own Vimeo channel. At the moment we work on a video tutorial project in Northern America to educate retailers.
Which technical features are you the most proud of ?
Definitely our LITESHIELD PROTECTOR TECHNOLOGY:
95% shock absorption 2) extralight (protector only weighs 145 g) 3.) temperature insensitive (-20° – + 30°). To display that customers can absolutely trust in our technology we offer a FREE CRASH REPLACEMENT service for all of our LITESHIELD PROTECTORS.
What are you doing with materials, colours and textures?
Our materials always follow their intended function. Focus here is always durability and weight. Textures we employ to improve functions too – or to highlight something that has to do with our history. Here is where our colours come into play. Since day one we work with our "Colours of Travelling" concept where we create our colour cards based on the colour schemes we take home as impressions from our trips and the countries we´ve visited.
What kinds of features/tech are considered cutting edge right now? Which ones are now standard?
Generally: High tech products with a very clean appearance. Lasercuts, heat seals seams and material combinations that weren´t possible before. Additional benefits of the products through special features: back protectors, high end carrying systems, special fixation opportunities, etc.
Please name and describe your 3 highlight pieces and items that retailers should definitely order.
FR GUIDE: a 30L freeride protector backpack with all features needed. One of our best sellers the recent years.
PATROL 40L a fully fledged touring backpack with outstanding carrying comfort and clever features – used by a lot of avalanche patrols and winter mountain guides all over the world.
LINE 28L: Very light, most versatile day touring pack with body-hugging comfort.