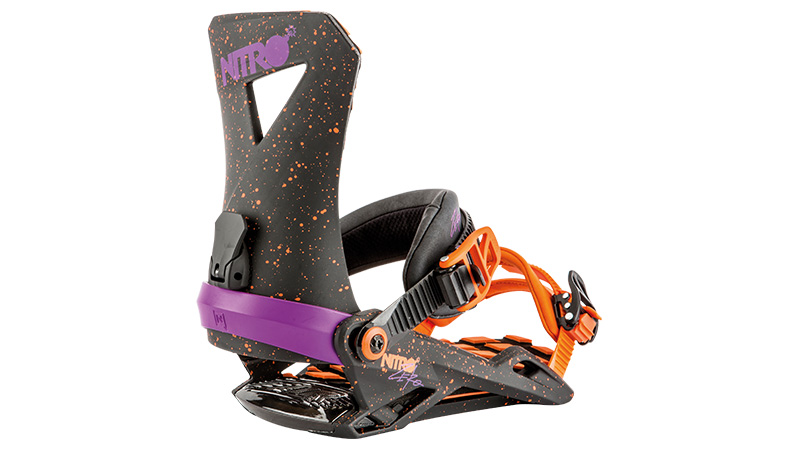 Nitro Snowboard Bindings Preview FW18/19
Retail Buyers Guide: Staff Sales Handbook: Snowboard Bindings 2018/19
Category: Snowboard Bindings
Brand: Nitro
Interviewee: Florian Lang / PM
KEY PRODUCT FOCUS: What are the top three most important products of next year's line, and why? Please tell us about them, and what makes them the highlights.
ÜBERGRIP toe strap by VIBRAM is going to be available on more models (MACHINE/PHANTOM CARVER/PHANTOM/TEAM/POISON/IVY)
Drink Water collab on the TEAM binding with Austin Smith and Bryan Fox
Completely re-designed women's line: new POISON HIGHEND binding with all Nitro's USP's, new IVY and new model called COSMIC, which marks the entry into 3 piece binding design with adjustable, aluminum heelcup.
Which new materials are you using in your bindings?
We use VIBRAM's rubber compounds for their grip and durability in cold and icy conditions to make the straps stay in place.
Our binding chassis are made of DuPonts super tough Zytel and Hytrel polymeres.
Please tell us about the dominant colour themes in next year's binding line?
NITRO presents a line called MUTED BRIGHTS, a series of 4 different colors on 4 different models in neon colors.
Prices: Where is your brand going? Higher? Lower?
Stable
Any new ideas in buckles, straps, highbacks, bases (or baseless)?
ÜBERGRIP toe strap featuring VIBRAM rubber grips for best fit and zero slip and MICRO DRIVE split ratchets for optimized power transmission and fine tuning.
Going for an easy-in, easy-out solution next year? If so, are you licensing or developing it yourself?
Nitro re-united with CLICKER and offers a system that combines the simplicity and durability of Clicker with the most comfortable boots on the market.
What are your top marketing stories for next season? This will help us to put some focus in the right place.
Nitro RUN TO THE HILLS is our global marketing story. Rather than investing money in online marketing to increase conversion rates, we spend the money to encourage people to go out and snowboard. The key is participation and having NITRO present on the hill. Snowboarding has always been about friends and communities sharing the same passion. "Run to the Hills" is more than just a claim for us. We felt that snowboarding was losing a bit of that community vibe as the industry invested more into conversion rates and direct sales strategies rather than into the sport itself. We as Nitro decided that we wanna follow a different approach. Every dollar we spend will go towards snowboarding, either for the team or for concepts and events that allow people to engage and motivates them to go snowboarding. Every event will be different, but the concept is the same – bring snowboarders together to ride, chill, have good times and strengthen the community. The market has changed quite a lot over the past years, but we feel that people haven't changed. They still want to have a good time with their buddies on the hill. Snowboarding will always be about people and relationships and that's the reason why we love it!