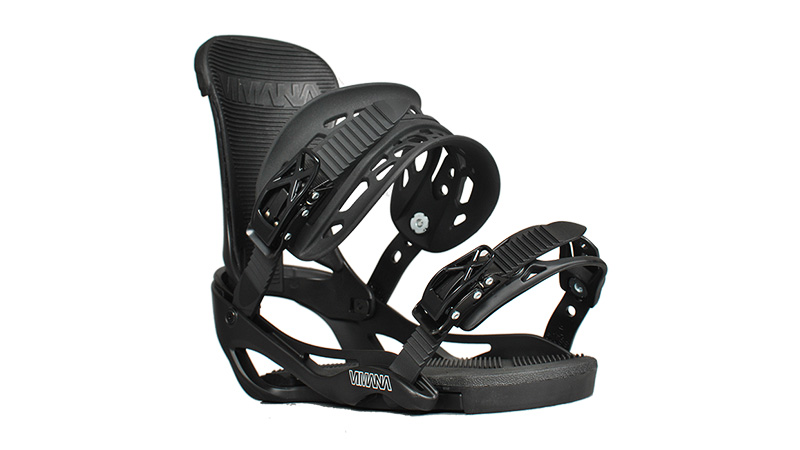 Vimana Snowboard Bindings Preview FW18/19
Retail Buyers Guide: Staff Sales Handbook: Snowboard Bindings 2018/19
Category: Snowboard Bindings
Brand: Vimana
Interviewee: Tronna, brand manager
KEY PRODUCT FOCUS: What are the top three most important products of next year's line, and why? Please tell us about them, and what makes them the highlights.
Last season we introduced our new Scando Binding. Complete with our new team straps and ultra-responsive highback.
This binding is part of our "always in stock" program, available in matte black or matte white. For 18/19 we introduce signature colourways with Style Queen Enni Rukajärvi and ScandoBoss Brage Richenberg.
Which new materials are you using in your bindings?
We build our bindings with urethane mixed with fibres, the same material a skateboard wheel or an oil pipeline is built from. We have really good experience with this material and close to no warranties.
Our straps are moulded rubber, you feel strapped in without actually feeling the straps.
Oh, and all our bindings (and products) are vegan.
Please tell us about the dominant colour themes in next year's binding line?
As always Vimana colour palette is black, white and metallic colours.
Prices: Where is your brand going? Higher? Lower?
Our goal is always to produce a high-end quality product at a mid-range price point. Our bindings retail at 199€ with a good mark-up for our retailers.
Any new ideas in buckles, straps, highbacks, bases (or baseless)?
We spent two years fine tuning our new binding, so the new high-back and straps are working great. The baseplate is responsive without compromising board flex.
Going for an easy-in, easy-out solution next year? If so, are you licensing or developing it yourself?
No, with our bindings you have to bend your knees.
It's important the binding fits the snowboard boot correctly. What do you do to make sure the fit is OK?
We integrate our boot and binding programs to fit perfectly together. When stepping into a binding the crucial parts are heel cup fitment and width fitment. Our boots(and other brands we tested) has a snug fit in our bindings.
Which factories do you use for production, what country? Where do you do the assembly?
We build our bindings at one of the best plastic injection factories in Asia.
What are your top marketing stories for next season? This will help us to put some focus in the right place.
As always, VIMANA boards, boots and bindings are made to the exact requirements of our team riders They are our judge and jury. We don`t make products that our team does not ride and approve.
We keep it simple with Scandinavian design and premium materials.