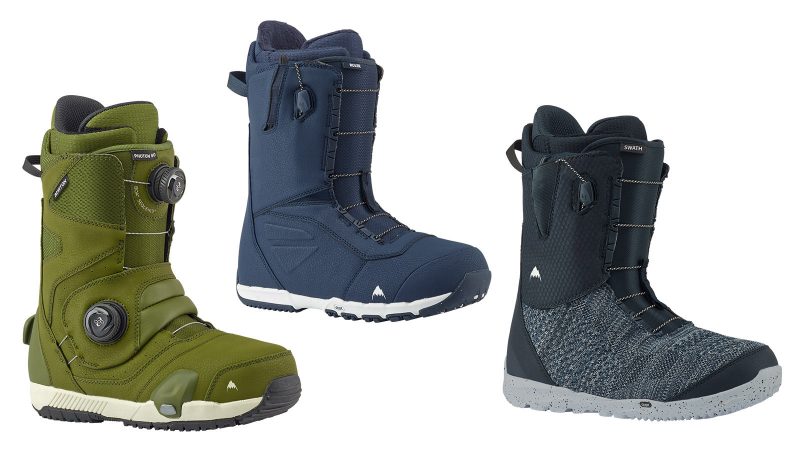 Burton Snowboard Boots FW18/19 Preview
Retail Buyers Guide: Staff Sales Handbook: Snowboard Boots 2018/19
CATEGORY: SNOWBOARD BOOTS
BRAND: BURTON

KEY PRODUCT FOCUS: What are the three most important products of next year's boot line? Why?
New Step On Models. We have 2 new step on boot models coming to the Burton boot line this season.  Ion SO is offering a higher performance step on boot than last year's offerings, with dual zone speed zone closure system offered in SO for the first time.  That along with the Zipline SO boot now bringing a Youth SO offering to market for the first time!
Ruler Boa. A new men's offering of a timeless model from the Burton boot line, bringing dual zone Boa closure to an all-new price point in Burton boots.  Dual zone boa closure with a time tested model offering and great price.
Swath. An all-new men's model bringing a great feature package to a mid-price offering. This boot not only has great aesthetics incorporating ultraweave shell material, but add to it an articulating cuff shell design, super lightweight shell materials, and Burton's total comfort construction…this one is upping the ante for mid-flex lightweight boots.  Available in either speed zone or dual boa closure.
Materials: using any previously unseen materials (in build, cushioning, support or grip) or construction methods?
We're expanding the use of our ultraweave shell material to a new mid-price men's boot model, the Swath (offered in both SZ and Boa closure systems.)  In prior seasons ultraweave shell material has only been available on our top tier boot models, so we're excited to bring this great aesthetic material to a mid-price boot model (available in both speed zone and dual boa closure systems.)
With ultraweave your not only getting a unique aesthetic, but also seamless panel construction, which aids in comfort right out of the box (less seams=less pressure points.)
Any outsoles on our boots which include rubber parts are incorporating a recycled content. This is a move to try and reduce the pure, raw natural materials being used to produce our outsoles, and replace them with recycled rubber content, reducing the impact on our natural resources.
What's new in lacing – trad, Boa, something different? What do people want?
We have an all-new Boa technology offering this season with Boa Sequence lacing, which is exclusive to Burton boots in snowboarding.  This is a single dial Boa closure system, now with an updated construction/lace path allowing for a higher performance fit on foot, more focused on even closure from top to bottom over the shell tongue.
Rather than the lace tightening from top to bottom as standard single Boa systems do, in Sequence you are tightening from top & bottom simultaneously towards the center of the tongue, giving a much more evenly distributed pressure across your laces & shell tongue.  This is available on the Women's Limelight Boa, as well as all our mens & womens Step On boots using Boa closure (Ruler SO, Photon SO, Limelight SO, and Felix SO.)
Imagine the overview section of your boot catalogue next year. What's the defining aesthetic? Talk to us about the colorways/prints/patterns/influences/textures you're usin?
We've got some really nice neutral tonal colorways on both the men's & women's side this year.  You're of course gonna find a few camo's throughout the men's line.
While we've had a really nice full grain leather offering for a few years on the Ion Leather in our high end, for this year we're adding a Ruler Leather offering to the line with a really nice suede shell material…again, bringing some high end materials to more mid-price offerings.
Splitboarding is performing well in a tough market. Are you going in this direction?
Going?  We've been here and are not planning on moving away from it. The Tourist boot is our split centric model, which remains in our line for next season. This model aims to deliver a technical construction with features improving the ascent in touring mode, but just as much not take away from the ride down.
Which part of your range are you investing in the most? Freestyle, freeride, do-it-all, beginner…? Why?
We're focused on all aspects of our sport (well, except for hard boots.)  One area we are focused on improving across all our models through the next few years is reducing our environmental impact in material sourcing, production, packaging, etc.…we're considering all aspects of the production process here and posing difficult yet honest questions and challenges to ourselves to reduce negative on our environment.
What trends in other footwear sectors have made an impression on your line?
Materials and aesthetics from sneakers and boots continue to influence our direction.  Bringing in clean boot designs, trying to reduce the # of panels in a shell, and continuing to play with machined textiles (our ultraweave material) are all inline with what we're seeing from footwear.
What are your top marketing stories for next season? This will help us to put some focus in the right place.
Step on…if you haven't tried it yet seek out your closest demo center to give this new system a try.