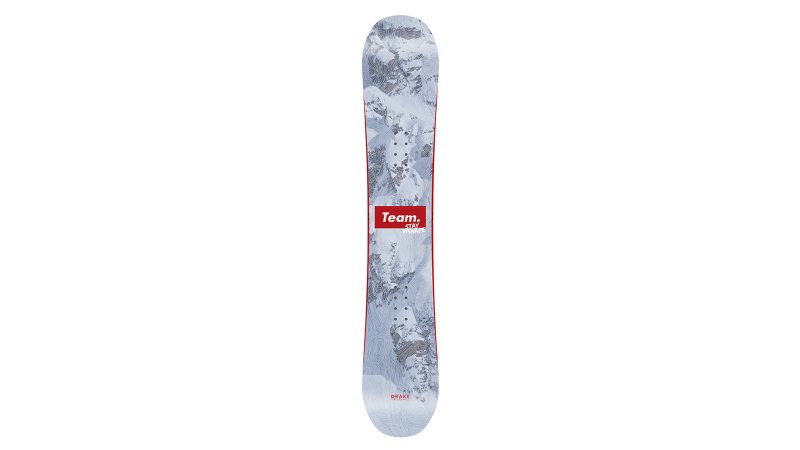 Drake Snowboards FW18/19 Preview
Retail Buyers Guide: Staff Sales Handbook: Snowboards 2018/19
Catagory: Men's Snowboards
Brand: Drake
Interviewee: Davide Smania, Marketing & Product Manager
Please pick the three most exciting boards from your new 18/19 line and tell us about them.
The new DF Team board with traditional camber, a performance board without being too stiff.
Our fifth-anniversary Team board, directional twin board that is a real all arounder with traditional camber.
Urban board, pretty appreciated in jibbing and street, with skate camber that is really poppy without catching edges on landings.
Where are you building, what factory in what country? No wrong answer here. What makes this production facility the best solution?
Meditec in Tunis. 20 years of experience, well positioned for serving Europe for logistics, competitive pricing, not too big and busy in production with not too many other brands.
Which pricepoint is seeing the most action at retail? Premium, bottom or in the middle? What do the people want?
Mid-high range. They want performing products but scared of new technologies, we prefer to see if they work first, not many pioneers in this sense
Unusual shapes are gaining wider consumer acceptance. Doing anything unseen next year in shapes? Asym/double swallow/reverse sidecut/triple ender etc?
We think this is more a trend, something commercial.. people are curious to see and try them, but they rarely purchase it. Also because these kind of boards are not cheap.
We're interested in graphic themes running through your line. What is your art department feeding you for next year? Flashy, muted, landscapes, patterns, photos, what?
Clean, natural colours and subjects with simple graphics and photos are the main themes for our new collection.
What the hell can we all do to make more normal people want to snowboard again?
Provide services and organize events & concerts, bring people to mountains during winter even if they don't ski, like people go to the seaside for summer and they don't swim.
What are your top marketing stories for next season? This will help us to put the focus in the right place.
We are pushing local young riders, working on building a bigger team and pushing them to join the International team. The board is the most visible product on shooting, but we don't need to have only big names, we want to make their names bigger…
We will also release a mini-series filmed on important Italian parks that we sponsor with our Italian riders and an International one for each episode, we want to rebuild starting from the bases.