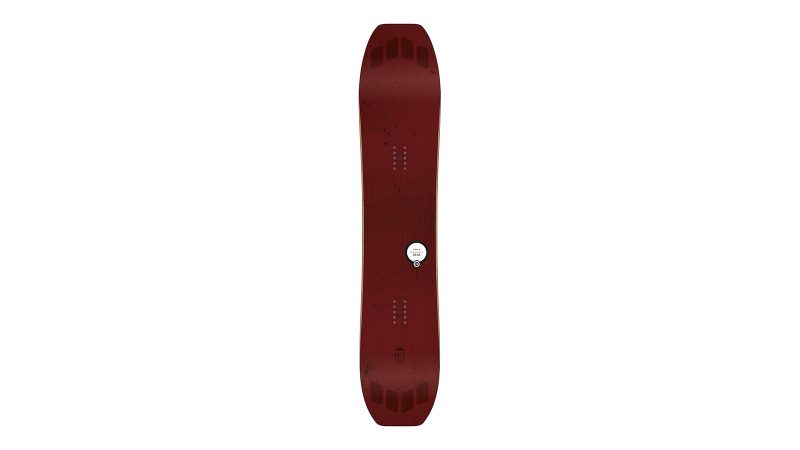 Amplid Snowboards FW18/19 Preview
Retail Buyers Guide: Staff Sales Handbook: Snowboards 2018/19
Category: Snowboards
Brand: Amplid
Interviewee: Rich Ewbank – Marketing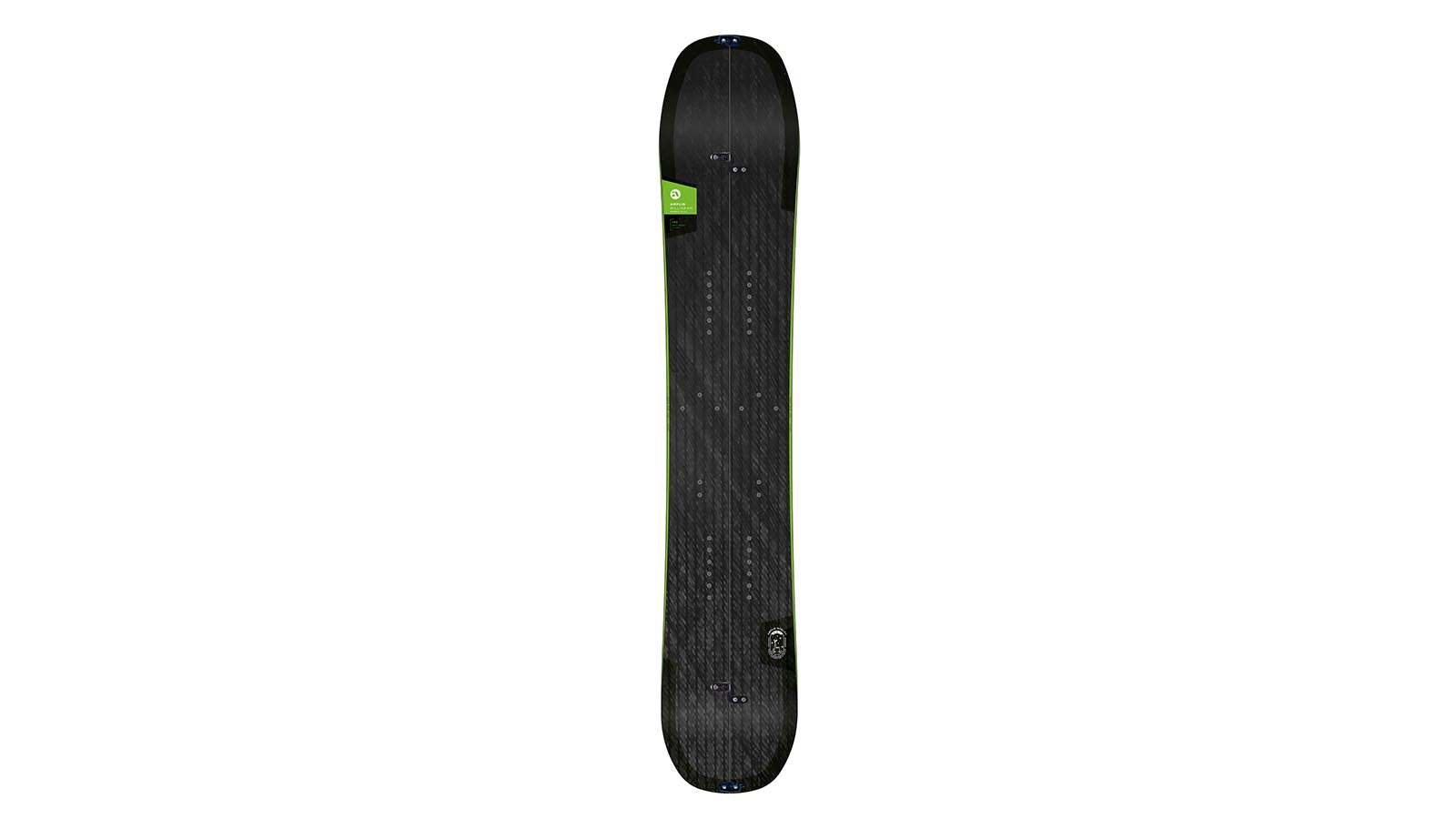 KEY PRODUCT FOCUS: Please pick the three most exciting boards from your new 18/19 line and tell us about them.
Wow, this is like choosing a favourite child, but we can be quite ruthless at Amplid, so here goes…
The Aloha Vibes is part of Amplid's new "Future Shapes" collection, a mini-quiver which is all about getting futuristic with snowboard design. It's stumpy, very fat and super surfy, with a big ol' swallow tail (to make standing it up outside restaurants easier) and bamboo sidewalls.
In the early 90's Peter [Bauer, Founder) and Jen Nerva put eurocarving on the map with the Burton PJ, probably the most iconic carving board of all time. The Pentaquark follows in those footsteps, freshening-up the carving-board concept for this era. Putting this board on an edge and letting it run down groomed corduroy pistes is a mind-opening experience.
These days the Milligram is synonymous with Amplid and the ultimate splitboard experience keeps getting better: Lighter, stronger and more enjoyable to ride, year-after-year. It's the perfect pairing of performance and feel.
Construction. This is the place where you can talk to us about the new ingredients in your boards, and how you are building differently. We're interested in anything new in inserts / edges / cores / sidewalls / glue / wood types / base material etc here.
We have a couple of new innovations that we're proud to incorporate in the new collection.
"Thick Cut" is a new core profiling concept featured in Amplid's Future Shapes snowboards. A double thick core profile in the nose and tail provides the extra stiffness that's needed in powder boards with short running lengths and long tips. Stiffer tips help to stomp big landings and make lay-back slashes without washing-out. The additional tip thickness also helps to reduce chatter. Swing-weight could be a problem, but strategically placed honeycomb keeps the Dada and Aloha Vibes light and nimble.
Our R&D team has also been tinkering with a flax/carbon combo stringer reinforcement. It's extremely light, very strong and has great damping properties. This material will replace pure uni-directional carbon in our Powder Pontoon technology, a stringer band that prevents snapping
Which price point is seeing the most action at retail? Premium, bottom or in the middle? What do the people want?
We've been listening to our customers and they are prepared to pay for high quality products which are both durable and innovative. By manufacturing in Europe, at the World's most enviro-conscious ski and snowboard factory, using the best materials and investing heavily in to research and development Amplid products inevitably sit at a premium price point. We feel that charging less for a lesser product would dilute what Amplid stands for.
Unusual shapes are gaining wider consumer acceptance. Doing anything unseen next year in shapes? Asym/double swallow/reverse sidecut/triple ender etc?
It's not really Amplid's style to get too wacky with geometry. Most of our customers ride in the European Alps; building boards with a certain level of performance in mixed conditions is obligatory for every Amplid snowboard. We leave the "snowboard art" that looks nice on your wall, but sucks on hard packed groomers to other brands. Amplid's USP is optimal design, not flamboyance. In Peter's words, "form follows function".
Nose shape is just one example where we get geeky with the details; from the outline shape to the cavity radius, it's all optimized for performance and feel. Peter spends hours fussing over every curve and kink before a design is even ready for prototyping.
Having said that, Amplid's new Future Shapes snowboards, the Dada and Aloha Vibes, are definitely not "usual" snowboard shapes. Replacing the Pillow Talk, these "mind farts" from Amplid's R&D department squeeze insane amounts of surface area into relatively short board lengths. Their cambers and flex patterns reward strong and aggressive riding, which is something that was perhaps lacking a bit from the Pillow Talk. They're fun and playful shapes that can be ridden hard thanks to their Thick Cut core profiling.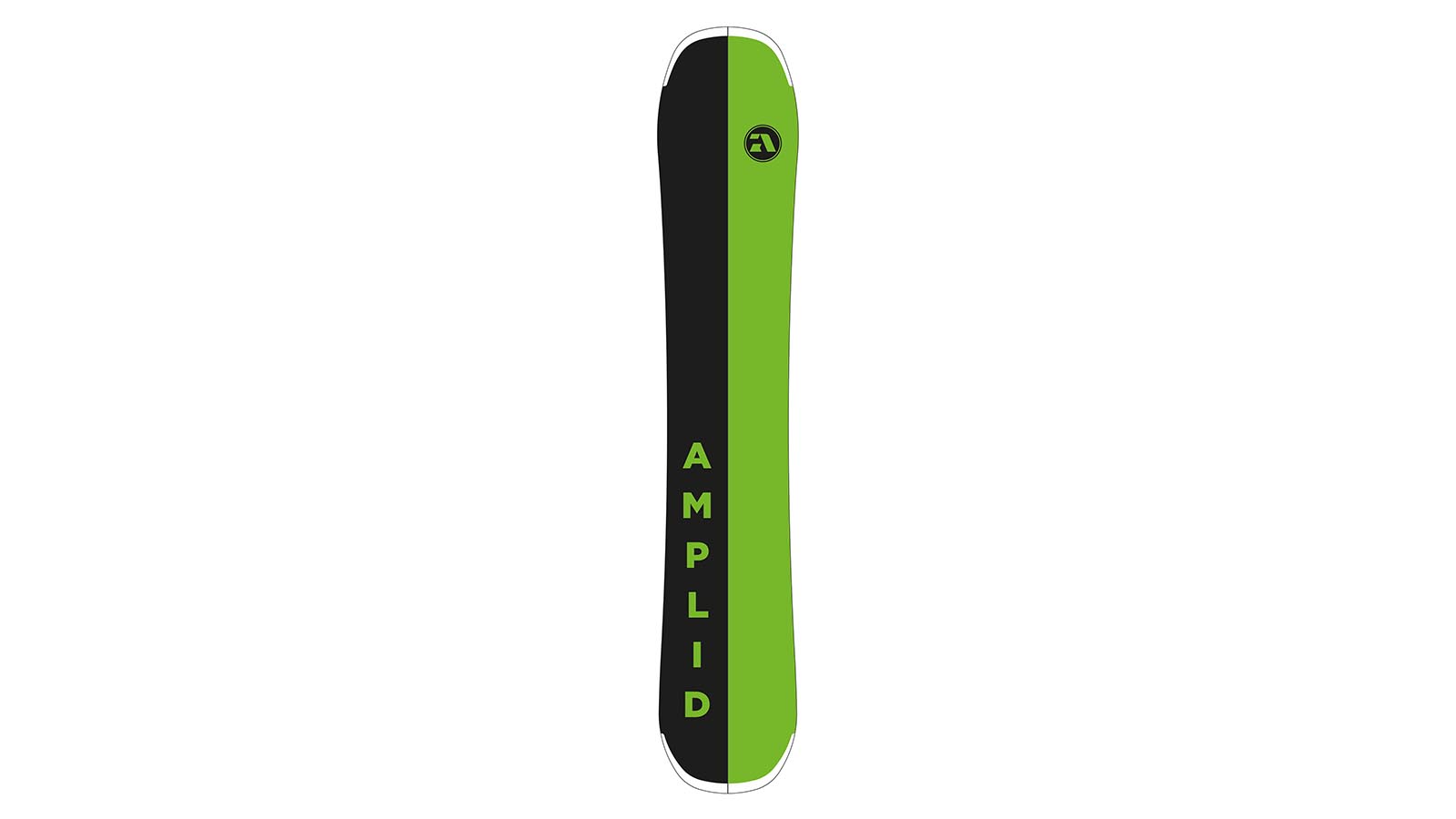 We're interested in graphic themes running through your line. What is your art department feeding you for next year? Flashy, muted, landscapes, patterns, photos, what?
Amplid's visual brand manager, Michi Hanauer, has done an incredible job with the new collection. Working with Peter, his aesthetic vision really goes hand-in-hand with the Amplid's refocus on technology as its USP. The graphics are sharp and vivid, blending acrylic and watercolour artwork with block colours and geometric shapes. Michi does a great job of complimenting dark graphics with strong pop colours which although subtle, really stand-out on a board rack. Amplid snowboards are ram-packed with fibre-reinforcements and honeycomb, so transparencies which show the technology beneath really enhance our snowboards' techy appearance. We feel our products look sophisticated and technical without looking like race skis!
What is your latest innovation in splitboards?
Every year we find new ways to improve the durability of our high-end carbon construction without adding grams. Peter is hard at work trying to bring a 158cm splitboard under the 2Kg mark, he's already named the project the "Microgram", we'll see where this ambitious idea takes us. In the meantime, the Milligram and Millisurf keep getting better and better with the carefully thought-out tweaks we make to them each year.
What the hell can we all do to make more normal people want to snowboard again?
I know Peter wants to share his thoughts on this, so here goes…
"I'm not sure whether I am interested in growth. Economically it may make sense, but it also means a lot more tracks in my backyard! However, it's always good to bring kids to the sport. I wish I could share with the next generation what I had when I was a kid. I see ski club structures in the mountain villages which really take care that the youngster get their feet on skis. I wish a similar thing would exist for snowboarding. Ski federations were really keen on getting their hands into snowboarding's wallet when it came to Olympics and athletes … but a real grass root structure unfortunately never materialized." – PB
What are your top marketing stories for next season? This will help us to put the focus in the right place.
Test Pilot is something we launched this year and it will be a growing focus for Amplid for years to come. Test Pilot is an end-customer initiative which makes Amplid board owners part of Amplid's R&D process. Our customers can sign-up to become a Test Pilot for free and each winter we select a handful of registered members to receive a test prototype with the intention that they'll provide us with feedback from their experiences. We're also running a handful of grassroots events exclusively for Test Pilot members and building a community around the Amplid brand.
Why are we restricting it to Amplid's customers? Snowboards designed to be "everybody's darling" are boring and at Amplid we want to build snowboards with character. By restricting membership to our customers and then carefully choosing each Test Pilot, our intention is to get hyper-relevant feedback to increase performance and fine-tune each snowboard's character for its target rider.
This winter Mario Kaeppeli joined the Amplid family and we're looking forward to seeing what that collaboration will bring to Amplid over the next 12 months. Mario has planned some intrepid adventures, we're hoping we'll have some great stories to share next winter.
And finally, with social media we're really lifting the curtain to reveal the people and processes behind Amplid. We're creating lots of DIY content; rough-cut GoPro edits, photos and stories, which show the day-to-day for Peter and his team. Fans who follow Amplid on Facebook and Instagram can get a real "behind the scenes" insight to what we do all day, every day.