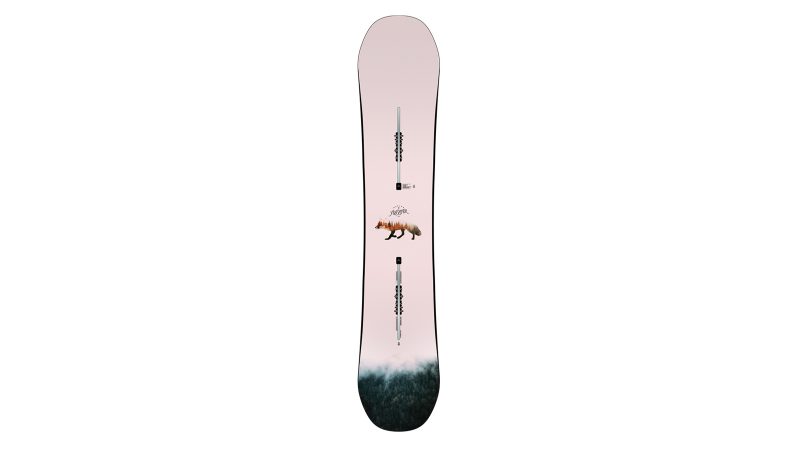 Burton Snowboards FW18/19 Preview
Retail Buyers Guide: Staff Sales Handbook: Snowboards 2018/19
CATEGORY: SNOWBOARDS
BRAND: BURTON
INTERVIEWEE: LESLEY BETTS (SENIOR PRODUCT MANAGER – HARDGOODS)
KEY PRODUCT FOCUS: Please pick the three most exciting boards from your new 18/19 line and tell us about them.
FT Mystery Fish – The Fish got the Mystery Treatment. This is the lightest weight Fish we've ever made, using a brand new core (DragonFly II™) and being built at Craig's Prototype Faciliyt in our own backyard. The Fish has been around for almost 20 years, and we wanted to continue to push it further in terms of weight. Our own Sr. Testing Coordinator (and living Legend) JG has gon on record to say it's the best Fish he has ever ridden (and he invented the Fish!)
New Feelgood – The Feelgood has finally gotten the make-over she deserved – having had the same exact shape for nearly two decades. A brand new shape, developed with Kelly – and a huge focus on graphic, finish, and performance.
The Thinkers  – developed in W18 with Danny Davis, we've continued to focus on our newest flagship models The Thinkers (Free Thinker, Deep Thinker) and their two different personalities – the ultamite quiver.
The Free Thinker is a twin/twin model with an aggrestive sidecut, built for Danny to go big in the park.
The Deep Thinker is a directional board, with 7mm of taper with the same aggressive sidecut for slashing in pow.
Construction. This is the place where you can talk to us about the new ingredients in your boards, and how you are putting them together differently. We're interested in anything new in inserts / edges / cores / sidewalls / glue / wood types / base materiel etc here.
DragonFly II™ At Craig's Prototype Facility we are always focusing on new innovations, materials, and processes. We recently moved core construction into our backyard and have been developing a new lightweight core. The new core construction, integrates vertically laminated pre-cured carbon strips inside the core to provide absolute pop and performance with far less material. This is the lightest core we've ever made and is featured on the Family Tree Mystery Fish for 2019.
Women's Specific Traix We are committed to making the best snowboards possible for the female rider – and we pride ourselves on not shrinking and pinking it. We had a hunch that using the same glass in all of our products might not be the best solution for different type of riders – female riders generally being lighter weight. Results were consistent through testing, and confirmed that our standard Traix, used in the men's line, was too stiff torsionally for our female riders.
All use of Triax in the W19 Women's line will move to the new design/weight.
Location Specific Material Lay Up In the new 2019 Family Tree Speed Date, we changed up your standard layup for materials to focus on specific locations (Reference Center to Contact Point) – creating a strong response when engaging in turns.
Where are you building, what factory in what country? No wrong answer here. What makes this production facility the best solution?
We will be building the full production of the Family Tree Mystery Fish at Craig's Prototype Facility in our own backyard here in Burlington, VT, USA. Building product here at Craig's allows us to be close to the manufacturing and have quicker turnaround time for cool shape projects or sustainable materials. We also continue to build product at our amazing Austrian Factory, that has been building snowboards for us for over 30 years.
Which pricepoint is seeing the most action at retail? Premium, bottom or in the middle? What do the people want?
For 2019, we put a lot of effort and focus into the women's $400-$500 models in our women's offering. Women shop much differently than men, and we really wanted to stack the deck for women as far as graphics, bend shape offering, and different ride types. Focusing on our flagship models like the Talent Scout and Day Trader – and adding brand new exciting models like the Yeasayer (Offered in both Flying V and Flat Top) and Rewind (PurePop Camber).
We've made key changes to support growing trends in Mens with a focus around the key pricepoints of $450 – $550.
The Name Dropper & Process have switched to PurePop Camber.
Added sizes (150, 162) to the Skeleton Key, which has been getting a lot of excitement in all regions.
Created a new twin camber park focused model the Paramount for high end aggressive park models.
How long is your warranty, anything new?
Our Warranty on snowboards featuring the Channel™ is 3 Years. This is something we have had in the line for a few seasons now – and proudly stand behind.
The market is getting used to unusual shapes. Doing anything unseen next year? Asym/double swallow/reverse sidecut etc?
Every year we continue to develop new and unique shapes in our Family Tree and Kilroy collections. These are incubators for us when it comes to unknown terrains, unique concepts in shape and materials, and of course pushing the envelope when it comes to sustainability. This year we've added 5 new models to Family Tree and 2 new Kilroy Shapes.
Mens FT Speed Date – Developed with snowboarding's signature event in mind, the Banked Slalom.
Mens FT Stun Gun – Powerful and Strong combined with the Short Effect Edge for quick nimble turns.
Mens FT Trick Pilot – A twin backcountry booter board
Mens FT Bottom Feeder – A WIDE Short Pow Board. Surfy to the Max.
Womens FT Stick Shift – A new Surfy short board for women.
Kilroy Custom – A very Directional Looking Shape but a progressive twin ride.
Kilroy Process – Soft Park shape, with new sizes (135/145) for young young rippers.
We're interested in graphic themes that run through your line. What is your art department feeding you for next year? Flashy, muted, landscapes, patterns, photos, what?
Each year we set out to Make Awesome. This year was no different – we focused on ne and interesting finishes and Premium Feel. The new Feelgood has a chrome auto paint finish, that changes color with every different angle you view it.
Splitboards: they get better every year. What is your latest innovation in splitboards?
As splitboarding continues to grow, we continue to push what we can do in the splitboard market. We focused one one thing and one thing only – LIGHTWEIGHT MATERIALS. In the brand new Family Tree Flight Attendant X Split, we combined our Mystery Level pre-cured carbon fiber top glass and a brand new lightweight DragonFly splitboard core – giving you our lightest splitboard to date (+/- 3.000kg)
What are your top marketing stories for next season? This will help us to put some focus in the right place.
Womens Offering – We are focusing on our Women's boards, supporting the women's market and providing women with the best line they have seen from Burton ever. Options, Shape, New Materials, Reinventing Graphics!
Lightweight Materials – the new FT Mystery Fish & new FT Flight Attendant X Split are our lightest weight boards – continue to push what we can do with weight when it comes to snowboarding.
Flagship Models / Team Riders – We continue to push/develop/focus on our key models (Custom, Thinkers, Feelgood, Talent Scout) that are supported by our amazing team riders.