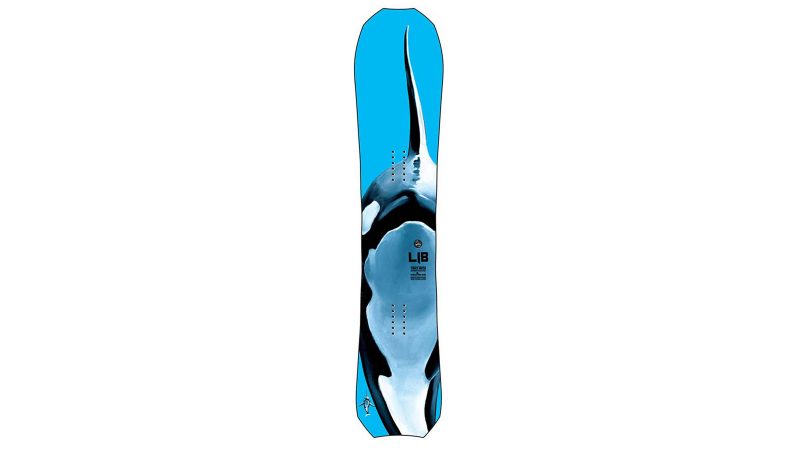 Lib-Tech Snowboards FW18/19 Preview
Retail Buyers Guide: Staff Sales Handbook: Snowboards 2018/19
Category: Snowboards
Brand: Lib-Tech
Interviewee: Jesse Burtner Marketing Manager with Steven Cobb Head Engineer and some copy from co-founder Pete Saari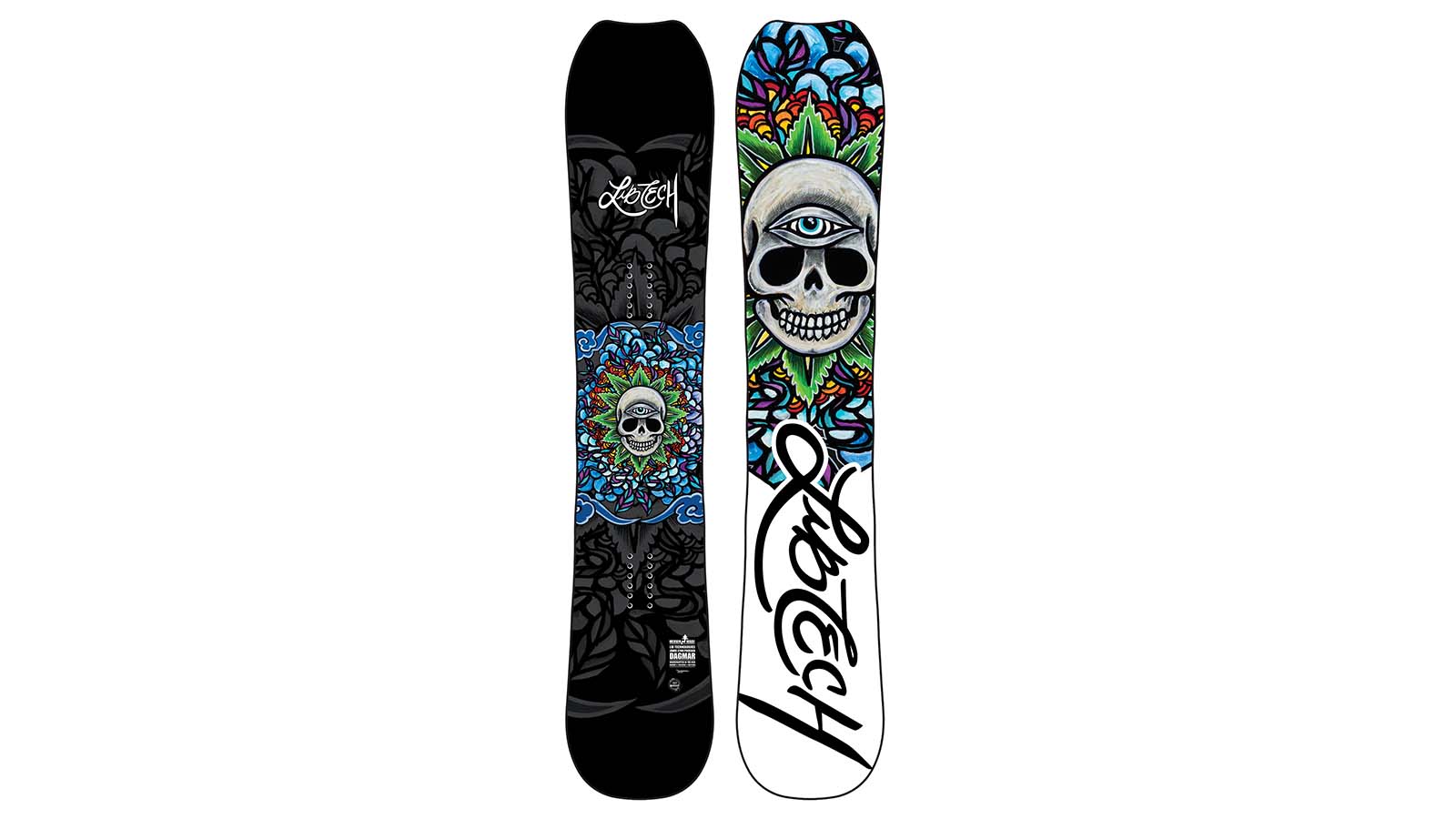 KEY PRODUCT FOCUS: Please pick the three most exciting boards from your new 18/19 line and tell us about them.
Travis Rice Orca: Not your gutless fish. Travis has juiced up this Jackson Hole resort slasher/pow ripper into an apex all terrain tech shred predator. A long floaty nose, combined with powerful, poppy contact maximizing short radius Whale Tail Technology. A tight 7M trench gouging side cut. Enough width to allow you to really put it on a rail on hard pack with no toe drag and to float pillows like a dream, but still narrow enough to be your daily driver all season long. Take it to Alaska, drop BC pillow lines or blow minds shredding the home resort all season. A mammal to eat all fish.
Jamie Lynn Phoenix Dagmar
The people's Jamie… an all new, all terrain, user friendly, freestyle Jamie Lynn snowboard. Smooth riding C2 rocker camber hybrid contours combined with trench carving side cut and a nice floaty Dagmar nose make this a perfect one board quiver. Rugged sustainably harvested wood core, eco sublimated graphics and Jamie's own seaworthy all seeing artwork will blast you on a path straight to shred enlightenment.
Dough Boy Shredder
Mike Olson's original oversized Lib Tech model with high performance technology and rasta updates! This 195cm tip to tail skeletal bad boy comes with Magne-Traction® serrated edge grip technology a Banana Tech C3 camber dominant rocker/camber bottom contour and hard carving twin elliptical side cut. Plus a little more width than the original for float and reduced toe drag. No one shreds like a Dough Boy Shredder!
Construction. This is the place where you can talk to us about the new ingredients in your boards, and how you are building differently. We're interested in anything new in inserts / edges / cores / sidewalls / glue / wood types / base material etc here.
New for Lib Tech this year are some new basalt stringers in our Firepower Construction boards for even more light weight torsional dampening. We have a new Lib Tech "Lib Texture" hydrophobic nylon top sheet material, ultimate durability and snow shedding. We're now using Karakoram Ultra clips for our split boards.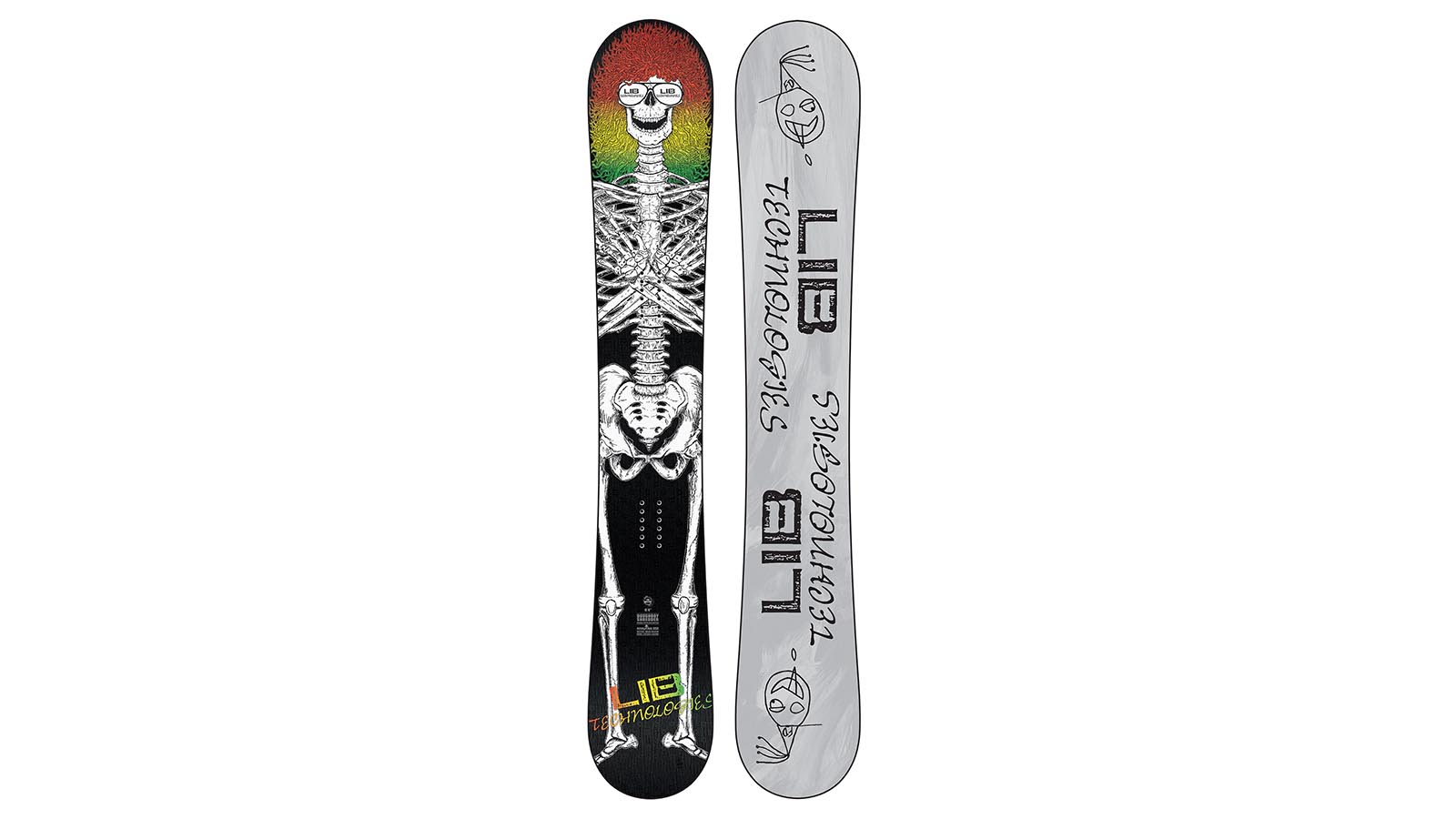 Where are you building, what factory in what country? No wrong answer here. What makes this production facility the best solution?
We're proudly Mervin Made in Sequim, WA in the USA. We are an environmentally friendly facility that creates zero hazardous waste in our manufacturing. Our state of the art eco processes are not only good for the environment but also for our skilled craftsmen, no respirators needed. Learn more at mervinmade.com
Which price point is seeing the most action at retail? Premium, bottom or in the middle? What do the people want?
The most action for us is $600 area, T-Rice Pro, E-jack Knife etc.
Unusual shapes are gaining wider consumer acceptance. Doing anything unseen next year in shapes? Asym/double swallow/reverse sidecut/triple ender etc?
Bringing the 195 Dough Boy Shredder back to the game is pretty unusual. Also having Jamie Lynn redesign his line with the all new Dagmar and Tittyfish, both new shapes and contours than he's had before. His board hadn't changed shapes for years so it's been fun getting new direction from the godfather of power freestyle.
We're interested in graphic themes running through your line. What is your art department feeding you for next year? Flashy, muted, landscapes, patterns, photos, what?
We're all about art and letting artists interpret the snowboard shape as their canvas. Our new line is peppered with new and classic Lib artists alike. Nick Russian and Mark Gale are back along with some wicked Quincy Quigg pieces and Travis brings another new artist to the table with Mark Dunstan's frontier motifs. Pika brought another right brain left brain to the Box Scratcher and Box Knife models beautifully tying the heart of the natural world to a technological city scape.
What is your latest innovation in splitboards?
We have the all new Split Brd! Lightweight all Paulownia core and ultra light spin slim tip and tail material. Unique Camber3 directional with a floaty early rise tip formulation… stable efficient climbing and effortless descents. Easy to use Karakoram Ultra Clips for maximum board tension and "non split" feeling performance. 3-D integrated clip inserts (no t-bolts). Consistently fast running eco sublimated safety orange TNT base. Rugged eco sublimated bio beans top material.
What the hell can we all do to make more normal people want to snowboard again?
We can just stay the course, keep doing us. Keep making rad stuff and having a blast. Celebrate winter, celebrate our traditions, have parties, make movies, throw shakas and high fives after good runs. Throw butters and crash and laugh at each other on the shitty runs, no bad days. Be the flame, let the moths come.
What are your top marketing stories for next season? This will help us to put the focus in the right place.
Lib Tech Dream Boards! We're celebrating the dream we live, shred and make boards in! Lib Tech is a collective of creative board sports dreamers who have eliminated any barriers between us and actualizing the dream. A lot more than the obvious goes into every board we build. The belief that anything is possible. The experience to know what works. The enthusiasm and determination to make it happen. Highly skilled, magical, hands-on ripper kraftsmen. The world's best athletes and terrain. Dynamic, multi-medium snowboarder artists. The most exotic, high performance, environmentally friendly materials. The safest, most efficient environmentally friendly process. Maximized material yields, recycling and repurposing. Zero Hazardous waste. We do it all ourselves because we love it and nobody does it better. The world's best boards… dream boards.