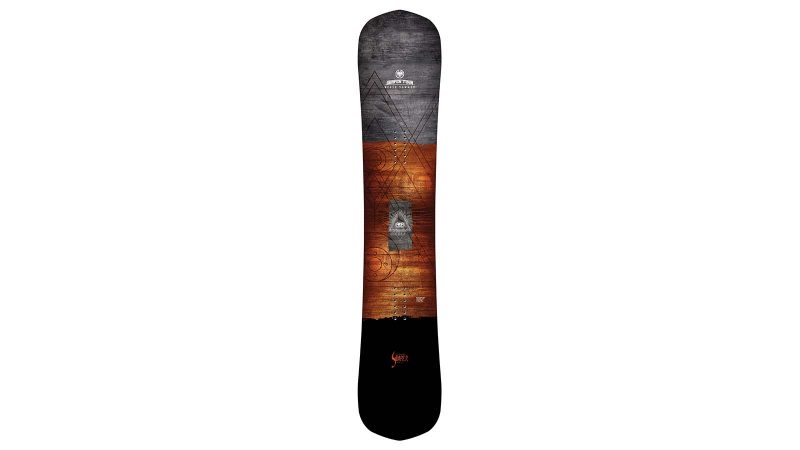 Never Summer Snowboards FW18/19
Retail Buyers Guide: Staff Sales Handbook: Snowboards 2018/19
Category: Snowboards
Brand: Never Summer
:
KEY PRODUCT FOCUS: Please pick the three most exciting boards from your new 18/19 line and tell us about them.
New for 2018-19, The Peacemaker. With feedback from returning Team Rider Dylan Alito we pulled his favourite aspects of the Warlock and the Funslinger to create this new park beast. This limited size run Peacemaker will feature the Rip Saw Profile with extra carbon stingers in nose and tail for added stability on big hits while keeping the center soft like the Funslinger for extra playfulness on rails and jibs. The Peacemaker will also have an additional set of inserts behind the standard 12 pack whole pattern to allow for further set-back in the deep Pow days.
Next two models that we are excited about for 2018-19 are the Big Gun and Shaper Twin which both came about from the versatility of the Swift and all fall within the Shaper Series. Both these boards have a tapered shape with the Fusion Rocker Camber Profile, which is a blend of the Original Rocker Camber in front and Rip Saw profile in the back. The mellow camber in the nose allows for super smooth carving with tons of power from the tail with the Rip Saw Profile which has double the camber. They float insanely well in deep pow and the taper helps make for easy turns on groomers, in trees, and tight lines. The Big Gun is a carving machine and Pow destroyer which won an award in the 2018 Good Wood for Best All Mountain. The Shaper Twin won Best Carve Board at the Black Board Experiment so needless to say these two boards are already starting to get some attention.
Construction. This is the place where you can talk to us about the new ingredients in your boards, and how you are building differently. We're interested in anything new in inserts / edges / cores / sidewalls / glue / wood types / base material etc here.
For materials and construction, we are sticking to the same recipes that has been working for a long time. Our STS Fiber Glass, P-Tex sidewalls, sintered P-Tex bases along with the carbon fiber gives the rider unmatched durability, strength, and performance. For the new Peacemaker model, we are adding an additional set of inserts behind our standard 12 pack insert pattern. These set back insert Powder Packs extend the insert range to allow for optimal float on your park board on those deep pow days.
Where are you building, what factory in what country? No wrong answer here. What makes this production facility the best solution?
We are still building all Never Summer Snowboards in Denver Colorado USA Factory. Keeping our production in Denver here in the USA allows for us to have control over every aspect of our snowboard production. With easy access to the Rocky Mountains, heaps of resorts, and endless back country all within a 1-2 hour drive from our factory we are setup nicely for our R and D team to make magic happen. Having design, production, and testing under one roof helps too. In-house we are shaping, cutting and CNC profiling our wood cores, bending our edges on a CNC machine, as well as printing and sublimating our graphics onto the top sheet material. All this before we lay-up, cut, grind and finish each and every snowboard by hand.
Which price point is seeing the most action at retail? Premium, bottom or in the middle? What do the people want?
As a brand focused on producing premium Snowboard brand we don't offer the low-end option at this point. When we tried those low-end price point models were slower to sell. Our strongest sales are in models priced in the middle to the top end of our line.
Unusual shapes are gaining wider consumer acceptance. Doing anything unseen next year in shapes? Asym/double swallow/reverse sidecut/triple ender etc?
Never Summer continues to test and implement relevant shapes that perform. We have a couple models with Asym side-cuts, we have a series of board dedicated to Tapers, our new Fusion Profile, and the art of the board shaping. Once we have designed, tested and enjoy riding something new we move forward and implement the new tech into the line. It can be tricky to balance the new fresh shapes concepts that the public and customer base might not be quite ready for. They look and ride great but if the shape is too far from what the customer is comfortable with it can make for a tough sell.
We're interested in graphic themes running through your line. What is your art department feeding you for next year? Flashy, muted, landscapes, patterns, photos, what?
Our Creative Director, Jeremy Salyer, is tuned in and dialled when it comes to design trends. He has an incredible eye for art and how it matches up with Never Summer's unique design themes. From my perspective, the new models in our line-up have given Jeremy a chance to expand and drop some more of his personal creative touches into the graphics. It's really fun to watch and see what he comes up with each year and how the concepts develop into reality when the art ends up on the boards.
What is your latest innovation in splitboards?
We have a couple ideas in the pipe to expand the NS Split line to include a Fusion Profile into the mix of Split boards. Coming Soon!
What the hell can we all do to make more normal people want to snowboard again?
This is a great question and could be #1 on your list, but maybe just leave out the part where it says, "more normal people". I just want "more people" to get out there and try it, they don't need to be normal. Anyone who has been bitten by the snowboard bug and infected for life with love of the shred understands. Snowboarding gives me feeling that I do not want to let go of and it is difficult to express with words. If more people could get a chance to try snowboarding and get the feeling that sliding on the snow brings while being outside in the mountains or hills either by yourself or with your friends and family, then I think more people would be stick with it. I can't image my life without snowboarding. Making that first day fun and memorable rather than painful and frustrating is a step in the right direction.