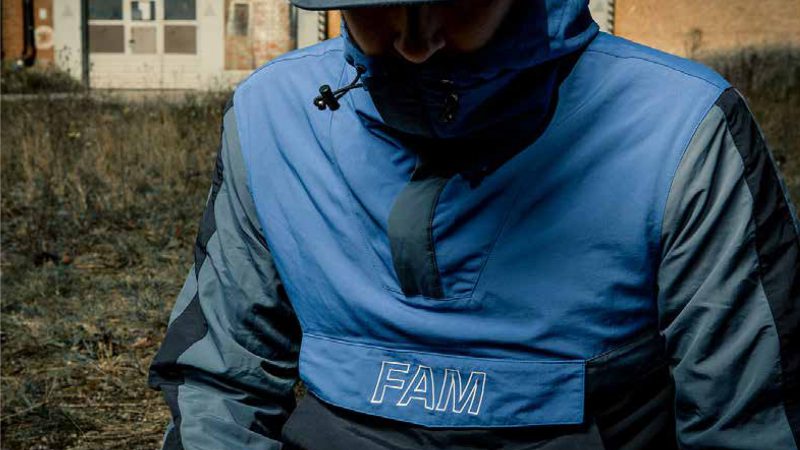 FAM Men's Outerwear FW18/19 Preview
Retail Buyers Guide: Staff Sales Handbook: Men's Outerwear 2018/19
CATEGORY: MEN'S OUTERWEAR
BRAND: FAM
INTERVIEWEE: JOSH COTTRELL (DIRECTOR)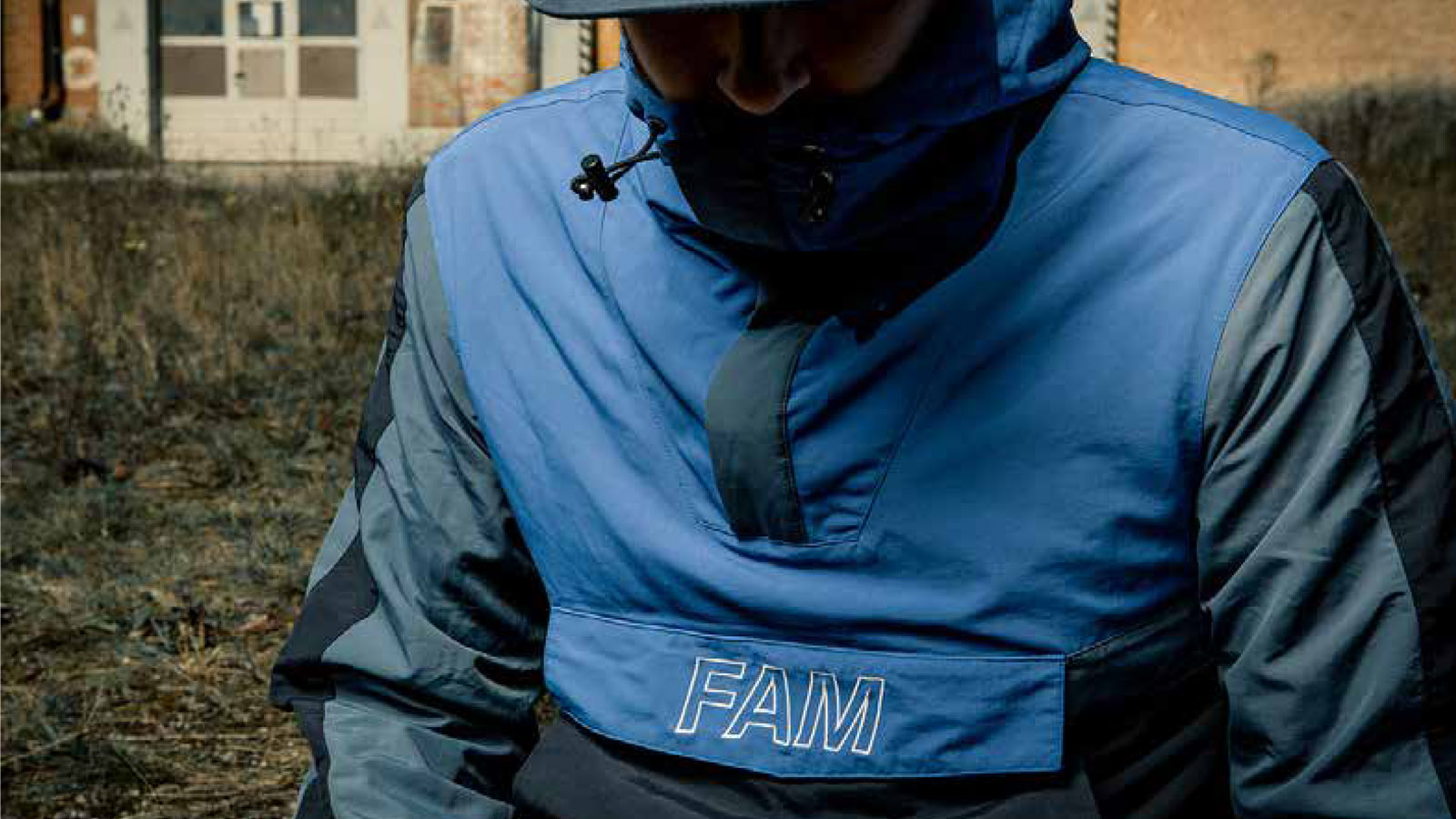 What's the overall theme behind next year's outerwear?
The theme behind the AW 1819 collection has been taking its cue from 90s street wear, classic American, modern retro silhouettes and shapes along with British inspired sportswear.
The focus has been on developing product that ooze's an air of smart, but understated cool, whilst encompassing our fundamentals as a Brand. Providing our customers with multi-functional outerwear that serves you from Peak to Street is always the goal.
From which big trends do you take your inspiration? And which other brands, designers, artists or influencers do you follow who shape the style of your brand?
Our trends are inspired by urban street fashion that incorporates technical and durable fabrics. A key focus for us next season is references to obscure subculture and 90s designers. Furthermore, our collection has been developed to tap into the use of hyper-engineered layering, in order to create more timeless pieces. We position ourselves as the go to brand for those who seek style as a means to deviate from the norm.
The AW 1819 collection is inspired by the likes of Christopher Raeburn and his use of utilitarian fabrics, coupled with 90s inspired panelling. We have also explored the archives of Massimo Osti, vintage North Face and Eddie Bauer for our inspiration.
KEY PRODUCT FOCUS:
What are the three most important products in next year's range? Why? Please tell us about them.
We have a 2-layer modern styled parker coming out that has a down shirt built into it. The jacket is a15k-15k outer shell with a highly breathable down shirt inside, providing customers with the ultimate multi-functional product for both very cold and spring conditions, on and off the mountain.
Our down bomber styled jacket with removable arms is another key piece for us. The jacket, doubling as a gillet, when the sleeves are removed, provides the ultimate in user functionality. We are especially excited about this product due to its versatility and uniqueness.
On the AW 1819 roster is a borg fleece quarter zip jumper which combines traditional material with a functional appeal. This product is especially soft and warm for the harsher environments but also a key trend for the season.
What percentage of your outerwear is sold online vs instore, both by yourselves and your retailers? What's the best way to connect with customers who buy via these different channels?
For 1718, 100% of our product will be distributed via our ecommerce platform. It is our intention for AW 18/19 and into the future, to develop a much more retailer focused model. However, in order for that to occur, retailers need to see who we are, what we are about, who our target consumers are and what we can offer.
Ecommerce is a fantastic tool for a young business like ours, however, it doesn't give the consumer one very important thing, the ability to touch the product and emerge themselves in the quality of what we produce.
As with every product you can highlight features/details through product imagery but it will never replace the value of just being able to try on something. That is why it is so important for us to build and expand our retailer presence in 2018.
Are your price points going up or down? Where does this pressure come from?
From our perspective, price, to a certain extent is a function of quality. In order for us to produce the garments at the quality that we require, it's naturally more expensive for us; and as a result this ultimately impacts our price point for the consumer.
In addition, for AW1819, we have increased our range significantly, offering a range of 8K to 15K jackets and pants, this will naturally place upward pressure on our price points and is a function of us growing as a Brand.
Economic and inflationary pressures affect all brands, and we would be no different. Lastly, positioning as a Brand can also be a function of price. Priced incorrectly we potentially pigeonhole ourselves as a certain type of brand, we are acutely aware of this.
What new fits / silhouettes are coming next year?
Our AW 1819 collection will be heavily influenced by 90s street wear, classic American and British inspired sportswear. As a result, we have focused on modern retro silhouettes and shapes. Our range consists of a number of different shapes to provide a number of options and weights for a variety of conditions.
What's new in colours / prints?
We have done another collaboration with local artist James Wilsher for another line of prints following the success of our MR Phomer collaboration for AW 1718. New colours for the season will be a blend of Mauve Concrete and Mortar combined with a dusty urban theme. Colour combinations will provide tonal panelling but again avoiding big bright colours.
Any has-been trends that your brand is moving away from?
What we have looked to move away from is not necessarily a seasonal change, it is one driven by our desire to be and do something a little different. Block colouring along with bright / loud colours have been the mainstay of the industry for many years.
This trend absolutely has its place, however, it's not the place that we want to be. Loud colours, patterns and block artwork do not lend themselves well to providing dual-usability and multi-functionality; it's as simple as that. One of the founding principles of our technical product is our ability to offer consumers multi-functional product, something you would wear in the mountains but also be happy to wear on a cold day in London. You simply can't do that with a neon yellow jacket!
What are your top marketing stories for next season? This will help us to put some focus in the right place.
We continue with our "Peak to Street" theme in 1819 with growing focus on our "powder junkie" story, complementing the expansion of the technical product range. As a young brand, our focus with all our marketing is not just about generating an understanding of the differing products that we offer, but equally on continuing the story of our Brand.
For us building that brand awareness and ultimately brand recognition and value is very important. People understanding who we are and what we are all about is just as important as generating an understanding and appreciation for the product that we make. As a Brand that does not singularly focus on skiers or snowboarders, but both.
We will also really begin to push the "Ski's v Board" marketing story, with the idea being that the opposites ultimately come together. This would imitate certain aspects of ski and snowboard reality that we see today, not just from a fashion perspective but also from a social, musical and aspirational perspective.
BASE LAYER FOCUS: Do you do baselayers? What's happening here, what's your base layer strategy next year? Please let us know your tech innovations, materials, colours and price points.
On base layers, we are working on something very exciting. This will be our first time producing base layers and with our partners; who have developed a new base layer fabric. This will bring new thermal benefits to the user, whilst maintaining breathability. That's all we can say!