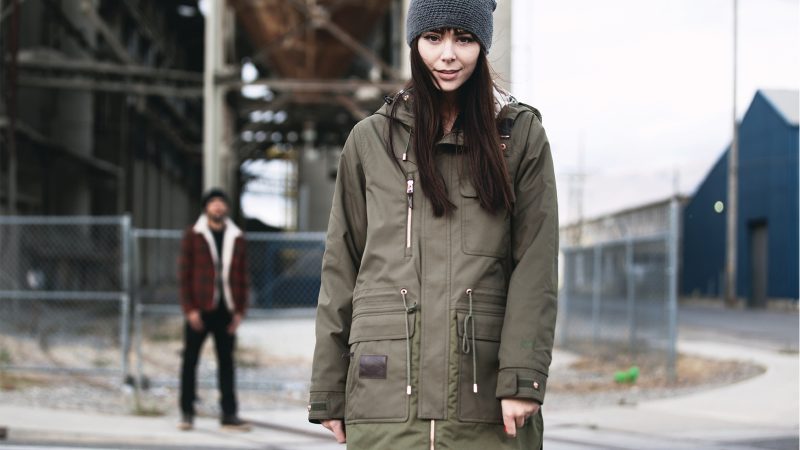 L1 Women's Outerwear 18/19 Preview
Retail Buyers Guide: Staff Sales Handbook: Women's Outerwear 2018/19
Catagory: Women's Outerwear
Brand: L1
Interviewee: Jon Kooley – Creative Director
What's the overall theme behind next year's outerwear?
L1 has always had a deep-rooted workwear/military aesthetic.
Straying from that a bit last season, I wanted to reevaluate and restructure the line to maintain the style and quality we strive for. Revisiting the workwear/military look while incorporating several new fits, styles and fabrics gives this season of L1 women's a fresh and, for lack of a better word, edgier look.
From which big trends do you take your inspiration? And which other brands, designers, artists or influencers do you follow who shape the style of your brand?
I closely follow a lot of emerging trends I see coming out of Japan, Korea and China. I really like to take men's styles and add a feminine twist, utilizing a bit more of an oversized look to the jackets and more of a neutral colour palette. As for brands, I like to follow Stylenanda, Rag & Bone and Carhartt WIP are great. I also liked what Brixton did, taking men's styles and curating a collection for that tomboy look.
What are the three most important products in next year's range?
EMMA – A new jacket to the line and one of our highest end jackets for L1 Women's. This jacket is replacing another jacket the Juno that has previously done very well for us. I feel the Emma encompasses the essence of L1 by taking a traditional men's military style and creating something that is attractive and feminine.
NIGHTINGALE – This jacket is one of the only transition "mountain to street" pieces we have in the women's line. This concept of a versatile piece of outerwear has worked well in the men's line and I'm very excited to see how its perceived for women's.
HELLDIVER – This is a fairly traditional military flight suit, that nods back to more of a fashion-inspired piece. I've always wanted to do a type of coverall so, I guess this was the season haha! To me this is more of a brand builder, I don't expect to see very high numbers, but again this is just a way of pushing the idea of fashion meets function.
Are your price points going up or down? Where does this pressure come from?
I would say they are staying roughly the same for us, specifically for women's. We have however added a new lower price point jacket the Lalena to accommodate some demand from countries in Europe and Asia.
What new fits/silhouettes are coming next year?
Lots of new fits this season. We have a very broad range, but I'd say I'm most excited about the more oversized jackets and the boyfriend fit pants.
What's new in colours/prints?
New for this season in the way of colours was incorporating Slit, a kind of greyed out mint green that turned out very nice, Walnut, a very dark khaki or light greyed out brown, however, you want to look at it. Bone, a fairly traditional off-white. As far as prints, we developed a really nice rich Peony print that is used for most of the linings in satin as well as appearing as an outer print on select styles.
Any has-been trends that your brand is moving away from?
I think as far as I'm concerned I could do without the whole "outdoor" look. I feel if you want that look go to a brand that does it and does it well.