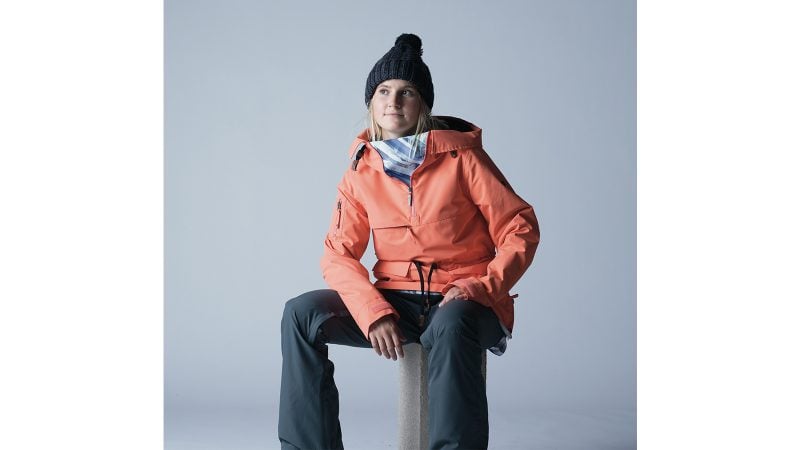 Nikita Women's Outerwear FW18/19 Preview
Retail Buyers Guide: Staff Sales Handbook: Women's Outerwear 2018/19
Catagory: Women's Outerwear
Brand: Nikita Clothing
Interviewee: Jenna Kuklinski Marketing Manager
What's the overall theme behind next year's outerwear?
The overall theme for next year's outerwear has been dubbed them "Perfect Storm". There are so many trends going on these days, it's hard to just stick to one- especially with women! We pulled from 80's Punk Rock, Military, The Great Outdoors, Digital Age to make the Perfect Storm of Nikita FW1819. From the colour story to prints- mixing these four trends gives a perfect blend to compliment the Nikita girl who surrounds herself with art, fashion, skate, and snow. We're creating pieces for girls who ride that can be taken from the mountains to the streets and everywhere in between.
From which big trends do you take your inspiration? And which other brands, designers, artists or influencers do you follow who shape the style of your brand?
Our Nikita Nation is a huge inspiration for the brand. We work with girls that are living lives that always inspire us to be better and do more, and we pull a lot of the influence of the line and features from their suggestions. We work with girls who skate, snowboard, ski, do art and create music, and we are able to feel the influence from each of them in every piece we do.
What are the three most important products in next year's range? Why? Please tell us about them.
The products that we are most excited about for FW1819 are the Hollyhock Jacket, the Hemlock Jacket and (perhaps our most requested and anticipated new piece) the Evergreen Bib.
The Hollyhock Jacket is our most durable, waterproof and streamlined piece. We used a 2L Stretch Cordura fabric that is the snow-wear equivalent of bomber proof. You don't have to worry about tearing your jacket while carrying your gear or riding through the trees in this piece. In addition to being super tough, it's also really waterproof; 20k to be exact with fully taped seams and a jacket-to-pant connect system that will keep snow out of your pants on those unreal powder days. We're setting the bar here for what should be offered to girls, and we know that having a jacket that keeps up with them is a must. The fit on this jacket is one of our favourites too, never limiting the movement of the rider, but always keeping the lines flattering and fun. We're really excited about this jacket!
Another great addition to the collection this year is the Hemlock Jacket. We had been fielding requests from so many girls looking for a cool and functional Anorak jacket; one that not only looks amazing but is also easy to get in and out of. We've all been there, right? The Anorak gets on and looks great, but when it comes time to take it off- you basically manage to get yourself into your own personal straight-jacket. The Hemlock is roomy, yet designed to fit the body in a way that lets you move and not, "bulk up". The colours, as well as the pop of pattern, put into the quarter-zip near the neck make this extremely eye-catching (in addition to being super functional for layering facemasks and scarfs to stay warm). This jacket has been an immediate favourite with everyone who's gotten to check out the line, and we can't wait until it gets into stores.
We've been getting requests season after season for a bib. The timing is now right for us to release our Evergreen Bib and we know it's going to be the answer to everyone's call for an awesome girl's bib. It's made with a stretch denim fabric, meaning you'll never be held back in movement by your outerwear, and has been built with a girl's shape in mind- this isn't a men's bib in an extra-small. Year after year, we hear about how much people love our pant fit, and we know that the sentiment is set to carry over into the fit of our brand new bibs for FW1819.
What percentage of your outerwear is sold online vs instore, both by yourselves and your retailers? What's the best way to connect with customers who buy via these different channels?
Nikita is committed to supporting wholesale partners, so we don't sell outerwear on our own site. Within our wholesale distribution, we support both online and in-store sales and both areas sell through similarly for us.
Are your price points going up or down? Where does this pressure come from?
Since Pretty Great took control of the Nikita product line, price points have actually come down from where they were in previous seasons. By focusing the ranges and implementing some simple design changes, Nikita is now able to offer our consumers the same style and quality they've grown to expect, but at a sharper price.
What new fits/silhouettes are coming next year?
For FW1819, we take advantage of the success of our fits from last season and put them to use in some new styles. You'll find the classic Nikita long fit, as well as the slimmer version of the Nikita long; as well as see a wider assortment of shorter, more streetwear-inspired fits in the jackets.
What's new in colours/prints?
We've got some exciting new prints coming together for FW1819; everything from the more subtle prints that play with texture to more statement designs that bring in just the right amount of pop to get noticed in the best way. From Geo Storm to a blue-based Tie Dye, to watercoloured snakeskin and Camo Pop with a fresh batch of red flowers poking through, there's going to be a print that pleases everyone. Colors have stayed fresh, with the influence from pastel pallets getting felt throughout the line, as well as classic darks and jewel tones being featured and translated to a heathered fabric for more variety and texture appeal in the line.
Any has-been trends that your brand is moving away from?
The main trend we've been moving away from is the "glamping" outdoors look.  Yes, we still have Parkas and anoraks, but they tend towards a edgier than glampy look and feel to them.
What are your top marketing stories for next season? This will help us to put some focus in the right place.
Our designer came up with this really cool Mitt Gaiter that, once she introduces it to the jacket, we don't know how we were ever wearing jackets that didn't have this. It's a convertible mitten gaiter that allows you to wear it as people are used to- the traditional way with a thumb hole and fingers exposed, or you can convert it by folding the cuff up and over your fingers and create a mitten that keeps hands toasty (but thumbs free for using your phone!).
We're always about Girls Who Ride, and we are continuing to bring that sense of a crew of girls together within everything we do with the brand. From top riders to girls who just love to ride, we work on bringing them all together to have fun and go ride, no matter what.
Do you do baselayers? What's happening here, what's your base layer strategy next year? Please let us know your tech innovations, materials, colours and pricepoints.
Our base layers are pieces that bring technical function to the ever-present style of Nikita Clothing. The layers combine our favourite prints with well-executed fits on performance fabric to give you a moisture-wicking piece that you'll be wearing long after you've gotten off the hill. In the Radio Pullover hoodie, we use a bonded DWR coated fleece that's rated at a 10k waterproofing, giving the wearer the option to use this hoodie as a layering piece, or their only layer when out on the hill. We extended the DWR coating to cover the Case Pullover Hoodie as well and created the piece using a bonded fleece. For our base layers, we sought out a poly/spandex moisture-wicking fabric to aid in keeping the wearer warm and comfortable all day long.