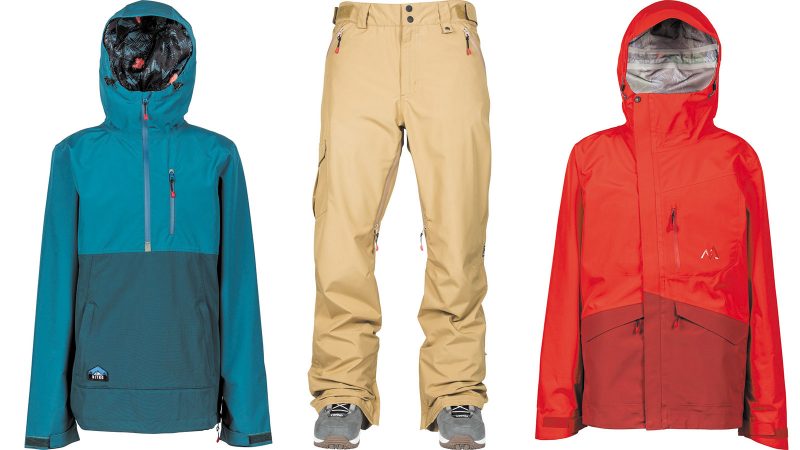 Nitro Men's Outerwear FW18/19 Preview
Retail Buyers Guide: Staff Sales Handbook: Men's Outerwear 2018/19
CATEGORY: MEN'S OUTERWEAR
BRAND: NITRO
INTERVIEWEE: ALLISON WIGHTMAN (OUTERWEAR PRODUCT DEVELOPER)
What's the overall theme behind next year's outerwear?
Next year we offer 3L, 2.5L, 2L, a softshell, a fleece, an insulated pull over, base layers, t-shirts, sweatshirts and headwear pieces that can be worn together to make comfortable, functional outfits for backcountry, on hill or street.
From which big trends do you take your inspiration? And which other brands, designers, artists or influencers do you follow who shape the style of your brand?
This year our designers went on an inspiration trip to Japan and checked out the culture, fashion, art and snowboarding over there, we thought about what we saw and created the new line from that as well as other sources around us.
This year we thought about fabrics and trims a lot, we wanted to use lightweight durable fabrics with nice textures and for trims used metal, silicon, heat transfer and woven patch with Nitro branding.
KEY PRODUCT FOCUS:
What are the three most important products in next year's range? Why? Please tell us about them.
The 1st product I will tell you about is the Glades 20K/20K 3L jacket: it is made of micro rip stop. It has a Shaped collar for face protection, water resistant front, chest, and underarm zips, tension lock front hood adjust with bonded eyelets, back hood adjust, zip pass pocket, adjustable shaped cuff, sleeve gaiter with thumbhole, powder skirt with jacket to pant connection, media pocket with cord exit, goggle pocket, whistle, bonded flaps.
The 2nd product I will tell you about is the Men's Kitami Bib. It is a 20K/20K 3L bib pant it has Stretch panels and articulation for ease of movement, zip chest pocket, elastic suspender system, zip side entry, dual outer waist adjusts, zip hand warmer pockets, zip fly, triple stitch rise, Village snap hem adjust, zip boot gusset, stretch snow gaiter with boot hook, reinforced hem, bonding.
The 3rd product is the Atacama Poncho. It is a 20K/20K pull over rain poncho that can be converted in to a tarp or ground cover. It packs away into its own storage pouch when not in use.
What percentage of your outerwear is sold online vs instore, both by yourselves and your retailers? What's the best way to connect with customers who buy via these different channels?
I have to make a rough guess here, as we are not selling online direct to consumers. The current market figures show that Outerwear in snowboarding is sold with 12-15% online. The remaining 85% of sales are still in regular retail stores.
I would assume we are within the same range. We started selling Outerwear in some countries through our website, using a system that allows our dealers to participate. That system worked well for us last season and helped to get more variety of clothing out to people.
Are your price points going up or down? Where does this pressure come from?
We try to keep our price points stable even if cost for garment and production goes up every season. Our main aim is to get good outerwear outdoor there that satisfies all needs and all available budgets out there. There is always pressure to get lower price points, but we do not want to sacrifice quality over price.
What new fits / silhouettes are coming next year?
In jackets, we offer our regular fit, it has been tested over the years and gets good feedback
In pants, we offer regular fit, slim fit and a bib.
New shapes for us this year are a Softshell jacket, a fleece jacket, an insulated pull over jacket, a 2.5L packable shell jackets and a pull over poncho.
What's new in colours / prints?
Colours we kept easy and wearable with Legion Blue, Black, Chive, Chino and Pavement. On the outsides, we have a Camo print, a Haze print that looks like marble or fog and an Island times tropical print. On the inside of some styles we have an Island times tropical print in color or black and white.
Here's the place to talk about fabrics, features and technical innovations. Here we're principally interested in *NEW* technical stories that you haven't offered to retailers previously.
This year we looked in to lightweight durable fabrics with nice textures. In our high-end jackets, we are using tension locks on some of the hood adjust, and light weight silicon printed powder skirt gripper elastic and light weight tech mesh.
We have made an Access Softshell which is a wind-stop soft-shell with 4-way mechanical stretch and an
Elbrus Fleece jacket with Thermal regulating hard faced pilling resistance fleece.
What are your top marketing stories for next season? This will help us to put some focus in the right place.
Full layering program shell or insulated jackets and pants. Softshell, Fleece jacket, insulated pull over, base layers, t-shirts, sweatshirts, headwear and gloves, we are offering the full range.
BASE LAYER FOCUS: Do you do baselayers? What's happening here, what's your base layer strategy next year? Please let us know your tech innovations, materials, colours and pricepoints.
For base layers we have a Ronin Crew long sleeve hooded shirt and a Ronin ¾ Pant. We use flat lock seams and polyester/elastane moisture wicking stretch fabric, we keep our branding as heart transfers for comfort.