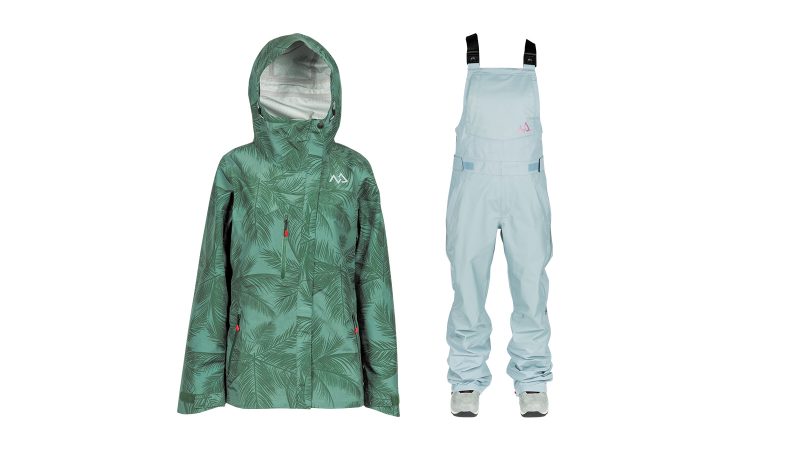 Nitro Women's Outerwear FW18/19 Preview
Retail Buyers Guide: Staff Sales Handbook: Women's Outerwear 2018/19
Catagory: Women's Outerwear
Brand: Nitro Snowboards
Interviewee: Allison Wightman, outerwear product developer
What's the overall theme behind next year's outerwear?
Our overall theme of next year's line is to offer good looking, functional outerwear to keep you comfortable and happy on and off the hills. We offer 3L, 2.5L, and 2L shell and insulated jackets and pants as well as a quilted mid layer pull over jacket. We also make sweatshirts and t-shirts, all for you wearing enjoyment.
For this season, we thought a lot about how we would want each piece to be used. We thought about questions such as: what weight, waterproofness and breathability should each piece be, should it be insulated or a shell. Where do we want a shaped cuff for more top hand coverage or a higher collar for warmth? We decided where design lines needed to sit and where sleeve and leg articulation was needed. We thought about speciality zippers, where we wanted to use a water-resistant zipper or where we needed lightweight reverse coil zippers and placed them accordingly. We developed Nitro branded metal trims, patches, zipper pulls and snaps and developed some fun prints and came up with our 2018/19 line!
From which big trends do you take your inspiration? And which other brands, designers, artists or influencers do you follow who shape the style of your brand?
At the start of the season, our designers review the best and worst of last season and create a line plan for the new season. We use the line plan as a framework to figure out how much each piece should cost and what it will be made out of, then the designer will use this plan and start to gather ideas about what they want each piece to look like. We then take inspiration from various sources, this season it was going to Japan. We went to a trade show to see what's new in fabric and trim development and at the same time took in the culture, food, fashion, art, and the people watching Japan had to offer. We also went snowboarding to test 18/19 prototypes.
What are the three most important products in next year's range? Why? Please tell us about them.
The 1st product I will tell you about is the high-end 3L Palisades 20K/20K Jacket. It is made of micro rip stop and is cut for ease of movement with room for layering, it features a lightweight coil front zip, water-resistant chest, hand and underarm zip, tension lock front hood adjust with bonded eyelets, back hood adjust, zip pass pocket, adjustable shaped cuff, sleeve gaiter with thumbhole, powder skirt with jacket to pant connection, media pocket, goggle pocket, whistle and has heat-bonded plackets. We like it because it's lightweight and durable.
The 2nd product I will tell you about is the high-end 20K/20K 3L Women's Yamanouchi Bib Pant. It is made of micro rip stop and features stretch paneling and built-in articulation for ease of movement, large zip chest pocket, elastic suspender system, zip side entry, dual outer waist adjusts, zip handwarmer pockets, triple stitch rise, Village snap hem adjust, zip boot gusset, stretch snow gaiter with boot hook, reinforced hem, and has heat-bonded plackets. We like it because its lightweight and durable and really comfortable!
The 3rd product I will tell you about is the Couloir Packable Jacket. It is 10K/5K and made of Mélange Dobby fabric.
It is a 2.5L lightweight shell jacket designed to protect you from both snow wind and rain and packs away into own hand pocket.
What percentage of your outerwear is sold online vs instore, both by yourselves and your retailers? What's the best way to connect with customers who buy via these different channels?
I have to make a rough guess here, as we are not selling online direct to consumers. The current market figures show that Outerwear in snowboarding is sold with 12-15% online. The remaining 85% of sales are still in regular retail stores. I would assume we are within the same range. We started selling Outerwear in some countries through our website, using a system that allows our dealers to participate. That system worked well for us last season and helped to get more variety of clothing out to people.
Are your price points going up or down? Where does this pressure come from
We try to keep our price points stable even if the cost for garment and production goes up every season. Our main aim is to get good outerwear outdoor there that satisfies all needs and all available budgets out there. There is always pressure to get lower price points, but we do not want to sacrifice quality over price.
What new fits/silhouettes are coming next year?
For jackets, we offer our regular fit which is good for layering we offer shell and insulated options.
For our pants, we offer regular fit, slim fit, boyfriend fit, and a bib pant.
What's new in colours/prints?
With colours, we went for fun and made it easy to mix and match pants and jackets to create outfits.
For colours we like combining Siren red with Merlot, we love a light icy blue ethereal grey colour we call Glacier, and Emerald and a Smoked Pink.
In the line we have a tonal palm leaf outer print and worked with artist Ben Tour, out of Vancouver BC, to create a free hand watercolour wolf lining print.
Here's the place to talk about fabrics, features and technical innovations. Here we're principally interested in *NEW* technical stories that you haven't offered to retailers previously.
In our high-end Palisades jacket and Wmns Yamanouchie bib pant, we have used 3L fabric with a printed tricot backing and have been working to reduce garment weight and keep trims subtle functional and light while not compromising on durability and comfort.
This year in the Couloir Packable Jacket we are offering a 2.5L that can pack away into its own pocket for easy storage, It's lightweight and can be worn on the hill or as a street jacket.
What are your top marketing stories for next season? This will help us to put some focus in the right place.
Colour mix and matching of pieces.
Layering
Nice functional fabrics and trims with subtle branding
Do you do baselayers? What's happening here, what's your base layer strategy next year? Please let us know your tech innovations, materials, colours and pricepoints.
This year we have Nitro branded t-shirts and hooded sweatshirts and a quilted pull over with ¾ zip that you can wear as a mid layer or on its own.