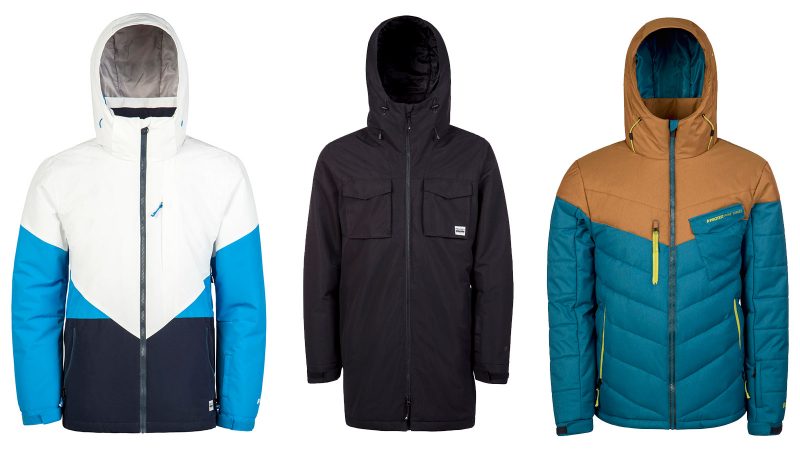 Protest Men's Outerwear FW18/19 Preview
Retail Buyers Guide: Staff Sales Handbook: Men's Outerwear 2018/19
CATEGORY: MEN'S OUTERWEAR
BRAND: PROTEST

MEN'S LINE
Protest is RE-inventing your winter wardrobe. We are taking evolving street styles and fusing them with functional design.
Protest wants to help people to ride more, to get there, to the slopes where things matter. So they make sure they have a range of technical jackets that are really functioning and accessibly priced. These jackets like the Warrior or Clavin 18 are jammed with technical features that blend cohesively with design, water repellent zippers, fully taped seams,  stoppers, storm cuffs, 20Kwaterproof  and breathable stretch fabric.
They are continuously developing styles with one eye on the street, the other on the slopes. Interpreting evolving trends, you will see super-sized gradients like in the Bourbon, camouflage prints like in the Consider, all-over embroideries like in the Tyrone and hoodies featuring vibrant colour blocks. And of course, you'll also see their classic check designs.
They've been inspired by work wear, clothing with function at it's heart. You'll see this echoed in the bib-pant Terence. Protest delivers other spot-on looks such as overalls and long and fitted jackets, parka and anorak silhouettes, as well as trendy varsity style looks. They have also got a new look with their  Zed extra slim fitting snow pants.
Their flannel line has also been RE-invented with a new style called Mistaken which is two fleeces fused into one. The outside layer is a big plaid while the inside layer has a smaller, intricate pattern.
Their colour groups include a dark group with beige as a refresher, a colour group with a mustard yellow as it's accent which is a fantastic new colour for sportswear, and finally a more retro palette with reds and blues.
When the snow comes, be ready. Let Protest Re-invent your winter look with a collection that incorporates the authentic with the technically advanced, allowing you to do what you love in comfort and style.
KEY TRENDS
Workwear 
We've been inspired by work wear, clothing with function at its heart – what better place to look for functional inspiration.  The rugged fabrics, the buckles and belts all give ideas for improved functionality in design.
Sherpa fleece 
It's a sort of faux sheepskin, a mix of polyester and acrylic yarns which results in a fabric that is super soft, warm and easy to maintain. Sherpa has loads of the qualities of wool while being lighter and easier to care for.
Anorak 
Inspired by the traditional anorak. These hardy pieces of outerwear were originally used in polar regions so it's fitting that we should look to the anorak for inspiration for our coming winter collection. With a half-zipper, this is an awesome shape features in our menswear collection.
Retro Sport 
Inspired by the Mod style of the 1960's, menswear is seeing some serious colour-blocking styles like our Coffee snow jacket. Bold and bright colours are juxtaposed in diagonal slices, the ultimate in graphic expression.
Big shape
RE-invented, the puffer re-emerges out of its cocoon bigger than ever. Inspired by the rise of the puffer in streetwear, this jacket takes on all new proportions…
We're pushing functionality. And as always, fusing that function with form, bringing the street to the slopes in one powerful statement. Our newest collection focuses on getting back to the essence of what we do and what we love, incorporating authentic design with advancements in fabric and process. Meet some of our favourites for the coming season.
MENS KEY PRODUCTS
Clavin
Here's the classic Clavin snow jacket by Protest. As part of the PVRE line, this super technical jacket is amongst many things, hydrophilic and water-resistant at 20K. Featuring a high collar with laser cut ventilation, a stretch waist gaiter and 4-way stretch fabric, meet your ticket to ride.
McFly 
The McFly by Protest is our parka-inspired snow jacket. This jacket is hydrophilic on the inside and waterproof at 10K on the outside, keeping you comfortable however crazy it gets. Quilted for warmth and made from 100% recycled polyester yarn, the awesome McFly by Protest.
Coffee 
The Coffee by Protest is our retro-inspired jacket. Standing out with some serious colour blocking, this is your next phat jacket for the season of snow. This jacket is hydrophilic on the inside and waterproof at 10K on the outside, keeping you comfortable however crazy it gets.
Virgo 
Introducing a legend in the making, successor to our best-selling Mount jacket, here is the Virgo by Protest. Part of the PVRE line, this super technical jacket is hydrophilic and water- resistant at 10K. Featuring a chevron design quilted body, the Virgo has some tremendous colour blocking with bright contrast detailing.