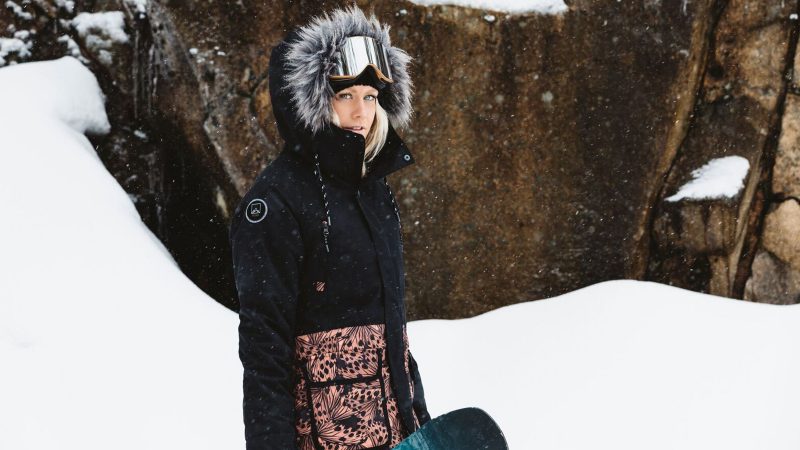 Rojo Women's Outerwear FW18/19 Preview
Retail Buyers Guide: Staff Sales Handbook: Women's Outerwear 2018/19
CATEGORY: WOMEN'S OUTERWEAR
BRAND: ROJO OUTERWEAR
INTERVIEWEE: ROBYN CARTER – DESIGN
Working collaboratively with Rojo's team to creating inspired ranges for the alpine lifestyle designer Robyn Carter has 16 years of design experience in the action sports industry working for labels such as Burton, Roxy and Ripcurl and is inspired by a love of nature, creativity and vintage finds.

WHAT'S THE OVERALL THEME BEHIND NEXT YEAR'S OUTERWEAR?
From a design perspective this season we ran with two looks which both talk back to "contrast". One vibing on a dark winter theme where we had fun with contrasting light and dark against colour in a beautiful almost otherworldy way and the other drawing influence from everyday adventures where the contrast was more subtle and natural for a heritage feel.
FROM WHICH BIG TRENDS DO YOU TAKE YOUR INSPIRATION? AND WHICH OTHER BRANDS, DESIGNERS, ARTISTS OR INFLUENCERS DO YOU FOLLOW WHO SHAPE THE STYLE OF YOUR BRAND?
I like to take a look at a broad range of inspirations and take ideas from each instead of going off just one idea. Trend forecasting, runway, vintage finds, artists, nature and other brands are all part of the melting pot, but the main influence is the history and brand DNA of Rojo, it all has to go through that filter.
WHAT ARE THE THREE MOST IMPORTANT PRODUCTS IN NEXT YEAR'S RANGE? WHY? PLEASE TELL US ABOUT THEM.
They may not be the most important but my three are personal favourites, mostly because they illustrate the directional theme and it's always a design win if you can hold your initial intention from design direction and concept through to sample, photoshoot and onto the shop floor.
Stockholm Jacket in snow white: It's a classic look jacket with a twist. We've added a quilted stitching over the black fabric which adds a little extra pop and the inner lining is the beautiful little wings print in hot sauce, which ties the jacket back to the printed colourways in the Stockholm range.
Takine Softshell Anorak: The anorak is back in a big way this season. We've done this style in the past, but this colourway is simple while still looking effortlessly cool both on and off the slopes. The lightweight material also means that it's a great travel item so it's great having a multipurpose item in the range.
Base Layer Pant in stars and stripes. This print is part of the b4bc (Boarding for Breast Cancer) range and we love the contrast between the feminine purple against the dark base moody colours. In the past, the printed thermals have been a real hit so we're sure this one is going to be a favourite too.
WHAT PERCENTAGE OF YOUR OUTERWEAR IS SOLD ONLINE VS INSTORE, BOTH BY YOURSELVES AND YOUR RETAILERS? WHAT'S THE BEST WAY TO CONNECT WITH CUSTOMERS WHO BUY VIA THESE DIFFERENT CHANNELS?
There is, of course, a major rise in online shopping these days, especially with the convenience it offers. But we still find we sell more stock in our stores and through our retailers. When it comes to the snow industry in Australia there are plenty of people who don't know what they need, so they go to the experts in store to get kitted out with exactly what they're after.
ARE YOUR PRICE POINTS GOING UP OR DOWN? WHERE DOES THIS PRESSURE COME FROM
Our price points are under review each season as it depends on the designs and the fabrics we use, no two ranges are the exact same. Historically we have always sat in the middle of the market, but we feel that area is under significant pressure. For this reason, we're trying to improve our overall quality and our brand perception so the price points are going up, but not significantly. This will mean that we can sit in an area of the market with less competition and give ourselves more of a chance to grow.
WHAT NEW FITS / SILHOUETTES ARE COMING NEXT YEAR?
We've seen a bit of a resurgence in jackets getting a little slimmer, shorter, more femme so we have accommodated that without killing off our faithful blocks.
WHAT'S NEW IN COLOURS / PRINTS?
Key new colours we have introduced this year include Hot Sauce, Wing Teal and Pastel Lilac. Our new prints illustrate the two themes dark winter and everyday adventures as previously mentioned with my two personal favourites being the Stars and Stripes print and Florence print. There is something beautiful about them both.
HERE'S THE PLACE TO TALK ABOUT FABRICS, FEATURES AND TECHNICAL INNOVATIONS. HERE WE'RE PRINCIPALLY INTERESTED IN *NEW* TECHNICAL STORIES THAT YOU HAVEN'T OFFERED TO RETAILERS PREVIOUSLY.
This seasons fabric selection is pretty clean, we have increased our stretch fabric usage and kept surface texture subtle. We also have a high level of focus on the internal details of the garments as we want to wear a Rojo piece to be special so linings are plush, beautiful and well thought out. These extra attentions to detail really help us stand out in the industry and its part of what Rojo is known for.
ANY HAS-BEEN TRENDS THAT YOUR BRAND IS MOVING AWAY FROM?
With this new range, we have pulled back on producing pieces with all over bold & bright colour. The trend over here has been for strong colours and when it comes to prints they need to be more subtle rather than over the top. People are still after outerwear that can transcend through seasons instead of dating, so we steer clear of styles and colourways we feel are only here for a short time.
WHAT ARE YOUR TOP MARKETING STORIES FOR NEXT SEASON? THIS WILL HELP US TO PUT SOME FOCUS IN THE RIGHT PLACE.
Our marketing stories always relate to the three strongest aspects of the Rojo brand which is heritage, uniqueness and artwork. These are the aspects that really make Rojo stand out from our competition and at the end of the day, we always want to flaunt our strengths.
BASE LAYER FOCUS: DO YOU DO BASELAYERS? WHAT'S HAPPENING HERE, WHAT'S YOUR BASE LAYER STRATEGY NEXT YEAR? PLEASE LET US KNOW YOUR TECH INNOVATIONS, MATERIALS, COLOURS AND PRICEPOINTS.
We have kept it simple this season and have expanded on last years printed poly spandex base layer offering with our key prints. They were massive hits in winter 17 in Australia and New Zealand because they're a comfortable poly-spandex blend that lets you move easily while still offering technical features like wicking moisture away from the skin and warmth. With our base layers we do a 7/8 length, the reasoning behind this is to minimise the friction in ski boots between the socks and the cuff of the pant, most women have loved the extra thought behind this to provide maximum comfort for a full day on the snow.
Outerwear technical features: 

Society jacket: 20K x 15K, DWR coating, insulated, soft plush Sherpa neck lining, fully sealed seams, satin printed body lining (Florence print), magnet snaps on the storm flap, long fit. Available in three colours: True Black, Gargoyle and Hot Sauce. 

Stockholm jacket: 15K x 10K, DWR coating, insulated, fully sealed seams, detachable hood and fur, satin printed body lining (Little Wings print), magnet snaps on the storm flap, long fit. Available in four colours: Little Wings Hot Sauce, Little Wings Midnight, Snow White and Aruba Blue. 

Task jacket: 15K x 10K, DWR coating, insulated, fully sealed seams, detachable fur, slim fit, crossover style (good for on the snow and streetwear). Available in four colours: True Black, Atlantic Deep, Soladite Blue and Cathay Spice. 

Snow Culture pant: 20K x 15K, DWR coating, slim fit, critically sealed seams, copper zip detailing. Available in four colours: True Black, Gargoyle, Hot Sauce and Cathay Spice. 

Stretch Jean pant: 20K x 15K, DWR coating, 4-way stretch fabric, slim fit, critically sealed seams, insulated. Available in four colours: True Black, Alloy, Wing Teal and Tibetan Red.