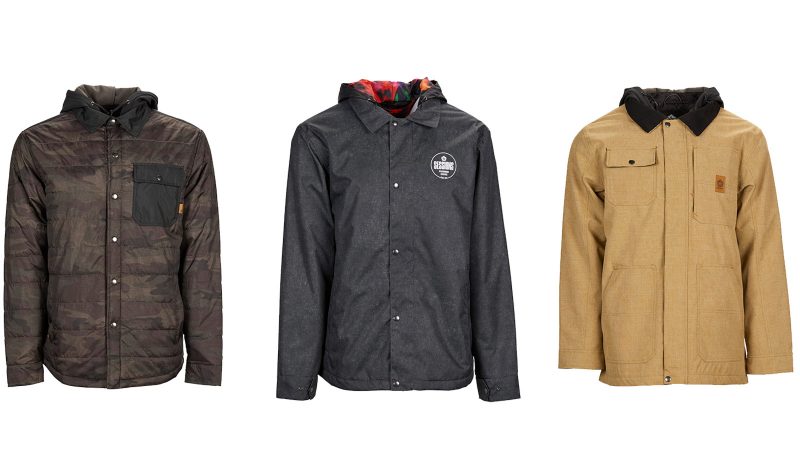 Sessions Men's Outerwear FW18/19 Preview
Retail Buyers Guide: Staff Sales Handbook: Men's Outerwear 2018/19
CATEGORY: MEN'S OUTERWEAR
BRAND: SESSIONS
What's the overall theme behind next year's outerwear?
Sessions 2018 outerwear collection is a trip to the familiar, but with a new perspective coursing through our veins. Revisiting the roots of the brand and the cultural movements that continue to shape our minds, attitudes and styles, we explore the movements of rebellion.
With a grungy nod to the global military state, we salute freedom to be an individual within society while remaining a wild beast roaming and inhabiting this giant ball of rock we all call home.
From which big trends do you take your inspiration? And which other brands, designers, artists or influencers do you follow who shape the style of your brand?
This season, Sessions is pulling inspiration from military aesthetic and cargo looks, a some grunge and '90s and little bit of we don't give a *uck; excuse our language there. We're designing for that person who juts out on their own, is down to board, and doesn't need someone telling them what to do, what to like, or how to look.
KEY PRODUCT FOCUS:
What are the three most important products in next year's range? Why? Please tell us about them.
Angst Jkt – This is a next level coaches jacket with 10K waterproofing and premium insulation. It's not the coaches jacket from your high school, and that's a good thing too- this standard fit jacket has a hood you can pull out or stash away, Touchscreen Window Audio Access and just enough insulation to keep you perfectly comfortable moving out in the winter weather.
Lithium Jkt – The Lithium Jacket comes with that classic workwear style utilizing Washed Canvas fabric and Corduroy Cuffs, fortified by 10k waterproofing, premium insulation, Audio Routing, and Touchscreen Window Audio Access.
Steadfast Shirt – Made for transition from snow to skate, the Steadfast Shirt features 10K 4-way Stretch Bonded Fleece in a classic work shirt cut. This shirt was made for those who live an all-weather lifestyle.
What percentage of your outerwear is sold online vs instore, both by yourselves and your retailers? What's the best way to connect with customers who buy via these different channels?
Sessions is committed to providing the highest level of support to our wholesale partners. We don't compete with them for sales, instead providing them with the best chance to sell the product we are proud to have produced. Sessions supports online and instore sales by our retailers equally and goes above and beyond to support them however possible.
Are your price points going up or down? Where does this pressure come from?
The street to snow product category has become increasingly important to a majority of winter sport retailers and for W18/19, Sessions is proud to introduce the All Weather Apparel (A.W.A.) collection to the product range.  The skate influenced styling and technical features make this collection work from the park to the bar and everywhere in between.
What new fits / silhouettes are coming next year?
Sessions is bringing a new collection to W 18/19; All-Weather-Apparel- A.W.A. The Sessions A.W.A. Collection is built tough for skateboarding and snowboarding, from decades of dealing with all of the elements that Mother Nature throws out.
It's made up of piece that are the ideal item for everything from cold-weather skateboarding, to snowboarding in the streets or spending all day in the park. Each piece has the look of streetwear, but comes equipped with the tech of an outerwear layer; boasting 10k waterproofing in every piece.
What's new in colours / prints?
We're taking advantage of classic plaids and updating them with a modern and less structured feel. We match camo and original prints with muted tones and rich colors that add to the overall attitude of the collection. It boasts a vibe that is uniquely its own.
What are your top marketing stories for next season? This will help us to put some focus in the right place.
Sessions' A.W.A. collection was mentioned earlier, but we'll go to it again- it's an awesome collection that really can go everywhere a rider wants it to. From skateboarding to snowboarding, these light pieces yet technical pieces come set with 10k waterproofing and more style than your granddaddy would know what to do with.
The External Media Pocket is a feature that is uniquely Sessions. With a touchscreen compatible material, this pocket offers on-the-go connectivity and ease of use while riding. The External Media Pocket eliminates the classic issue of trying to use your phone on hill, fumbling it and then dropping it in the snow, or having it fall out of a pocket you forgot to close while riding.
BASE LAYER FOCUS: Do you do baselayers? What's happening here, what's your base layer strategy next year? Please let us know your tech innovations, materials, colours and pricepoints.
Sessions offers two bonded fleece hoodies that are perfect for layering. They can be your only piece on-hill, or a staple you use to layer up under an A.W.A jacket or regular snow jacket on the days that need more insulation. The Nighthawk and The Dagger; each made with 4-way stretch bonded fleece and accented by classic Sessions logos.