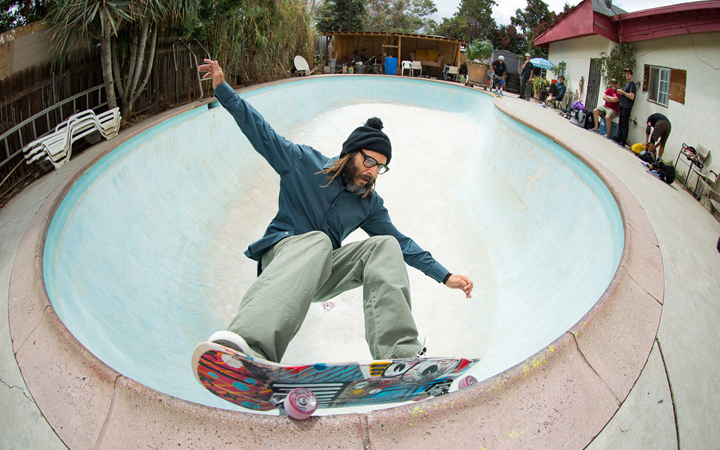 Vans Reports 19% Revenue Growth In Americas & Europe For FY2017
All eyes were on the VF Corporation – home of VANS, outdoor brand The North Face and work wear mainstays Dickies – for their presentation of Q4 and 2017 full-year earnings.
For the last quarter of 2017, VFC reported revenues of $3.6 billion, marking a 18 percent increase on last year's period. Operating income on a reported basis was $481 million. Digital sales were up 25 percent and DTC revenue increased 16 percent. The company also invested $45 million to drive growth during Q4.
Revenues during Q4 in the Outdoor & Action Sports coalition (VANS, The North Face) increased 16 percent to $2.5 billion. Fourth quarter profits in the coalition increased 24 percent to $486.3 million.
As VFC's top performer, the VANS brand increased revenues by a whopping 39 percent in the Americas and 38 percent in EMEA during Q4 (reported). This marks a global revenue increase of 35 percent for VANS during Q4, far ahead of VF's second top brand, The North Face, with 6 percent. VANS digital sales also grew 50 percent.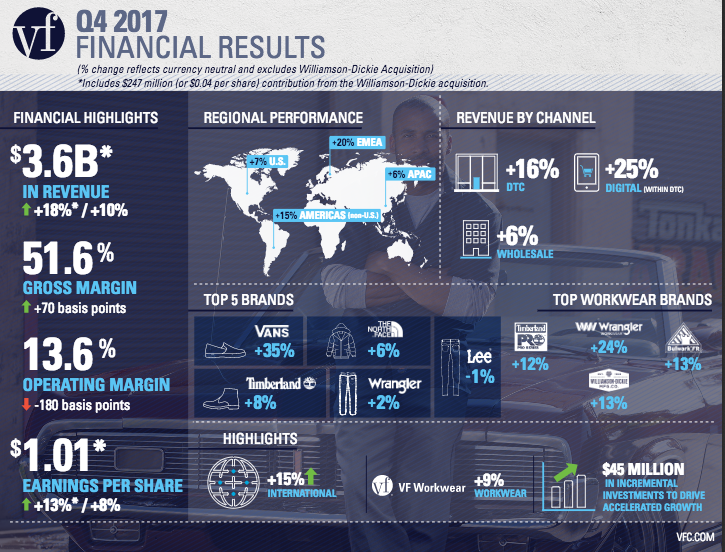 "VF's fourth quarter results were stronger than we expected as growth continues to accelerate across core dimensions of our portfolio," said Steve Rendle, Chairman and Chief Executive Officer. "We delivered a top-quartile total return for shareholders in 2017 and our strong performance provided us with the capacity to reinvest about $100 million back into our business."
However, these results fell $30 million short of Q4 estimates and coincided with Q4 earnings per share (EPS) falling $0.01 behind expectations at $1.01. These slight misses had financial analysts talking and caused a decline in VF Corp stock today.
VANS keeps winning
The VANS brand was a standout with 19 percent global revenue growth in 2017, far ahead of The North Face at 4 percent.
"2017 was a remarkable year for our largest and fastest-growing brand," said Steve Rendle during today's earnings conference call, "highlighted by broad-based global momentum."
VANS revenues were up 19 percent in the Americas and in EMEA, where 2017 marked a major turnaround after minor difficulties over the past few quarters. Asia-Pacific also increased heavily, with 23 percent growth over last year's period.
"The brand has become the global icon for creative expression in youth culture," said Rendle. The CEO gave special praise to the North American DTC team for growing the VANS into the first regional 1$ billion B2C-platform and growing business by 30 percent.
During Q4, VANS classic footwear increased over 25 percent with continued momentum for Old Skool and slip-on styles. Progression footwear such as the new VANS ultra range increased 20 percent, and apparel grew in the double-digits. The VANS customs platform increased almost 200 percent in the quarter.
VFC full-year results
For the full year ended December 30, 2017, VFC reported a 7 percent increase in revenue from continuing operations to $11.8 billion. This includes an approximate 2 percentage point revenue growth contribution – or $247 million – from the acquisition of Williamson-Dickie, the home of Dickies.
Operating income on a reported basis increased 10 percent to $1.5 billion.
Full-year revenues in the Outdoor & Action Sports coalition increased 8 percent over last year to reach $8.2 billion. FY 2017 profits in the coalition increased 11 percent to $1.37 billion.
As VF emerges as a truly global organization, international sales now amount to 40 percent of total revenue.
Full year 2017 reported earnings per share for VFC from continuing operations was $1.79, including a $1.15 per share negative impact from recent U.S. tax legislation.
Reported gross margin from continuing operations increased 120 basis points (up 180 basis points currency neutral) in 2017 to a record high of 50.5 percent
A big year
During the fourth quarter of 2017, the company reached the decision to sell its Nautica brand business and determined that it met the held-for-sale and discontinued operations accounting criteria.
VFC also completed the acquisition of Williamson-Dickie, makers of Dickies work wear. Completed on October 2, 2017, the deal already contributed $247 million in revenue to FY 2017 results.
One of the key initiatives is the strategic expansion of direct-to-consumer sales(DTC) over the past few years. The number of DTC stores in the VF portfolio is now at 1,518 globally, up from 1,433 in 2016.
These investments into strengthening VF's omnichannel backbone have led to DTC revenue growth of 17 percent in 2017. Overall, DTC now accounts for more than 30 percent of VFC revenue.
Outlook
Keep in mind that these results did not occur in a bubble. The world economy is facing some of the most significant power shifts in decades. So really, how drastic is missing $30 million on over $3.6 billion quarterly revenues at a time when too-big-to-fail corporations such as Toys"R"Us are violently imploding?
Plus, the stock market is a fickle beast these days, ready to flinch at the slightest sign of turbulence. Case in point: VF Corp stock was down 9.41 percent in trading after today's presentation, reaching $75.98 per share after opening at around $84.00 per share.
With that said, it also helps to keep in mind that shares of VFC are up 46 percent over the last 52 weeks. That's forty. Six. Percent.
As previously disclosed, VF's Board of Directors authorized a change in the company's fiscal year end to the Saturday closest to March 31 from the Saturday closest to December 31. This change will be effective March 31, 2018. Looking ahead into the transition period until March 31, VFC remains optimistic and expects revenue of $2.9 billion and EPS of $0.65.
Putting today's results in perspective, Steve Rendle said that it's all part of a long-term transformation: "I am confident that our investments will accelerate growth and drive even stronger long term value for shareholders. We remain in the early phase of a multi-year journey to become a purpose led, agile, consumer centric organization. I am pleased with our early progress and look forward to building on our momentum in 2018."
Quotes taken from VF's official press release with supplemental quotes from earnings call broadcast on VF's investor website.