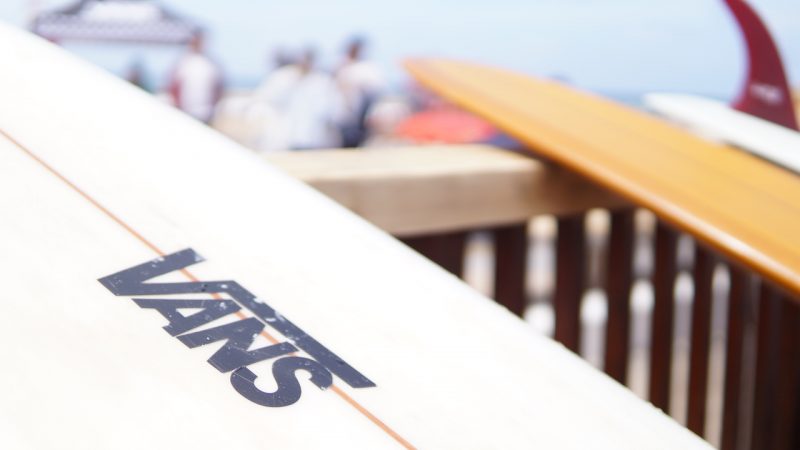 VF Corp Posts 1st Quarterly Results Amid Coronavirus Pandemic
How severe is the impact of the coronavirus (COVID-19) pandemic on the boardsports business? This question has been front-and-centre in our Covid-19 coverage here at Boardsport SOURCE, and a substantial amount of weeks into the crisis, we are slowly getting concrete answers.
The first publicly traded boardsports-related business to report quarterly results in this disrupted marketplace is Colorado-based VF Corporation. The thriving home of Vans, outdoor brand The North Face and work wear label Dickies presented results for Q4 and full fiscal year 2020 on May 15, 2020.
As was to be expected, the numbers are not business as usual. But there are silver linings and indicators of a road to recovery, especially for VF's tireless growth engine, California-based boardsports brand Vans.
Not business as usual
During the quarter ended March 28, 2020, VFC revenue from continuing operations decreased 11% (down 10% in constant dollars) to $2.1 billion driven by lower consumer demand as a result of the COVID-19 outbreak and related government actions and regulations. Gross margin decreased 150 basis points to 53.1 percent, earnings per share dropped 70$ to $0.10 in the quarter.
The impact is less severe for the entire fiscal year 2020: adjusted revenue from continuing operations increased 2% (up 4% in constant dollars) to $10.5 billion excluding acquisitions and divestitures. This is slightly lower than VFC's recent projections, announced during the group's Q3 presentation, of adjusted revenue from continuing operations at $11.75 billion.
Once again, the Active segment where Vans is the shining star, delivered solid results: Full year fiscal 2020 Active segment revenue increased 4% (up 6%in constant dollars) including a 10% (11% in constant dollars) increase in Vans brand revenue. But the true impact of Covid-19 starts to emerge upon analysing the recent quarter, which ended March 28; a few weeks into global shutdown measures.
"Through the first ten months of fiscal 2020 our business delivered results above our stated long-term growth objectives. Then the world changed for all of us as a result of COVID-19," said Steve Rendle, Chairman, President and Chief Executive Officer.
Vans: Hanging tough 
Despite the adverse business climate, Vans delivered some of the strongest results under VFC's umbrella. While The North Face posted a 14% decrease in global revenues during Q4/20, Vans was down 7% globally and 8% in Americas, 8% APAC and 5% EMEA.
Looking into these results more closely, the majority of the 7% sales decline stemmed from the closure of direct-to-consumer stores across the world and reduced wholesale shipments due to COVID-19.
On a positive note for Vans, digital stores remained open and the brand achieved 10% growth in DTC digital during the quarter. In terms of product segments, growth in progressive footwear – including advanced skate performance models like the AVE and new Rowan Pro – was offset by a decline in heritage styles.
Speaking on digital, CEO Steve Rendle said during the earnings call that, "April and May digital results are up really strong and giving us confidence that this will be continued growth vector for Vans as we wait for our stores to come back online in the coming months."
In Europe, where revenues dropped by 5% during the quarter, digital wholesale increased by 30% but was offset by reduced shipments across the region in March due to COVID-19. Meanwhile, direct-to-consumer digital sales grew in the high single digits in April. Segmented by product categories, footwear was down 7% while apparel/accessories grew by 5% in the quarter. In the UK, the Vans Family loyalty program has reached over 300,000 members since launching in July 2019.
Coronavirus relief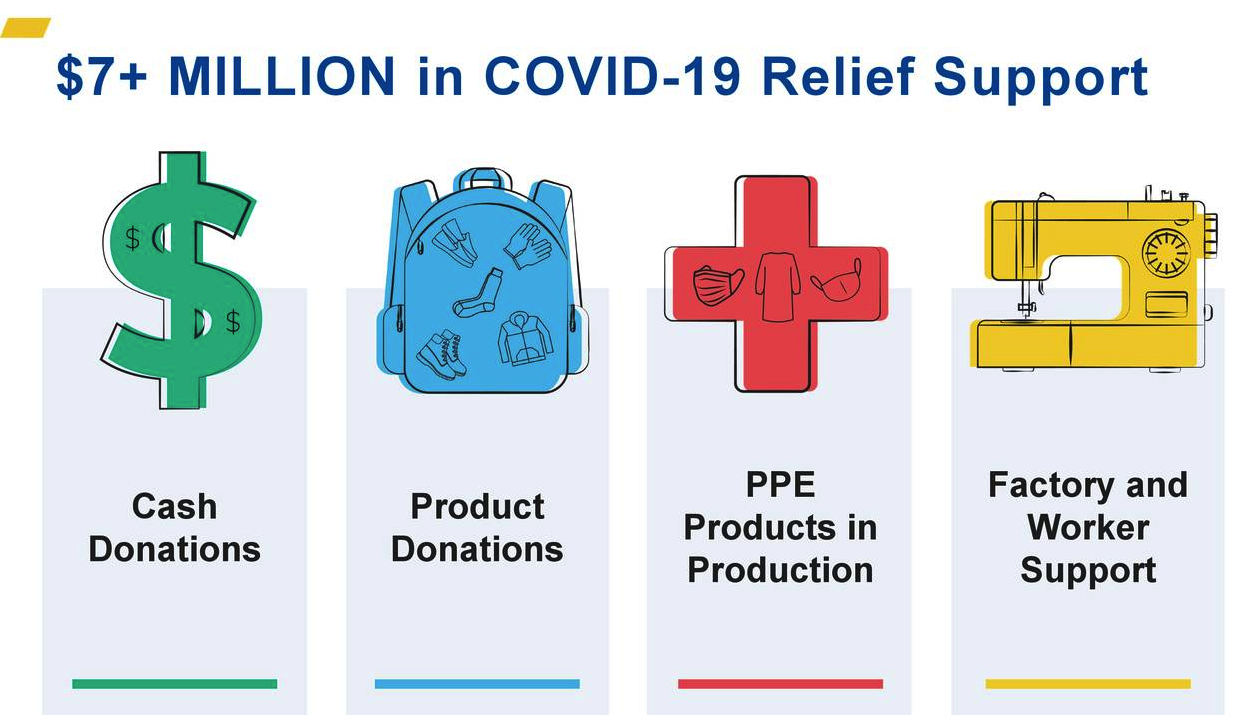 To date, VFC has provided more than $7 million in coronavirus relief support. VANS is particularly active. As reported earlier, Vans has launched the Foot the Bill initiative of Vans Customs shoes designed in cooperation with independent stores and venues. Until today, Foot the Bill has raised more than $4 million to benefit small businesses in our segment.
London's Slam City Skates became the first European store to join the list of featured shoes created for the initiative with a buttery slip-on shoe, with Civilist in Berlin, Welcome Skateboards and Black Sheep store following closely behind. All proceeds from shoes sold on the website go to shops to help through this tough time.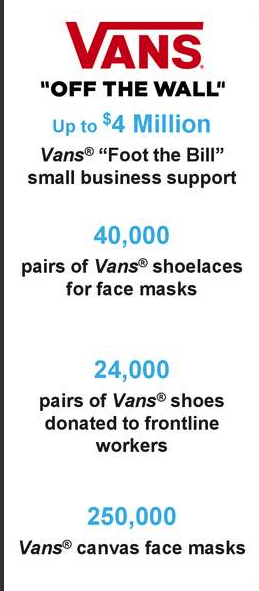 What's more, Vans has donated 40,000 pair of shoelaces for face masks, 24,000 pairs of shoes for frontline workers as well as 250,000 Vans-branded face masks for safe social distancing to stop the spread.
Big-Picture Adjustments
To help mitigate the spread of COVID-19 and in response to health advisories and governmental actions and regulations, VF has modified its business practices, including the temporary closing of offices and retail stores, instituting travel bans and restrictions, implementing health and safety measures including social distancing and quarantines.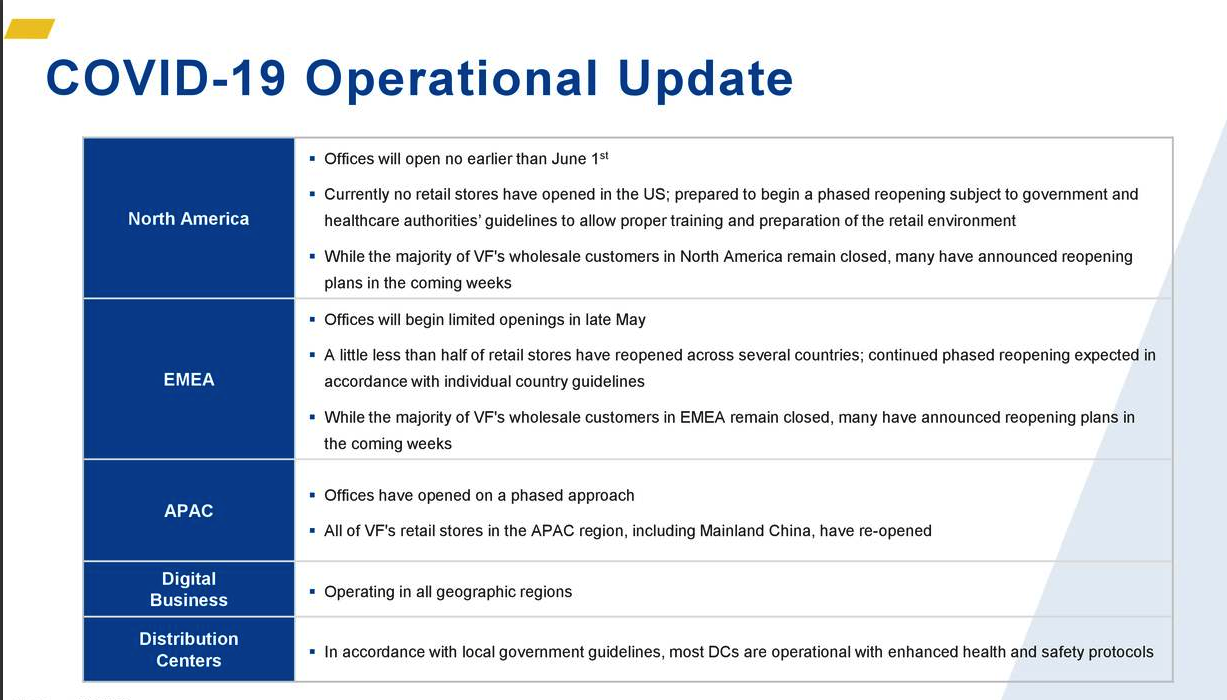 "From the early days of the outbreak VF has taken a people-first approach in our COVID-19 response, prioritizing the health and safety of our people, while also protecting their financial well-being. As we've implemented measures to care for and protect our people, we've also taken several key actions to advance our Enterprise Protection Strategy," said CEO Steve Rendle.
Currently, all of VF's retail stores in the APAC region, including Mainland China, have re-opened. VF has started a phased reopening of its retail stores in the EMEA region, in accordance with guidance from government entities and healthcare authorities. In North America, VF is prepared to begin a phased reopening of its retail stores and expects most of its retail stores to be open by mid-calendar year 2020.
VF has taken several proactive actions to advance its Enterprise Protection Strategy in response to the COVID-19 outbreak:
temporarily reducing the CEO's base salary by 50 percent and the VF Executive Leadership Team's base salaries by 25 percent
temporarily forgoing the cash retainer paid to VF's Board of Directors
completing a $3 billion bond offering to establish a significant cash buffer
temporarily suspending its share repurchase plan
proceeding with the previously announced divestiture of VF's Occupational Workwear business as an additional source of cash.
On Friday, VF had approximately $3 billion of cash on hand in addition to approximately $2.2 billion available under its revolving credit facility.
"These prudent actions, most of which have been precautionary, have helped us preserve liquidity and given us more flexibility to manage our global business operations through the prolonged crisis. Moving forward we're committed to using this moment to set VF and our brands up for the next successful chapter in our 121-year history."
Speaking of moving forward, VF Corporation is looking at a shift towards digital to accelerate in FY2021. At the same time, the company declined to provide full guidance for fiscal 2021 amid the ongoing developments around the pandemic.
"Due to the uncertainty of the duration and severity of COVID-19, governmental actions and regulations in response to the pandemic and the speed with which the pandemic is developing and impacting VF, its consumers, customers and suppliers, it is not possible to provide a financial outlook for full-year fiscal 2021 at this time," the statement said, adding: "First quarter fiscal 2021 revenues are expected to be down slightly more than 50%. Full-year fiscal 2021 free cash flow is expected to exceed $600 million." Watch this space for more Vans coverage as new details emerge.
Quotes from VFC's Press Release and Seeking Alpha.