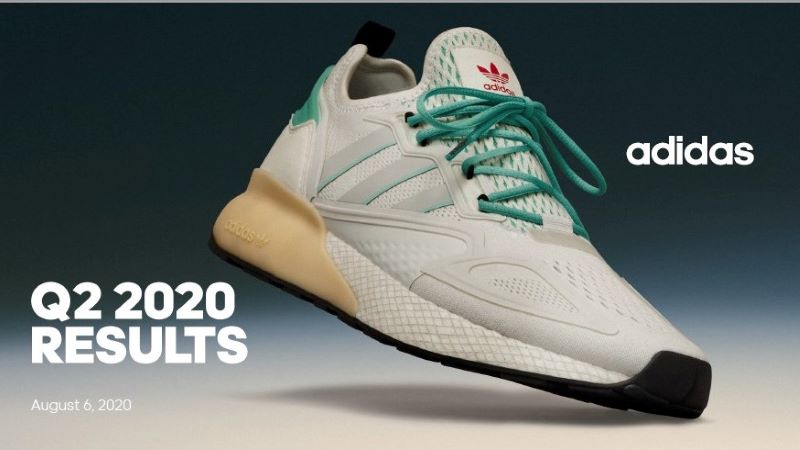 adidas Posts 34% Revenue Decrease Amid Pandemic, Grows eCommerce By 93%
Coronavirus forced the closure of 70% of adidas stores worldwide at its peak. Subsequently, resulting in a 34% decrease in revenue. However, a more positive trend observed from Q2 is the sharp increase in sales on adidas e-commerce platforms – a significant 93% increase.
German athletic company reports Q2/2020 results, remains focused on long-term success
The economic impact of the coronavirus pandemic is mounting during the second quarter of 2020. For German sportswear manufacturer adidas Group (OTCQX: ADDYY), the last three months presented numerous challenges. Most of all, the closure of over 70% of worldwide adidas stores at the peak of lockdown measures.
Overall, adidas Group reported a 34% decline in operating revenues during Q2 (currency-neutral). In euro terms, revenues decreased 35% to €3.579 billion (2019: €5.509 billion). Total loss was reported at €330 million, including around €250 million in cost related to the coronavirus. The company's gross margin decreased 2.4 percentage points to 51.0% (2019: 53.5%) in the second quarter.
As a major positive, adidas e-commerce channel revenue increased by 93% in Q2 with triple-digit growth in April and May. Digital sales now account for more than one-third of revenue as the pandemic accelerates digital transformation.
"The past quarter brought unprecedented challenges for our business as large parts of the world were in lockdown. I'm grateful for the relentless and agile efforts of our teams, which enabled us to take the right actions for our consumers, our partners and the company. We addressed the challenges and went after opportunities, as reflected in our e-com business nearly doubling in Q2," said adidas CEO Kasper Rorsted. "We are now seeing the light at the end of the tunnel as the normalization in the physical business continues, with the vast majority of our stores being operational again."
In the entire first half of 2020, revenues decreased 26% on a currency-neutral basis and 27% in euro terms to €8.332 billion (2019: €11.392 billion). From a brand perspective, currency-neutral revenues for brand adidas decreased 26%, while Reebok revenues declined 27%.
Global perspective, long-term measures
Viewed by brand, sales for adidas declined 33% in the second quarter. Meanwhile, Reebok revenues were down 42% due to the brand's higher exposure to the U.S. market.
On a global scale, all market regions were impacted by lockdown measures and retail closures in Q2. Starting in May, adidas initiated its store reopening plan also outside of APAC while adhering to local pandemic measures. By end of June, 83% of adidas retail stores were operational, although with reduced hours and lower footfall.
The coronavirus pandemic weighed on the second quarter sales developments most severely in Latin America (-64%) and Emerging Markets (-60%), but also had a significant negative impact in Europe (-40%), North America (-38%) and Russia/CIS (-34%).
Recovery in China is a strategic focus for adidas and signals are positive. Revenues in China were flat for Q2 on the strength of double-digit growth in May and June. At the same time, currency-neutral sales in Asia-Pacific were down 16% in the second quarter.
Operating in the new normal
In direct response to widespread store closures and slow footfall in stationary retail, adidas boosted its digital DTC channels. This led to exceptional growth in online sales, which accounted for more than 33% of total business, through its own as well as partners' e-commerce platforms. Sales through the company's own e-commerce channel almost doubled, and increased by a whopping 93% during the quarter.
As a strategic response, adidas has raised the e-commerce channel target to over €4 billion and reallocated resources behind the digital push.
To weather the storm, adidas maintains a stable cash position at €2.0 billion, while effective cash measures prevent outflows. The company has recently decided to suspend dividends and share buybacks and reduce management compensation. Adidas will draw on existing cash buffers and unused credit facilities, plus a revolving loan from Germany's state-owned KfW for €3 billion.
Outlook
In other recent news, adidas extended the contract of CEO Kasper Rorsted from August 1, 2021 through July 31, 2026. In a statement, the company said: "The outbreak of the corona pandemic posed major challenges even for a successful company such as adidas. The management team under the leadership of Kasper Rorsted succeeded in steering adidas and its employees healthily and safely through this unprecedented crisis. Continuity and strong leadership are important especially in these times, also in view of the new strategic cycle which will start in 2021."
Looking ahead, adidas expects business trends to improve into Q3. The outlook for the third quarter now implies operating profit improvement of around €1.0 billion compared to Q2.
Specifically, third quarter revenues are forecast to be down at a mid- to high-single-digit rate compared to the prior year. The operating result is anticipated to turn into a profit of between €600 million and €700 million, assuming no major coronavirus-related lockdowns and continued improvements in physical store sales. This would reflect an improvement of around €1 billion compared to the loss generated during the second quarter.
As CEO Kasper Rorsted told investors: "From everything we know today, our recovery will continue in Q3. Where we are open for business, be it in physical stores or in the digital space, consumer demand for our products is high. This is a solid foundation to build on as the long-term growth prospects for the industry have become even more promising."
Quotes taken from adidas Press Release and Seeking Alpha.