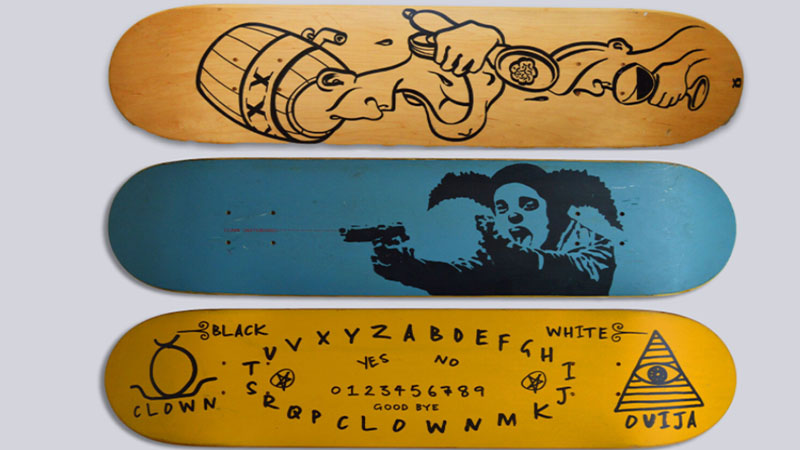 Clown Skateboards Are Back On The Scene!
15 years after taking a break in '05, Jeff Boardman and Vikas Malik are back. Clown Skateboards have returned to the scene with a batch of Banksy Test Press Series boards that sold out faster than hot cakes.
Press release:
Clown Skateboards
'FINISHING WHAT WE STARTED'
Clown Skateboards are now officially back to finish what they started in 2000. Yesterday, 19-08-20, saw the preview drop of the Banksy Test Press Series on the website – https://www.clownskateboards.com/banksy-test-press – featuring two board graphics and their iconic logo.
We were shocked and humbled by the response from the skate community and beyond who subscribed and scooped up the first batch of 20 deck sets, in just 9 minutes. What we've realised is that Clown fans are still Clown fans, reminiscing some 20 years later with us.
It's been encouraging to know that the foundations of what Clown created lives on and forms the backbone of what we aim to be. This time around we want to be even more community focused than before and go wider with our support to get more people into skateboarding. Here's a link to our commitment moving forwards – https://www.clownskateboards.com/commitment
With every Banksy Test Press triple deck pack sold, we committed to producing 3 Clown Standard Skateboards to give away in early 2021.
Through this first of three triple deck releases, we have already amassed 600 Clown Tokens via the website which means we can donate 60 skateboards to kids or organisations that need them most.
With a heartfelt and slightly emotional thanks to everyone who has shown the love both in the past and now – we are truly honoured to be here again. Welcome to the ongoing legacy of Clown Skateboards, we are officially open today.
For those that missed out on this first pre-order, there's still more to come:
20-08-20 – Limited Edition Clown Logo Black & White and Orange & White T-shirts
September – Second batch of 20 Banksy Test Press Triple Decks released
October – Final batch of 20 Banksy Test Press Triple Decks released
And not forgetting our Clown Raffle – another opportunity to bag not only the Banksy Triple Deck Set but a bunch of other merch for just £10 – https://www.clownskateboards.com/shop
September – Clown Standard apparel launches with special one-off colourways released in select skateboard stores – https://www.clownskateboards.com/standard-range
October – preview of Clown Standard Skateboards
November – Guest Art Series Launch and Teaser – https://www.clownskateboards.com/art-programme