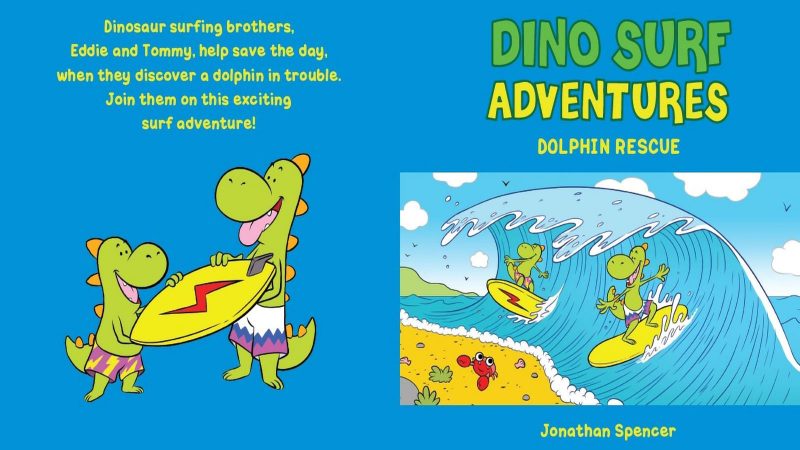 Jonathan Spencer's Book Dino Surf Adventures Available On Amazon
Two surfing dinosaur brothers are the focus of Jonathan Spencer's first foray into the world of children's books. Dino Surf Adventures: Dolphin Rescue is fun, colourful and engaging whilst sharing the message of protecting sealife and the oceans, plus 50% of profits are being donated to Surfers Against Sewage. And we can confirm the kids love it!

Press release:
During early lockdown, Jonathan Spencer, South-West dad of two young boys, wrote a children's surfing book with an important environmental message.
Hailing from the South Hams, Jonathan has always been a surfing enthusiast. When the pandemic hit, like many other parents, he had to think quickly and resourcefully about how to entertain sons, Eddie (5) and Tommy (3). The endless hours of drawing and story-telling that followed ignited a creative spark that led Jonathan to take an unlikely leap into the world of children's publishing, and Dino Surf Adventures was born! At the behest of his two boys, Jonathan bit the bullet and found a professional illustrator to bring his story about two surfing brothers to life.
The tale is set in Cornwall and describes an adventure of two dinosaur surfing brothers who become involved in a dolphin rescue. It has a simple, yet fast-paced, narrative verse, which keeps kids engaged – along with its fun and vibrant cartoon-style illustrations.
For children who have perhaps enjoyed a summer staycation, this story will certainly brighten up their bookshelf and bring back happy memories of West Country holidays.
"It's all in the name of fun, but the story also carries a soft message about protecting our oceans," explains Jonathan. "I hope I have written something that will entertain other kids as much as mine!"
The book is now available on Amazon worldwide and 50% of profits are being donated to environmental charity, Surfers Against Sewage.  For more info follow @dinosurfadventures on Instagram.
Amazon UK link: Dino Surf Adventures: Dolphin Rescue