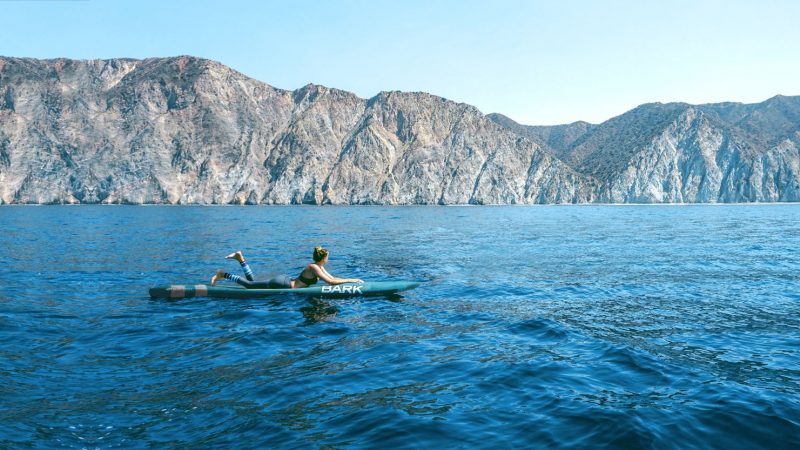 The Rise Of Prone Paddleboards By Bark & Surftech
Bark Paddleboards have a storied history in the category and with the likes of John John Florence spotted cross training on their shapes in recent years, both the brand and prone paddleboarding are on the up. Already well established in the USA & Australia, prone is now on the rise in Europe and Bark's partnership with SurfTech provides retailers with a hype new product category. 
Please give an overview of how and why the brand began.
Joe Bark loves the ocean. Everything flows from there. Born and raised in Los Angeles, a place teeming with surf and ocean history, Joe took his cues from surfing's "Greatest Generation" of boardbuilders, paddlers and shapers, salt-of-the-earth pioneer types from the 50s and 60s who cut the example the rest of us should follow.
He made himself his first paddleboard in 1976, and today, Bark Paddleboards is widely recognized as the leading brand in the burgeoning ocean endurance community. He has a long and storied history as a surfer, riding big days at coveted and historic spots in Los Angeles, as well as heavy water Hawaiian breaks during his years living on the islands in his early 20s. When he's not paddling or surfing, he's diving for lobster, designing the newest, fastest craft in the shaping bay, spearfishing off Catalina, or raising his own children to embrace the waterman ethos.
Surftech partner with the best names in the industry – providing them with advanced technology and pushing material technical limitations. So it's a perfect fit with Joe, who is as passionate about Surf, SUP and Prone as Surftech is about creating great products. The collaboration with Joe is exciting – exploding the sport of prone paddle boarding and bringing the boards to the European market is something we're extremely proud of.
Why should retailers stock prone paddle boards?
Prone paddle boarding is rocketing in Europe right now. Already well-established scenes in Australia and USA, the European market is starting to rapidly grow not only in the Surf Life Saving market but also long-distance prone racing and ocean endurance. Many Surfers and SUP paddlers are seeing the benefit of prone for fitness as well as rounding out their Ocean Man or Woman status with a complete package.
With the ISA Worlds including prone Long Distance and Technical races at their SUP events it has opened a category for homegrown talent to be involved in; not only the Surf Lifesaving competitions but also the Surfing Federation families. Local SUP competitions are welcoming prone categories into their events, increasing participation numbers and allowing athletes the chance to show their metal.
From the surfer's aspect it's a fantastic way to keep paddle fit as well as opening up new frontiers that they may not have considered before; such as down-wind ocean paddling, following athletes such as John John Florence who are seen cross training on Bark boards. Prone sits well between both sports as well as opens a new customer opportunity from CrossFit to Triathletes and beyond.
What sets you apart from your competitors?
"Bark Paddleboards. Fastest boards on the water."
More races have been won on Bark paddle boards than any other brand. Why? Because no surf/paddleboard designer has logged more time on the water than Joe Bark. Joe works with the best athletes on the best shapes. Races all over the world from the pinnacle Molokai to Oahu and beyond are won on Bark boards. Crossed with Surftech's technology making durable, light products that stay true to Joe's vision it's an unbeatable combination.
What's new from the brand for the 20/21 season?
We're really seeing an interest in the inflatable prone offering. This, the same with SUP (when it was growing), opens up the sport to those who may not have space to store or transport a hardboard. Coupled with a new entry level price product for those looking to begin the sport – the offering from Bark x Surftech is really a complete option with something for everyone.
How and where is the brand distributed in Europe and what is your most successful territory?
The brand is distributed through Jorcani Sports in Europe. France is seeing a large commitment from some of our key stores but all markets are waking up to the sport of prone, from Sweden to Italy, Norway, Germany, Spain and Greece. Don't be surprised to see a Bark in the water somewhere near you!
How do you see the future for prone paddle boards?
The future is extremely bright for this growing sport. We can't wait to get back out on the water paddling our prone!