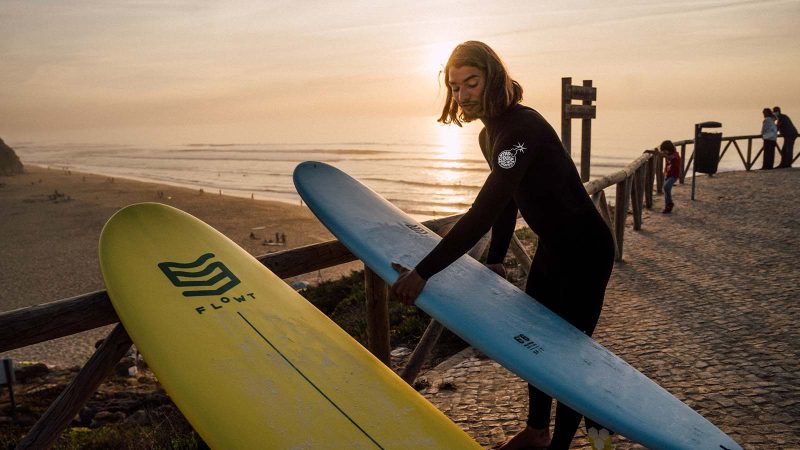 Flowt 2022 Surfboards Preview
Retail Buyers Guide: Surfboards 2022 Retail Buyer's Guide
Brand: Flowt
Interviewee: Diogo Cecílio, Marketing Manager
According to the Surfboards Market Share and Size 2022 survey, themarket "is poised to grow by USD 2.72 bn during 2021-2025 progressing at a CAGR of 7%". Do you sit in that growth range? Beyond? Below?
Yes, we are feeling this progress maybe even over the line, the most important factor of this progress is the growing number of surfers – mainly beginners, looking more and more at board in order to learn and progress independently (without the help of surf schools.)
Which category(ies) is(are) performing most within your range: entry-level, high-perf, midlengths & retro crafts, funboards?
The boards that we are having the most success with are undoubtedly the entry-level boards, our Standard line stands out, which, despite not having the quality of our Premium ones, offers great cost-benefit for the final consumer (a big bet for surf and skate shops).
Modern & retro fishes + midlengths sort of stole the game in 2021. Do you think the fad is likely to fade, and do you foresee a newcomer in 2022 as far as surfboard design is concerned? (hint: 80's design updates)
We feel that the Modern & Retro no longer have the same strength as 2021, but the midlengths are still on the rise and this summer we will certainly see many on the beaches. These boards are fun for beginners and advanced, which is a big advantage. One of the models that we hope to be successful with this year is the Malibus which, because of its round nose and larger size, allows for easy paddling, while its hard rails let you turn left and right for a ride you won't forget anytime soon.
Do you do longboards? If yes, can you help up see where this segment is going: on the one hand, we have high-end glassed retro-like logs which appeal to the cool kids, and on the other hand, a strong market made of EPS-sandwiched more focused on intermediate surfers, aka big daddys. Right or wrong?
No, we don't sell longboards!
Construction wise, do you have anything new to bring on the table for 2022 (materials, process, finishes)?
Yes, this will be the year of the ecological revolution for us. Our commitment to reducing our footprint and making surfing a more sustainable sport is a major concern for us!!
When it comes to plastic waste, one of the biggest issues is Single use Plastic, so we've decided that we won't use any plastic in our packaging. From now on all our surfboards will be packed with cardboard and Kraft paper.
We'll also start to have boards built with Polyola (polyurethane board foam made from recycled material), and of course we will have help from our Team rider Miguel Blanco.
Even for brick&mortar shops, an online presence is compulsory nowadays. Do you have any tips for retailers so they can buy&build a consistent offer? (range sorting, preorders, dropshipping, etc.)
The online presence is increasingly imperative in stores, what we see more often is the creation of store websites, but then they do not provide the necessary support to their customers… in comparison to in a physical store. A videoconferencing channel, a chatbot, etc. would be a good tip. Nowadays it is not only the websites themselves that sell, but there are also thousands of external platforms that can help sell the product such as Amazon, Ebay or even sales via social networks. 
Best Products
8'0 ADAPTIVE SURFING SOFTBOARD
When the goal is making people smile and surf we are always up to it. So it was only natural that we teamed up with Adaptive Surfing Association "Surf Addict" to develop a new softboard to help them on their quest to bring surfing to everyone.
7'0 STANDARD SOFTBOARD
Want to start catching waves on your own? Well, the Standard models offer a wide range of Softboards that have one thing in common, they are easy and safe to surf. For both whitewater warriors and green wave gliders these boards will make every surf session fun!
6'6 PREMIUM PERFORMANCE SOFTBOARD
Looking for a safe board with great performance? This one's for you: an epoxy bottom and soft top surfboard that will assure all surfers don't get hurt while giving them the chance to ride plenty of waves with a more performance approach to their surfing.