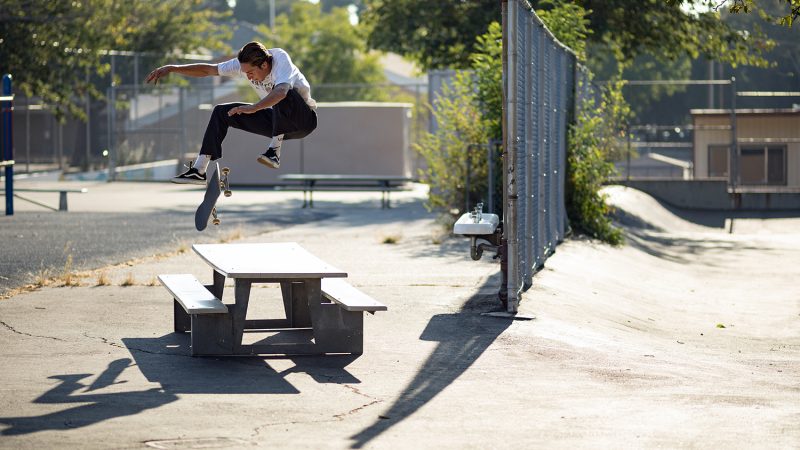 Vans S/S 2023 Skate Footwear Preview
Retail Buyers Guide: Skate Footwear S/S 2023 Retail Buyer's Guide
Brand: Vans
Interviewee: David Atkinson, Senior Merchandise Manager, Action Sports
What are your main price points for next season?
As we begin to put additional focus on progression footwear which is also sustainable, we are exploring some slightly higher price points, but we still have a full spectrum of full skate spec footwear at a range of prices from €75-€110
MARKETING
What is your collection theme and which stories are you telling to get customers stoked on skate shoes this season?
Our main focus will be on a brand new sustainable cupsole shoe called The Zahba in partnership with one of Vans newest riders – Zion Wright. We are also working once again with tech goddess Breanna Geering. Since going pro for Girl and landing on the cover of Thrasher we have partnered with her on a H2T pack focused on our skate classics. Lastly we are working with Quasi on a collaborative pack – with our shared team riders Gilbert Crockett, Justin Henry and Dick Rizzo this makes perfect sense.
What general trends are you noticing in Europe right now?
Tech shoes making a comeback, big pants are still pumping which means larger silhouette shoes, especially mid and hightops are growing again – for us especially the Half Cab. Mono White leather.
Any Collaborations to look out for?
Watch out for a big project with Quasi this season as well as some other surprises of course!
DESIGN
What is THE skate shoe style retailers need to stock this season? The Zahba! This shoe has a new construction called Impact Waffle: a ¾ cupsole with dual density midsole – best in class impact protection whilst maintaining flexibility & it's not only very progressive but also sustainable and has our VR3 certification. Inspired by vintage sportswear aesthetics, It's tech, clean and sustainable, what more can you ask for…
Are you favouring more simplistic silhouettes or tech-heavy profiles?
Although we are traditionally known for our classic vulcanized skate shoes, this will probably be our most balanced line offering techy cupsoles like the Wayvee and Zahba alongside our tried and true skate classics.
Are you proud of any new technology in your shoes?
Our VR3 sustainability certification which we introduced in the Lizzie and we continue with the Zahba. We continue to roll this out across the line to meet Vans sustainability goals.
S/S means lighter brighter colour ways & styles, what're you offering for the lighter months?
White mono is trending and you're going to see some full white leather and full white canvas. Patstels and neutrals also are on trend and both are great for this season.
Best Sellers
Brand new Impact Waffle construction, a VR3 susatinability certification and design input from Zion Wright make the Zahba a formidable new addition to the line.
Breanna got the curtains in our 'Credits' vid, went pro for Girl Skateboards and landed on the cover of Thrasher – it was a no brainer to work on a another pack of Skate Classics!
Skate Half Cab – White Green
The Half Cab has been going from strength to strength and this inline colourway is just one of many powerful options for this season.