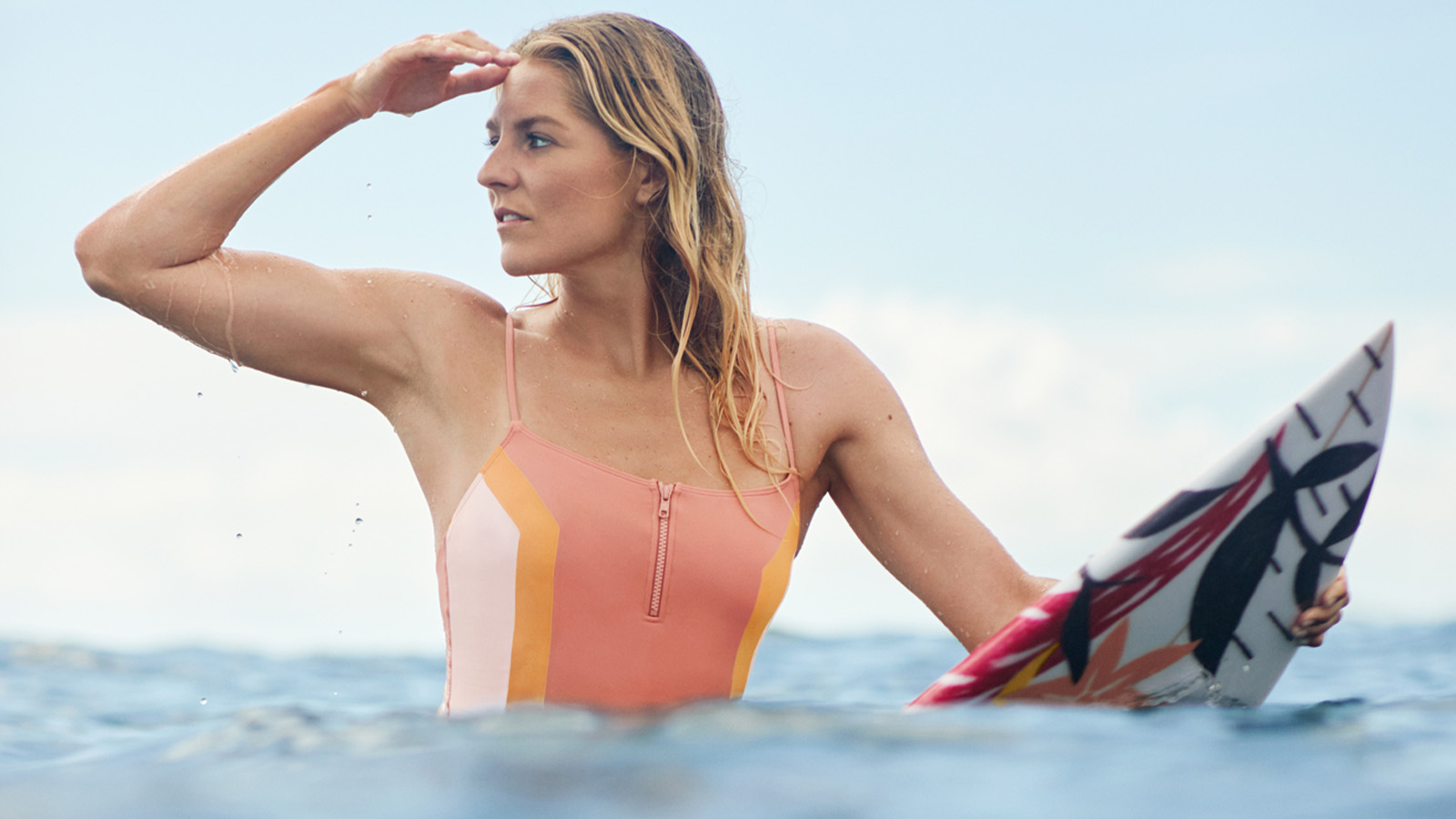 ROXY SS21 Swimwear Preview
Brand:  ROXY
Interviewee: Stephanie Micci, Head of Design global & Valentin Bourgeon, Brand Marketing Lead EMEA
What are the key industry trends in women's swimwear for SS21 and how are you implementing them in your SS21 collection?
TEXTURE – Introducing new ways to create surface dimension through the use of ribbed, micro-terry, and jacquard fabrications.
PROPORTION PLAY – Complimenting our classic silhouettes, we have an array of new shapes that push new proportions such as high-waisted bikini bottoms and long-line tops.  The new lengths we are offering in bikini tops are versatile pieces that the ROXY girl can wear beyond the beach, wearing it with denim shorts or a cool printed skirt.
RESPONSIBILITY – For ROXY, protecting our playground (the planet) is always in style.  We used a selection of eco-friendly fabrics in our range to ensure ROXY girls can enjoy the beach for years to come. While we still have work to do on this front, each season we challenge ourselves to find new and better ways to further this mission.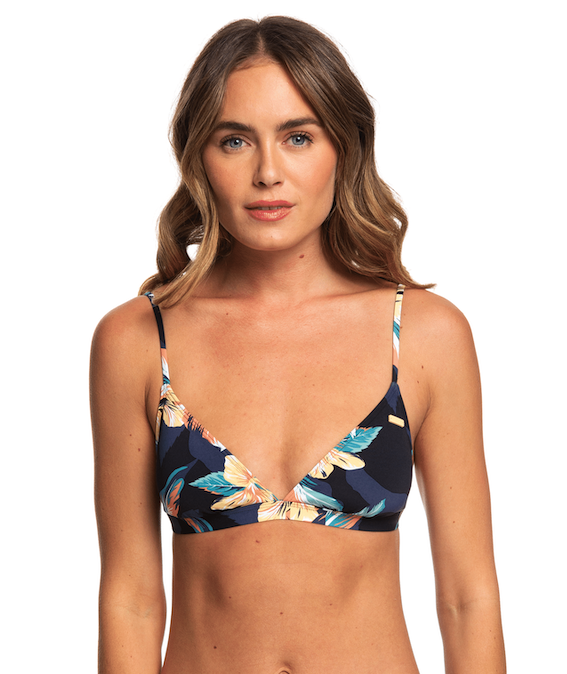 What have been the major inspirations behind the designs in the SS21 range?
For SS21 we looked to ROXY's natural habitat – the Sun, sand, and sea. We really thought about the different natural elements, and how they would visually manifest in swim/garment form.
What style/shape of swimwear is most popular in your range? 
In addition to our classic silhouettes, one-pieces continue to remain strong and new bikini proportions   such as high-waisted bottoms.
In terms of performance, what materials and construction techniques are you working? Are you implementing new ones in the SS21 range?
Roxy Active range is a new one in our range, in this collection, we utilized an array of technical fabrics that have performance enhancing attributes such as moisture wicking and quick dry features. Additionally, many of our fabrics are composed of recycled fibers, which, combined with the aforementioned attributes, offer our customer comfort and peace of mind.
From a construction standpoint, we employed techniques that support and enhance the silhouettes we design, most notably flatlock seam construction.  This finishing technique reduces fabric bulk, while ensuring comfort in movement.
In the SS21 season, we continued to use tried and true techniques and materials, as we want to ensure optimal comfort and performance to our customers. That said, we are always looking into new ways to innovate for future seasons.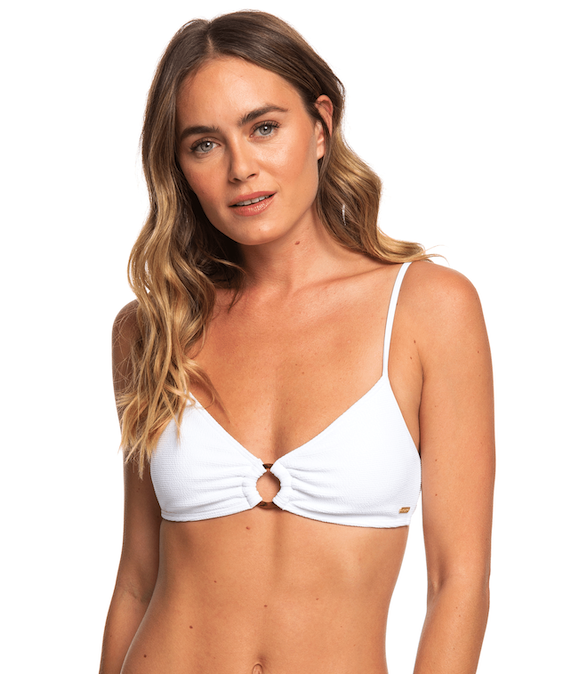 What colour palettes and prints will we find in your SS21 range? Any crossovers from other brand product categories?
One feels the "sand" element through a combination of rich earthtones, such as shades of marsala mingling with golden yellows; sprinkled with an accent of mint – a nod to the sea glass one finds during a walk on the beach.
One will then see the "sky" through an array of pure pastels reminiscent of the sunset.  Visual motifs like our tie-dye echo how the clouds capture, and reflect, the last rays of the setting sun.
Finally, the "sea" of blues – a selection of different shades and saturation levels to really remind us of the boundless ocean.  Prints such as Adriatic florals and nautical stripes further paint the image of our ROXY girl out on the open water.
What efforts are you making towards sustainability?   
We are continuously looking for new ways to further the sustainability conversation in the world of ROXY.  It is a conversation we started back in the 90s, and it is even more relevant in today's climate.
To date, we have a core range of eco-friendly fabrications (recycled & organic fibers) that span across all categories. The percentage of eco-fabrications increases every season as a percent to the total collection.
Additionally, we continue to work with our production partners to explore new dying techniques that reduce water consumption, as well as production practices that involve less waste.  We still have work to do on this front, but it is a topic that is very important to ROXY, and we are taking measurable steps every season to further the sustainability conversation.
ROXY & Boardriders are working on a long term strategy base on the United Nations Global Goals Higg Index, this index is monitoring the process on short to long term targets encompassing all departments of the business from sourcing to end consumers. We know that we are not perfect as everybody but we are proud to have most of our swim & snow range with eco fabrics. Of course, product is not the only point in marketing, we are reducing investment on purely production, engaging more experiences & social activations, having eco & social conscious to each projects.
Regarding SS21, we are proud to announce with our partners Repreve, Econyl & Surfrider Foundation, that :
100% of Pop Surf Collection is created with eco-friendly practices and materials
100% of Roxy Active swim is made with sustainable techno-fabric (100% regenerated polyamide fiber made of post consumer materials
Wetsuits: recycled materials (24 plastics bottles per wetsuits, recycling scrap rubber tires),  24% less C0² emission, received  Bluesign System Partner Certification
35% women's swim & 50% of youth swim now feature eco
Beach accessories range with 100% organic cotton
Woman & Girl tees and fleece are made of organic cotton
Basic backpacks in REPREVE® Explorer range with sustainable components
Any exciting marketing campaigns for your SS21 collection? When will it be launched?
ON the beach, it's how we OWN the beach, our expertise on the swim and beach accessories from March, 2021. After three decades of surfing the worlds most beautiful waves, celebrating female friendship on shorelines around the globe and capturing stunning lights from sunrise to sunset, ROXY Girls have come to know a thing or two about beaches!
That is why, this season, ROXY has decided to celebrate with On the Beach, a collection dedicated to everyone's favorite water lookouts. From Byron Bay to Mykonos, from Biarritz to the Rockaways, from Honolulu to Jeffrey's Bay, On the Beach offers the perfect collection reminiscent of long days on the sand.
The collection is extensive, beginning with essentials such as ROXY's renowned swim, a wide collection of sunglasses, hats, towels, beach umbrellas and flip flops. But On the Beach also brings creativity to the table with the hybrid products you never thought you needed: printed travel organizers will ensure you can easily find your possessions, while ROXY's travel beach bag has a hidden compartment to throw your wet bikini while keeping the rest of your possessions dry. Foldable beach hats make for a practical waterside companion while bow scrunchies let you safely tie your wet hair for reduced breakage.
This campaign will be linked with an Eco Pop Up tour retail on the Atlantic coast during 2021 summer. On the beach campaign is our mantra to show that Roxy has the best swim product to own the beach all year long.
For the SS21 season, we are really excited for the latest edition of our POP SURF capsule which launches in April 2021.
Sporty, stylish, and sustainable – the inspiration for the new POP SURF collection was derived  from the vibrant colors and cuts of the late 80s and early 90s.  With new shapes, and a modern take on print motif, this pop surf capsule is absolutely electric.
What kind of support are you offering your retailers?
On the beach campaign will support retailers in different ways, we are working closely with our different distributions to have a custom support on those type of distributions. We are preparing an experiencal support for a few influential clients we have to show our DNA and our swim expertise from now 20 years, innovative set up and shop in shop in our core & sports distributions with digital campaign link to them. We are very positive on our legitimacy on Swimwear and we want to be proud of this. Our range is more and more detailed and we are proud to have the Body confidence range where you can have wider size offers.
BEST SELLERS
Please name and describe your 3 highlight pieces.
POP SURF – One piece – Swimsuit
Price : 80£ / 89.99€
From Haleiwa lefts to Hossegor rights, ROXY POP Surf is here to help fight for your beach. Dedicated to sustainability this surf one-piece channels all the vintage vibes in retro terracotta with performance stripes on the side. Crafted from high-performance, recycled swim fabric for function that feels good.
Technical Features
Recycled Fabric:High-performance VITA Xtra Life™ Lycra®: Ultra-soft, recycled stretch fabric with UV, chlorine and sun-cream resistant properties
Shape:Fashion one-piece shape
Support:Medium support
Padding:Removable padding
Straps:Adjustable ring & slider straps
Closure:Front zip closure
Cup Size:Best suited to cup sizes A/B/C
Recycled nylon POP Surf patch
Colour blocked design on sides
POP Surf:Sustainably focused for a better world
Composition : 78% Recycled Polyamide, 22% Elastane
ON THE BEACH – TROPICOCO – Athleteic Triangle Bikini top & Mini Bikini bottom
Price :
              Top : 32£ / 35,99€
              Bottom : 27£ / 29,99€
Going loco down at tropicoco, this sporty floral number channels island vibes into an athletic bra shape with an adjustable multi-laced back. Crafted from a super-soft fabric for comfort from the sea to the beach and back again.
Technical Features
Fabric: Soft, resistant stretch fabric
Shape:Athletic triangle shape (Top) / Brazillian shape (Bottom)
Coverage:Regular coverage (Top) / Mini coverage (Bottom)
Support:Medium support
Padding:Removable padding
Straps:Adjustable tie straps
Closure:Fixed closure
Cup Size:Best suited to cup sizes A/B/C
Product appearance may differ slightly depending on print placement
Rubber ROXY plaque
V-neckline
Strap loop on back
Seamless design
Ruching detail on centre back
Composition 87% Nylon, 13% Elastane
ON THE BEACH – Casual Mood – Bralette Bikini Top & Bottom
Price :
              Top : 37£ / 42,99€
              Bottom : 32£ / 35,99€
Cut in a simple bralette silhouette with tortoise ring detail, this bikini top was made for easy going. The Casual Mood Collection is all about understated elegance. Crisp whites are crafted in our signature swim fabrics with delicate textures for unstoppable swim chic.
Technical Features
Fabric:Textured fabric
Shape:Bralette shape
Coverage:Regular coverage
Support:Medium support
Padding:Removable padding
Straps:Adjustable ring & slider straps
Closure:Hook closure
Cup Size:Best suited to cup sizes A/B/C
Metal ROXY plaque
V-neckline
Tortoise shell ring on centre front
Rise:Mid rise waist
Composition : 89% Polyester, 11% Elastane