Ryan Burch Takes The Win At The Wayne Lynch Shape-Off
Ryan Burch took the win at the Wayne Lynch Shape-Off hosted at the B2C Boardroom International Surfboard Tradeshow which took place in Del Mar last week. Check out the event highlights below.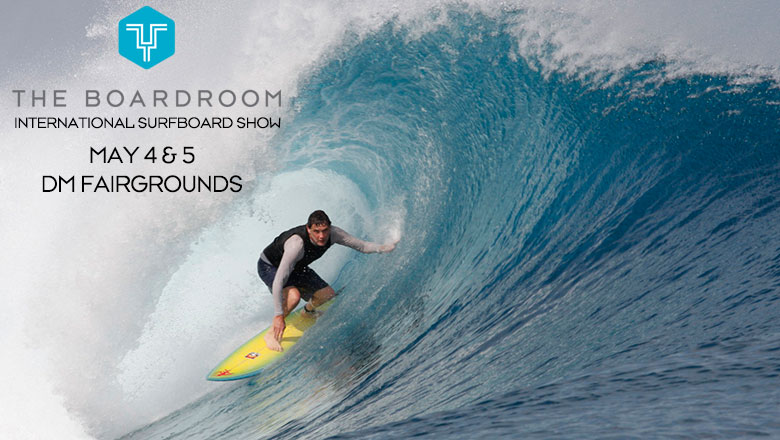 Press Release: DEL MAR, CA ; May 6, 2019– Encinitas surfboard shaper Ryan Burch, age 29, topped a field of eight shapers to win the Icons of Foam Shape-off honoring Wayne Lynch. The event was part of The Boardroom International Surfboard Show that took place this weekend in Del Mar.  Burch is the youngest shaper to win the shaping competition in the 13-year history of the surf industry trade show. Second place winner, Jordan Brazie, traveled from Virginia Beach, VA to compete this year. The other competitors included last year's champion Travis Reynolds (Santa Cruz CA,) Dan Mann (Coronada, CA,) Steve Brom (Goleta, CA,) John Oppito (Eaton Town, NJ,) Shyama Buttonshaw (Victoria, AUS,) Daniel Thomson (Crescent Head, AU,)
2019 Honoree Wayne Lynch, from Victoria Australia, has been shaping surfboards since the age of 14. At first Lynch drew inspiration from the heavy vee bottoms of Bob McTavish and his Plastic Machines. Lynch's shaping evolved through the decades and today are highly regarded for their clean aesthetic and tried and true reliability. A main figure in the shortboard revolution, Lynch is often referred to as the first vertical surfer, taking his loose and nimble backside approach straight up the wave face.
The Boardroom International Surfboard Show featured 70K square feet of surfboards displayed by the surfboard manufacturing industry. In addition to the shaping competition, the show featured live laminating demonstrations, live music, artwork, industry panel talks, a collectable surfboard auction, a surfing demo morning and a Best in Show awards. More than 5000 people attended the consumer-facing trade show.
Surfboard builder John Oppito, from New Jersey, took home the Best in Show honors building a brilliant channel bottom surfboard.
A Michael Hynson shaped Rainbow Surfboard, selling for $26K, was the highest valued surfboard in the California Gold Surf Auction. The auction put 75 items under the gavel and sold over $265K of surfboards and memorabilia in under three hours.
Panel discussion guests included WSL commissioners Pat O'Connell and Devin Howard; big wave surfers Gary Linden, Grant Twiggy Baker and Jojo Roper; legendary industry influencers Peter Townend, Bing Copeland, Dana Brown and Don Craig.