Surfholidays.com – Technology Company For The Surf Travel Industry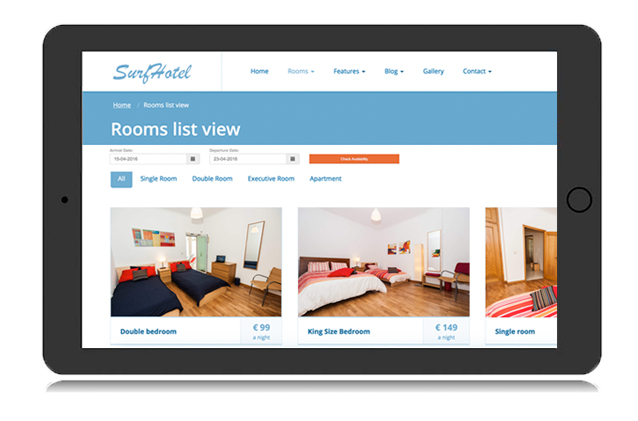 Surfholidays is a technology company in the surf travel space. Established in 2009 its suite of products enables surf school and surf accommodation throughout the world to increase their sales and booking efficiency. Its most popular products are the Direct Booking Tool and its Online Booking Platform www.surfholidays.com
The Direct Booking Tool
Surfholidays' Direct Booking Tool allows surf accommodations and surf schools to accept bookings on their own website.
By using the Direct Booking Tool, surf schools and surf accommodations (ranging from lodges, resorts, hotels, apartments, camps and hostels that all have a link to surf), can sell their nightly rates, packages, surf lessons and extras on their own website. It is tailor made for the Surf Industry.
Consumers in turn are able to book their stay and lessons any time of the day, on any device and pay instantly using all major payment cards and Paypal.
Fin McCool's Surf School in Rossnowlagh, Donegal has added the Direct Booking Tool on their website. It is owned by Neil Britton, from one of Ireland's pioneering surf families. Neil commented: "Our clients can now book their surf lessons on our website 24/7. They can choose what days they want to surf and tell us what surf level and age they are. This all allows us to plan our lessons much easier and better. The lessons are confirmed and paid for straight away. It allows us to spend more time on our services rather than on administration tasks."
Nicky Kelly, CEO of Surfholidays commented: "As specialists in the surf travel market we are delighted to be launching this product. We are well aware of the administrative pain that accommodation and surf school operators go through to receive direct bookings. The Direct Booking Tool gets rid of all this pain and allows operators more time to focus on their business."
Surfholidays.com
Surfholidays.com is an online booking platform for the surf travel industry. It allows owners of accommodation & surf schools to sell to the global surf travel market. Consumers can compare, research and book accommodation & surf lessons in the world's best surf towns.
It currently operates in 23 different countries and 50 different surf towns throughout the World.
About
Surfholidays was set up in 2009 by Irish surfer Nicky Kelly and South African surfer Darryn Mountfort. Both had worked in the surf industry prior to starting Surfholidays and had got to know some of the world's best surf towns inside out. They used their knowledge to establish a platform that allows people find unique places to stay with quality local surf instruction and to ultimately have the holiday of a lifetime surfing some of the best breaks in the world. As the business grew they developed new products that would allow surf accommodations and surf schools receive booking easier both directly and from their platform Surfholidays.com