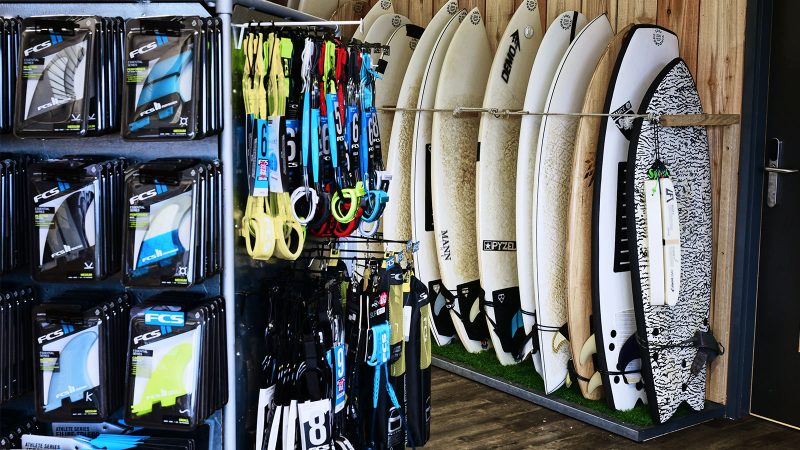 Surf Snowdonia
: A New Breed Of Surf Shop
Surf Snowdonia opened in August of 2015, becoming the first manmade wave centre to serve the general public. Without fears of flat tidal spells and its waterfront café and bar providing a weather-proof spectator gallery for their own form of beachgoers, the on-site surf shop has a truly unique proposition in surf retail. Three years in, we speak with General Manager Andy Ainscough to delve deeper into this totally new breed of surfer and surf shop.
What have been the biggest lessons learned since opening?
Yeah, it's been fun, and like a lot of these things, with opening world firsts, it's been quite a lot of figuring things out and working out what works best for this type of surf spot. Nobody knew the type of customer we would get and what the product mix should be. I don't think we got the mix too wrong but we've certainly tweaked what we stocked as the years have gone on. The boards and accessories have gone well for us and we've been fortunate enough that both Firewire and FCS have supported us since opening, meaning customers have often been able to demo kit before making a purchase. Then our own branded/location kit has gone really well for us, something people can take away as a gift or memory.
What would be the main differences in the offering between a resort shop such as your own compared with a surf shop by the ocean?
Not a huge amount I don't think. Our location is a bit remote, so we need to stock essentials in case someone has come to surf 10 hours but forgot their fins, for example. We've now got our regular customers that a beach shop would get. People come in for board advice, fresh winter suits etc. We then get a lot of beginners and intermediates looking for their first board or first suit.
Ding repair shops by the ocean will mainly hear stories of dings from other surfers, surfboards and maybe rocks/reef. Are you seeing damage to hardware from the lagoon's structure?
Not really too much from the pier (as we call it). The wave tends to push you away from the structure, but we get the usual ones where people have dropped the board or turned around and bashed it on the fence. We get some people that end up with pressure dings maybe more regularly than they would do at the beach. If people have booked ten hours and they are capable of surfing hard then the work and distance the board goes through is pretty intense – ten hours is potentially 120 fairly long waves on that board as well as the other wear and tear it might have gone through before visiting us.
The lagoon offers discounts for members and multiple sessions etc. Do you have locals?
Yeah, we do. Some people have learned from scratch, just on this machine, and that's pretty cool. They are now going off to the local beaches and getting used to the ocean as well. We then have guys that have surfed for years but are living in Conwy. They are about 40 minutes from natural waves, so they use us as a training ground to keep fit and sharp. We started a Surf Club in 2016 which sees about 50 local kids between 10 and 16 surf every Saturday morning free of charge – that has been great for the valley and some are now coming through as lifeguards and working for us in the summer.
Could you talk us through your partnerships with Firewire, Rip Curl Surf Hardware and now O'Neill?
We were lucky enough to be supported by Rip Curl, Firewire and Surf Hardware from an early stage and they have assisted in kitting out our Surf Academy for lessons across all levels. We have just entered into a new partnership with O'Neill which is really exciting. We've done a few events with O'Neill over the years and have been stocking their suits since the beginning. This September we are holding Rookie Rippers with O'Neill – it's going to be cool seeing Jordy Smith on our waves again.
When are your peak periods and how are you making the shop work in the off months?
It's definitely hard. Our best months are between May and the end of September, but the site is open and we are making waves from mid-March until Christmas, so we have a pretty long season really. Like anyone else in this game it's about managing the stock and staff levels and offering an incentive for our surfers to come in the retail shop and have a browse.
What have been the best-selling products of the 2018 summer?
The Go-Fish and some interesting shapes from Firewire have been going really well, O'Neill is selling great on the suits front. I love the Hyperfreak stuff and think with it being so comfortable people have really gone for that. Our Surf Snowdonia branded clothes and re-usable coffee cups have been going well too, although with all this unusual sun we've had in UK, some zinc sales have gone up also!