French Market Insight April/May 2018
The economic recovery has well and truly arrived. Since the start of 2018, in France numerous studies have showed the effects: unemployment is going down with 8.6% of the working age population unemployed in the last quarter of 2017 (the lowest level since 2009), and growth at close to 2%. Predictions for the coming year are positive, job creation seems to continue its progression and growth, be it at a global level, at its highest in eight years, expected to be 3.7% in 2018 or a European level at 2.4%, which is once again good. By Benoit Brecq.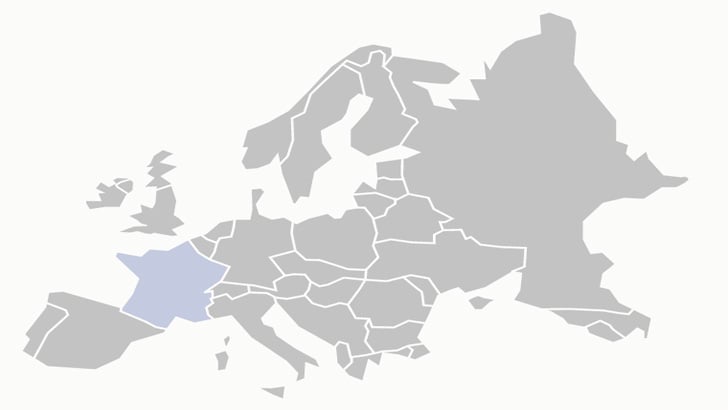 On top of that, the Banque de France raised its predictions for growth of Gross Domestic Product in 2018 to 1.9%. This positive change of its outlook for 2018 is due to previous strong momentum. Domestic demand should stay dynamic, with an acceleration of household spending linked to a stable job market and a turnaround in salaries, as well as fiscal measure meant to increase purchasing power to be put into place at the end of 2018. Has this very positive economic context for the start of 2018, accompanied by a high level of snowfall this season had a positive impact on traffic and sell through in shops?
One thing seems clear and unanimous, the level of snowfall and snow quality were very good this year. "And it was good for the morale", confessed Bertrand Betin from the Endless Winter shop in Courchevel. Tim Bourgeois from All Bro's in Toulouse added, "we had really good snow and weather this season, but the Winter Olympics in Pyeongchang may have also played a role this winter." For Tim the season was pretty good in terms of traffic and sales. "Even if we're far from the figures of a few years ago." At Endless Winter, Bertrand spoke of "rather stable traffic in February and March, but on the whole lower than years past." At Newrider in Antibes, Pierre Samray has also noted a decrease over the last four years. He told us: "In spite of beautiful weather this year, in the last 3 years without snow people have lost the habit of going to the shop. Moreover, competition from the Internet is getting stronger and Black Friday at the start of the season is truly detrimental." At Snow Problemo Saint Lary Soulan, Laurent Sarramea remarked that "in general, traffic was pretty good and sales were pretty stable. But the weather played a few tricks on us, with bad weather forecasts for the weekends which kept overall traffic down when in reality the weather was nice in the resort."
Overall, sales of hardgoods seems to have gone rather well. As for boards at Snow Problemo, the all-mountain segment came out on top for brands like CAPiTA and Burton. At Newrider in Antibes, "Lib-Tech blew up with a 100% sell-through rate this season. I also sold a lot of boards from a small French brand called Furlan, that sells a bit more every year." On the other hand he's noticed a slight slow down in sales of Burton: "I've still got some boards at the end of the season, which never used to happen in the past, most likely because the brand is available everywhere, most notably online." For Pierre, splitboarding is the segment he's trying to develop: "Even if it's still a niche market, more and more people are looking for the freedom you find off-piste, and with the rise in price of lift tickets and the amount of snow there was this year we saw an increase in sales and rentals of that kind of board this season." At All Bro's, Tim commented, "this year the shorter snowboards with a surfier outline and swallow tails sold pretty well." CAPiTA had the best sell through for them, as opposed to sales of Arbor, which were down in spite of their superb construction and wood veneer finish, perhaps caused by a slightly too elevated price point. In Courchevel, Bertrand suffered somewhat from the "ritzy" image that the press tends to give the resort. "15 years ago, there were eight snowboard shops. Today, we're the only one left, which doesn't necessarily mean we sell more boards than before. In addition, the heavy snowfall didn't work in the favour of the large resorts, because the clientele spread out and went to lower altitude resorts. However, due to the snow quality there was an uptick in the number of snowboarders. Now that the first generation of snowboarders has children, they are attracted to the same sport as their parents." The brands that sold the best in Courchevel were Jones because its freeride image appeals to the 40-somethings and Lib-tech, which is popular with younger riders.
As far as other snowboard products, boots and bindings sold through well as Bertrand explained: "These are spontaneous purchases that require real advice in the store as opposed to boards where the competition from online sales is huge." As far as the most popular brands Union, Flow and Drake are the ones mentioned the most often by salespeople. Nonetheless, Tim from All Bro's notes that "more and more people who come into the store to try on boots are just there to get information then go look for the best price online." To avoid that, he said "since we can waste lots of time helping people try on our boots who actually have no intention of buying them in the shop, we're thinking of putting into place a fee for advice and to try on hard wear that is deducted from the price if the client makes a purchase, which is already commonplace in other countries."
Goggles are another product category that worked well this winter, with all salespeople reporting strong sell-through rates. "The weather conditions encouraged clients to buy new product. They need it, so they buy it", Bertrand said. Concerning brands, Smith, Oakley and Anon are mentioned most often.
As for textile, technical wear sold fairly well, especially pants and jackets. Once again this season Picture, 686 and Volcom were favourites while at All Bro's sell-through of technical wear from Burton decreased slightly.
On the coast the winter was rather calm and warm. "The weather on the Atlantic coast was windy and rather capricious", said Romain Petit from the Aulona shop in Auray. "Sales of neoprene started rather late this winter due to the weather," he noted, in spite of a good sell-through rate from O'Neill. As for hardgoods, even though it was winter he sold a decent amount of material destined for the general public, especially inflatable SUPs, and surfboards for beginners and intermediates. Farther south on the island of Oleron at the Billabong shop Fred Groot agreed that "sales were weak and in-store traffic was down because of the mediocre weather on the Atlantic coast this winter," adding that "in addition, the sales period started too early and lasted much too long this year. But, technical gear has started to sell again as we get closer to spring."
In general, weather conditions have been rather beneficial for winter-oriented shops, but competition from online retailers is getting tougher. Sales figures are far from what they were a few years ago, in spite of favourable snow conditions. Nonetheless, morale is still good, and the weather has had a lot to do with that. All the shops are using customer service to differentiate themselves and fight against online outlets: board tuning and repairs, rentals, test goods and sales advice are the keys that still allow them to make a difference in today's market.