Cab9 Launch Kickstarter Campaign To Get Innovative Sunglasses Design On The Market
The team at Cab9 have launched a new Kickstarter campaign to get their innovative new sunglasses design on the market. With useful tech and stylish features they will retail for just €69. Currently the campaign is at 67% completion with 14 days left to meet the target before the campaign closes on Thursday May 24.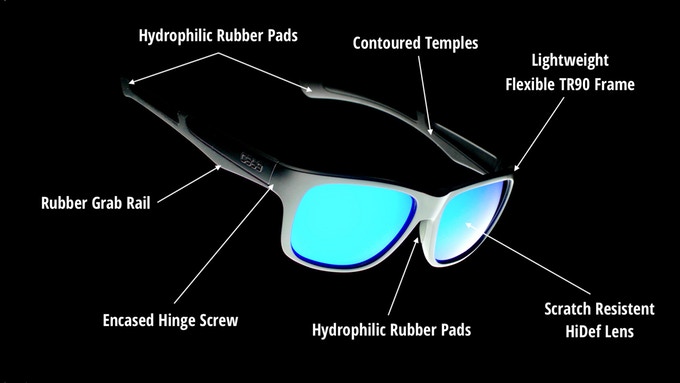 Press Release: In a bid to bring ground-breaking technology to the action-sports masses, Cab9 has launched a fundraising campaign on Kickstarter. The aim? To raise enough cash to put The Edge sunglasses into production. The product of 12 gruelling months of research and development, these stylish sunglasses are loaded with innovative features​​and need to be on the market.
The Cab9 guys are a team of snowboard instructors and have been making great value, high-quality sunglasses for the past two years. The existing ranges have received fantastic feedback, but as action sports enthusiasts it's only natural they've wanted to create a model with as many advanced sports performance features as possible.
And with The Edge, they have. Using their extensive experience riding snow, water, dirt and concrete, these sunnies are the perfect combination of performance and style.
Advanced features include:
-Frames made from TR90, lightweight and durable but incredibly flexible and weighing just 25g (including lenses)
-Lenses made using HiDef Optics​ ​technology, so they're not only polarised (to reduce glare from reflective surfaces like snow and water), they also offer near infrared protection, which reduces eye fatigue when you're exposed to bright sunlight for long periods of time
-The lenses' light spectrum enhances colours – compared to a regular lens – and provides ultra-sharp definition
-Hydrophilic rubber contact pads at the nose and ears so they won't slip when things get wet or sweaty.
-Contoured arms with rubber grab rails along the undersides so you're less likely to drop them while wearing gloves
-Completely encased stainless steel screws at the hinges so you don't need to worry about breaking the hinge or getting them wet
-A gentle wraparound style for a wider field of vision and to protect against wind and sunlight entering through the sides
Cab9 carried out extensive testing on the lens in a wide range of light conditions and the quality and clarity of vision proved to be outstanding. Highly experienced skiers, snowboarders, MTB riders and other action sports athletes have been testing prototypes and a frequent comment was that the lens performance is better than many mainstream brands that charge two or three times the price.
The frames come in a stylish matte black finish with a choice of five eye-catching colour options to suit your personal style and the RRP of The Edge sunglasses will be €69. Pledging options in the Cab9 Kickstarter campaign start from just €25, and rewards include free Cab9 branded 100% cotton Softstyle T-shirts, vinyl stickers, discount codes and The Edge sunglasses. The campaign is already 71% funded in just two weeks (at time of writing) and closes on Thursday 24t​h​ May 9.13 BST. Estimated delivery is July 2018.